Personalising Your Bath Space: Custom Bath Splashbacks by Emma Britton
Personalising Your Bath Space: Custom Bath Splashbacks by Emma Britton
18th September 2023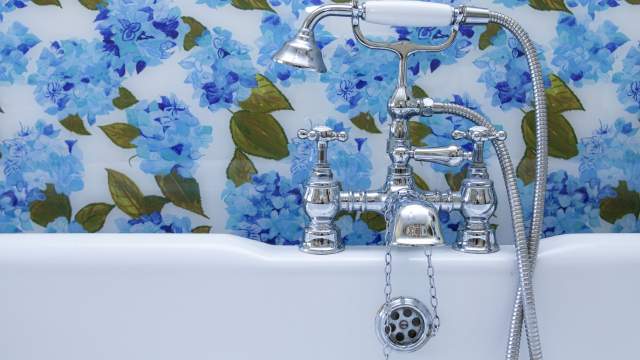 In this journal post, we'll give you four ideas for personalising one of the most frequently used spaces in your home with custom-made Emma Britton bath splashbacks. Whether you're looking to add a splash of colour to a traditional bathroom suite, create an impact with a statement wall piece or are just looking for something a little different to elevate your bathroom design, find an Emma Britton splashback to suit you, your space, and your style.
Decorative bath splashbacks are not only pretty additions to your interior, but they provide a practical function too. An attractive alternative to tiles, Emma Britton bath splashbacks will protect your wall from steam and water whilst being so easy to clean – no more grout! Plus, all of Emma's stylish glass splashbacks are made-to-measure to fit your space exactly. Scroll for bath splashback looks you'll love, picked from Emma's patterned splashback collections.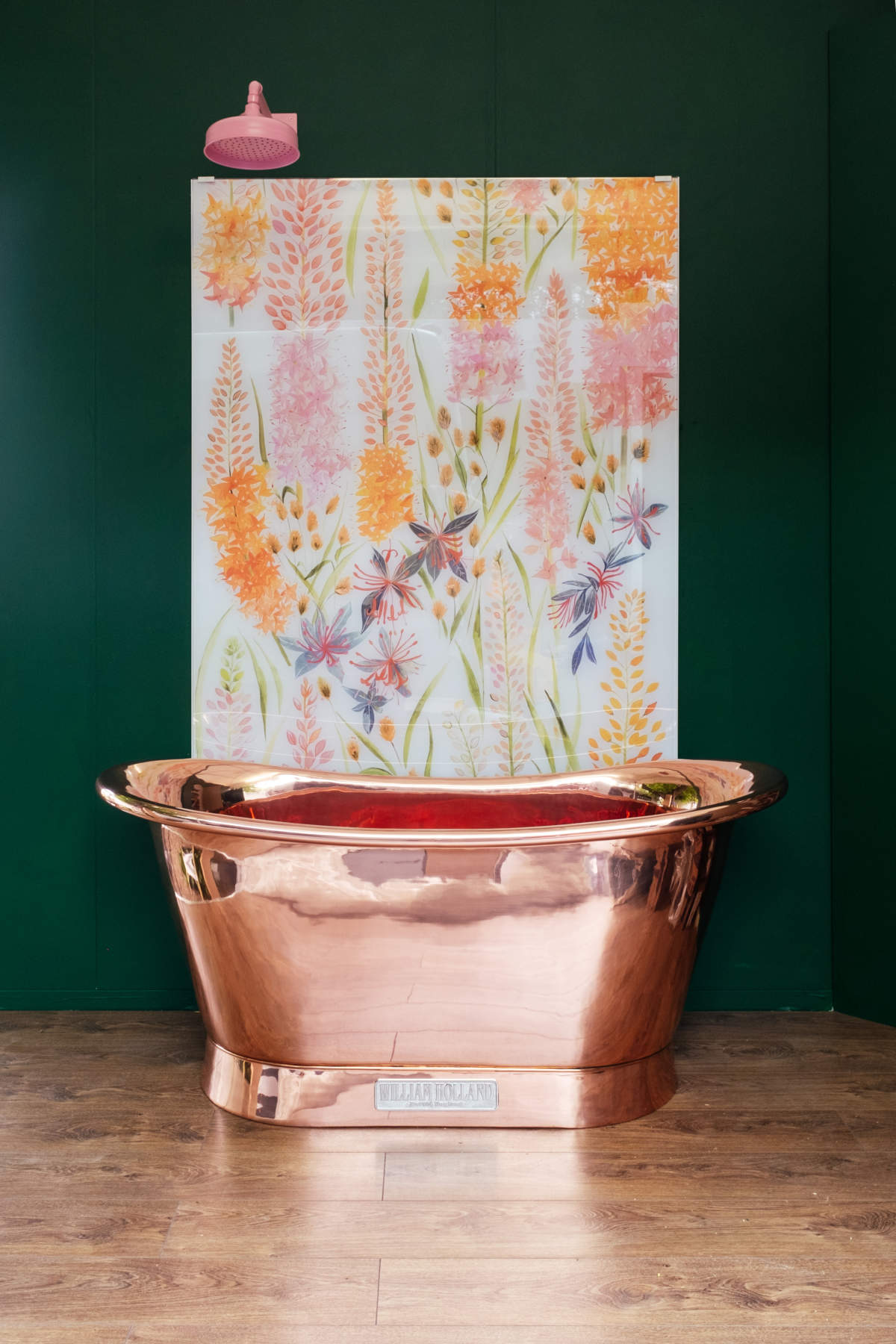 Emma's Rain Garden splashback particularly suits spaces where you can showcase the full height of the flowers in the design. Shown here behind a free standing copper bath from William Holland, the result is calming and immersive. Additionally, hand-painted copper detail in the design is enhanced by the bathtub and complementary pink bathroom hardware.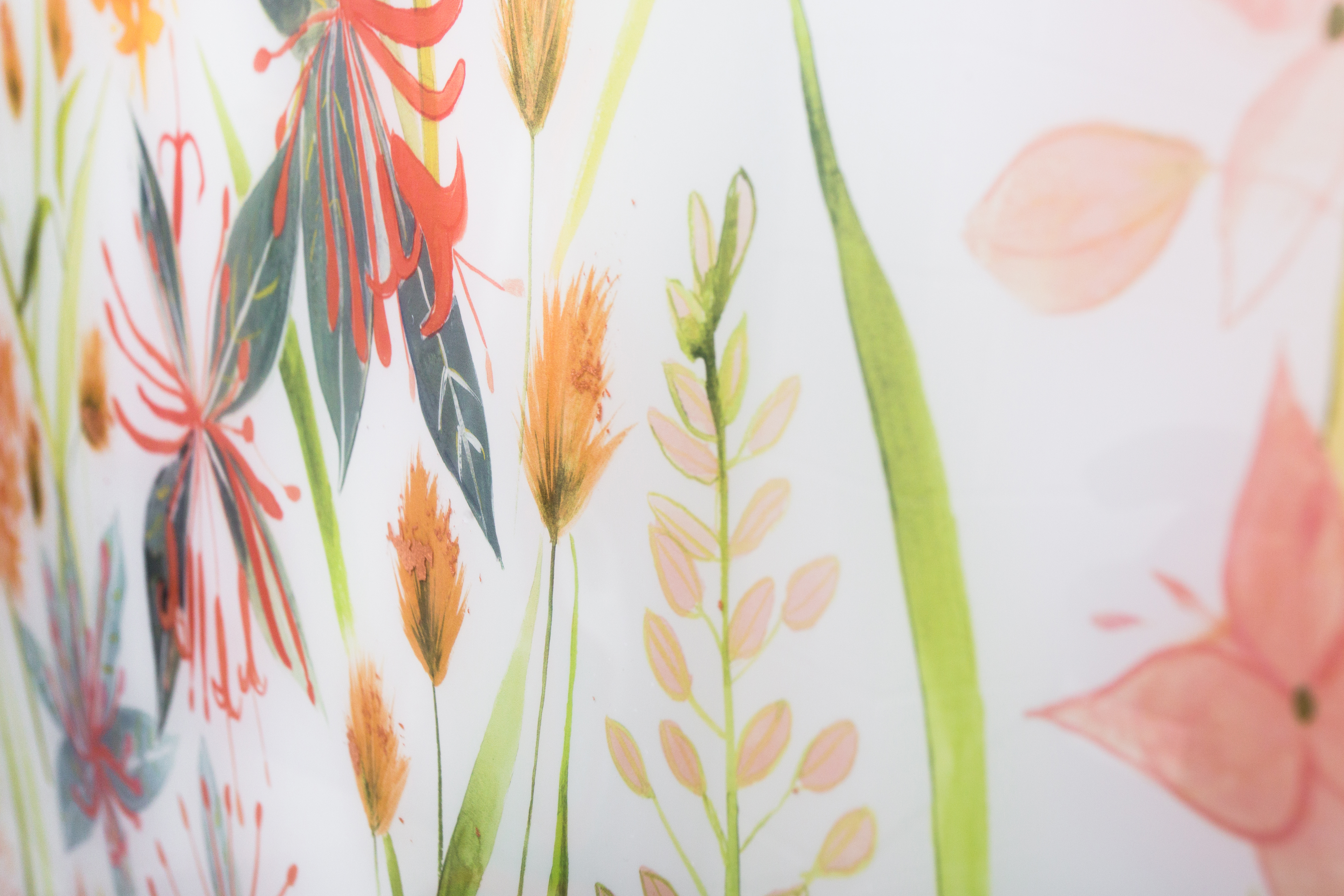 Did you know?
The flowers Emma painted in Rain Garden are drought-hardy and all able to survive in drier conditions, a nice play on the theme of water for a bathroom! Featured are Foxtail Lilies, Chilean Firebush and Bunny Tails.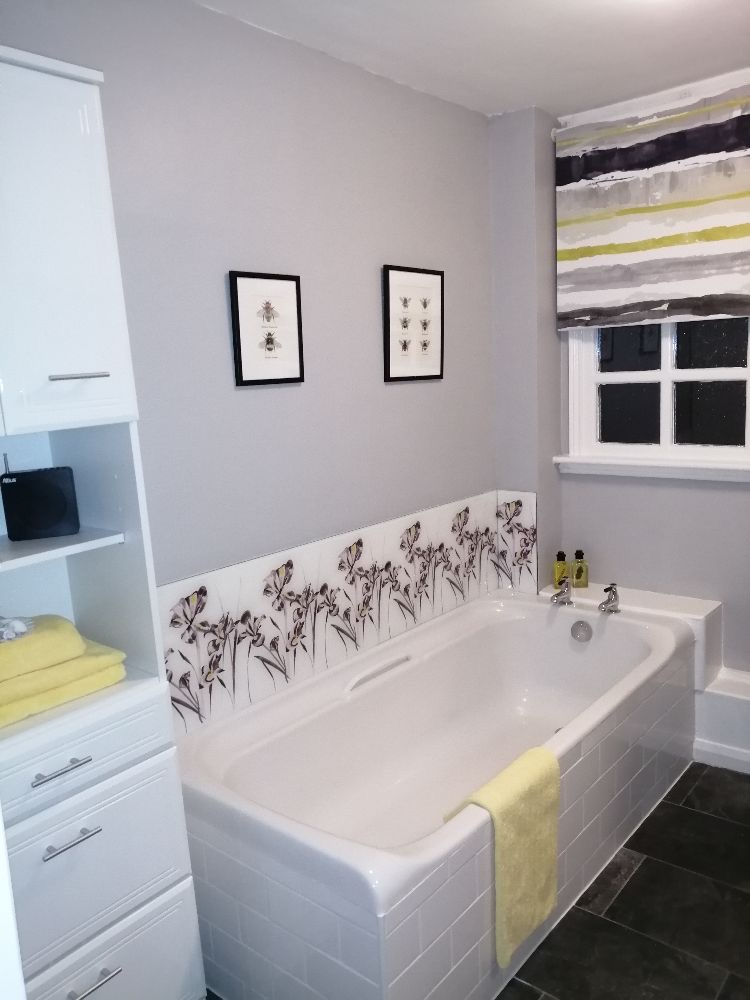 For a more subtle look, Iris in White is a lovely bath splashback choice. Tonal and painterly, this monochrome splashback features pops of yellow in the black iris design. The horizontal pattern works really well as a bath surround if you don't need so much wall protection from splashes. Emma's client has complemented their splashback here with yellow bath textiles and accessories for look that is cohesive and clean.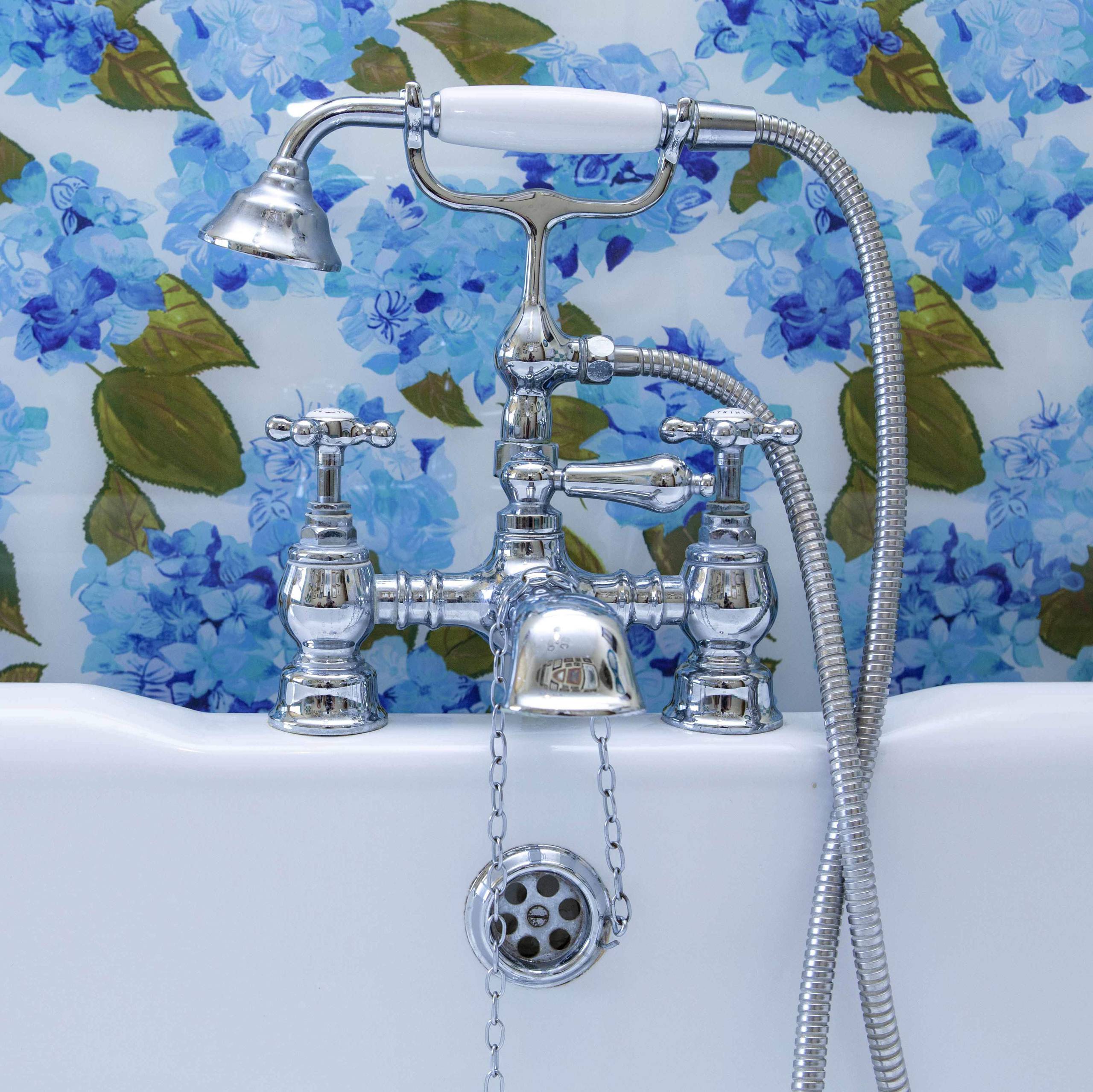 Bath Splashbacks for Every Day
We spend time in our bathrooms everyday, so why not have something really cheery to look at? Blue and White Hydrangea from Emma's Up the Garden Path Collection is a bright and uplifting pattern ideal for bath splashbacks. The classic blue and white colour palette is ever popular for bathrooms, making this bold floral splashback a really timeless choice. Create a heritage bathroom look with traditional bath taps to complement the nostalgic floral design.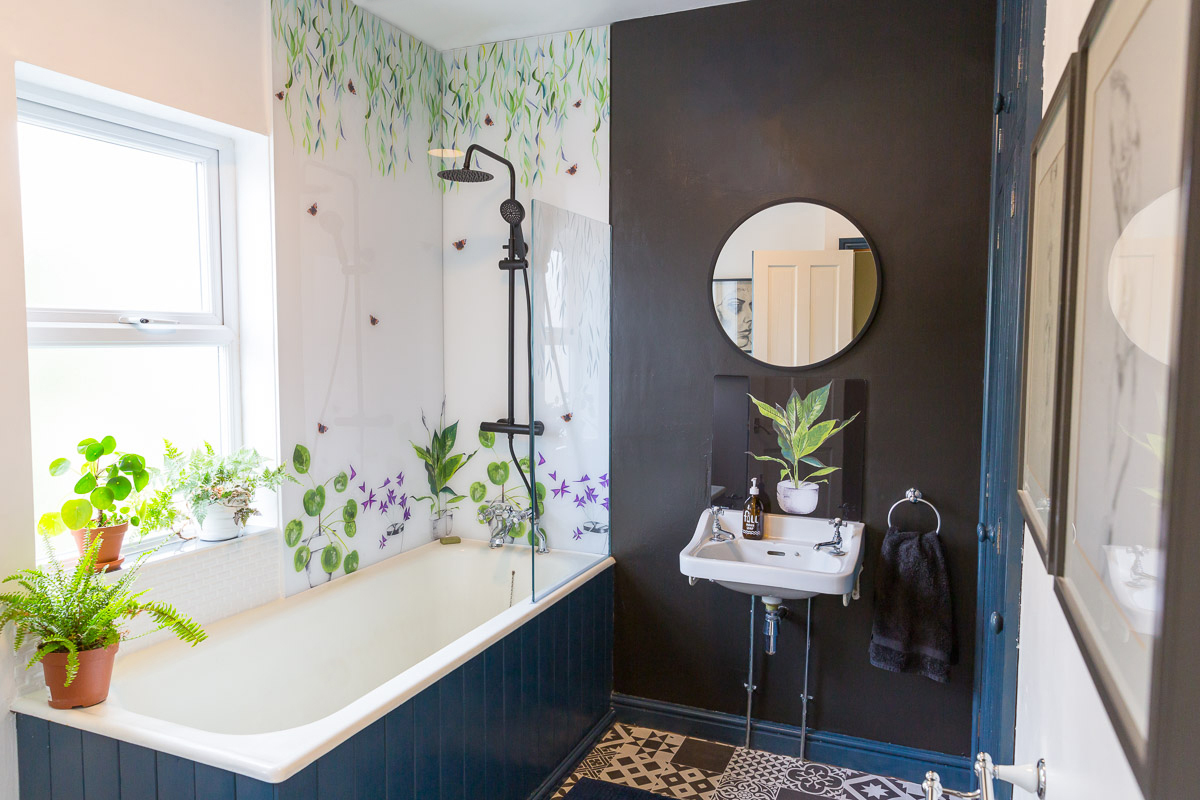 Mixing splashback designs together can also create a really personalised look. This client liked the height of the Willow & Red Admiral design, but wanted interest around the bath too. Emma seamlessly blended the leafy willow pattern with Plant Life in White for a truly unique botanical bathroom look. While the cascading willow pattern reflects the shower above, houseplants line bath surround for a bathing experience immersed in nature. Real houseplants on the windowsill and a sweet vanity splashback in coordinating Plant Life in Black complete the look. Read more about this period bathroom transformation here.
All of Emma's designs are created specifically for splashbacks – find inspiration for your kitchen project too. Splashback samples for all the splashbacks featured, and more, are available to purchase. To discuss your bathroom project, contact Emma today. 
Did you like this post?
We have a regular newsletter full of ideas with Emma Britton Decorative Glass, decorative glass splashbakcs, lifestyle inspiration and occasional offers.  Scroll to the bottom of the homepage to sign up for a colourful inbox read.