Emma Britton Decorative Glass Designer is an independent designer and award-winning original brand specialising in designer-made decorative glass Splashbacks. The brand also offers a range of glass and home accessories for modern living. Founded in 2010 with a grant for East Midlands Graduates and her, now signature, 'Foxglove' pattern, Emma's optimistically floral design style has gone from strength to strength.
Emma's business idea was born after graduating in Printed Textiles at Loughborough University and working in the glass industry. She saw the potential to create something different and previously unseen by applying pattern to glass for Splashbacks, just like wallpaper or fabric. Emma's unique Splashbacks now bring colour and personality to kitchens and bathrooms across the UK.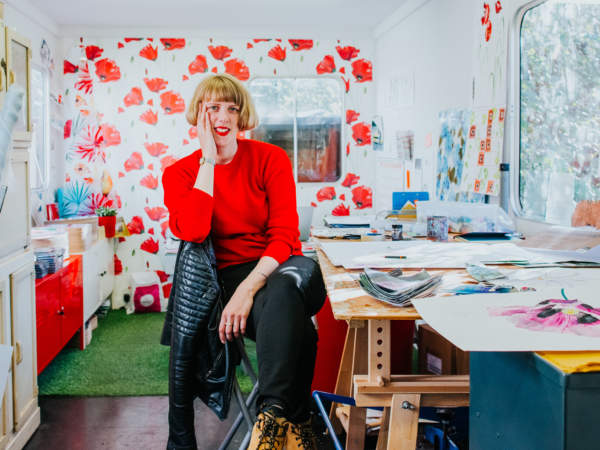 "I see glass as a canvas on which to apply pattern, sometimes opaque, sometimes translucent. My design style is inspired by British suburbia and I'm fascinated by 20th Century Interiors and how people decorate their homes today. Although my patterns are contemporary, they are rooted in nostalgia. "
Emma currently has six Splashback Collections and her bespoke service is really popular. Splashbacks by Emma Britton Decorative Glass Designer are so much more than a practical solution for your home. More, 'functional works of art' to enjoy every day. Emma will seamlessly bring together the elements of a brief into a stunning design, suited to the rest of your room interior. Everyone that works with Emma can consider themselves as a patron of the designer, which is something really special.
'I take great pleasure in meeting so many clients and being part of their interior design process. Creating something special for them and seeing my work in such a variety of homes is so rewarding. I really enjoy designing for site-specific spaces, working directly with clients to realise their vision."
As well as her unique Splashbacks, Emma offers a range of glass and homewares for modern living. From her glass decoration studio, Emma creates exclusive in house and commissioned drinks glassware collections.
Customer service and attention to detail are at the heart of the business. This is really important to Emma, recognised with 'Houzz' awards for seven consecutive years (2015-22). The business received enterprise recognition from Natwest, Holly & Co, Dell, Royal Mail and Three in 2020. Emma's signature florals have earned her press recognition and the opportunity to design for high profile clients.
Emma's Splashbacks
Emma Britton Decorative Glass Designer Splashbacks are hand-finished to industry standards. Emma is able to develop new approaches and techniques to glass design within her own laminated glass studio. We produce both in-house 'and work' with experts in the UK glass industry to fulfil a wide range of projects from supply-only to supply and install.
Emma did an amazing job with our splashback. She talked us through all our options and was very patient with our indecision.