Emma Britton signature floral designs work beautifully for retail and commercial interiors projects. Commission an original pattern, licence one of Emma's existing designs or stock her collections to offer your customers something different – bespoke glassware, homeware and statement splashbacks. Drop Emma a line to enquire about working together.
Glassware and Homeware: Emma's pretty and practical glassware collections are available to stock on request and bespoke patterns can be made for your retail venue, decorated at her independent glass studio. Commissioned collections make ideal visitor mementos, Emma captures the essence of your venue as a design for beautiful glassware customers can shop at your stately home, garden or heritage attraction, and she can create other homeware product lines for you. Independent stockists include: The RHS Gardens, Selfridges, National Trust and more. Contact us about becoming a stockist, wholesale price list and terms of trade.
Splashbacks: Emma works nationwide and beyond for commercial splashback projects, seamlessly taking your brief from design to production and installation if required. A Splashback specialist since 2010, Emma works with interior designers and architects, hospitality, offices and home builders. For peace of mind,  Emma Britton Splashbacks are a high specification glass, toughened and laminated for safety and durability.  Emma would love to work with you on a commercial Splashback project, get in touch.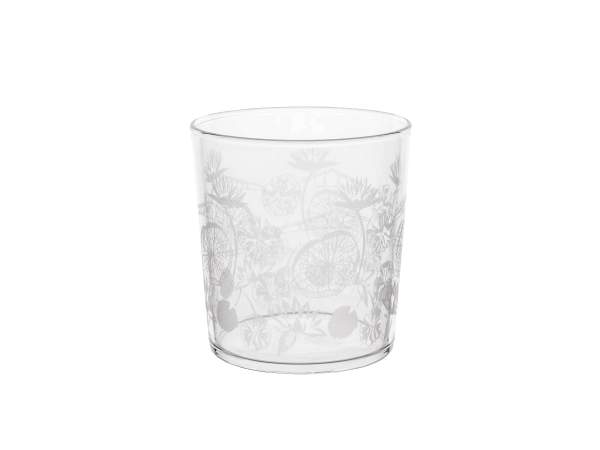 Kew Gardens
Commissioned by the world famous Kew Gardens to create three exclusive glassware pieces inspired by the Waterlily House, Emma's first collection for Kew Gardens features her illustrations of the waterlilies including the famous giant waterlily Santa Cruz (Victoria cruziana), hanging plants and even the architectural framework of Kew's iconic glasshouse. The designs launched in 2023 feature on a tumbler, flute and wine glass, decorated at Emma's studio, available exclusively from Kew Gardens and their online shop.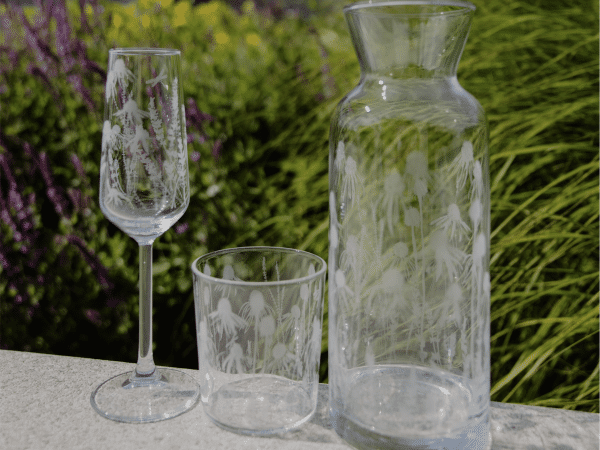 The Hepworth Wakefield
Commissioned by The Hepworth Wakefield in Yorkshire, Emma's exclusive Garden Collection for the gallery launched in July 2023. Inspired by their award winning garden it includes a glass carafe, flute and tumbler etched with pretty designs from original paintings, decorated at Emma's studio. Featuring seed heads and flowers of Echinacea, Salvia and elegant damsel flies, this special glassware collection is available exclusively from The Hepworth Wakefield and their online shop.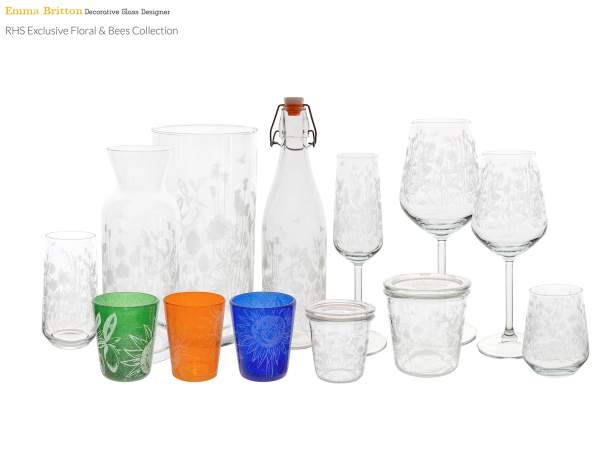 The RHS
New for 2023 and following on from Emma's previous three glassware collections exclusively for the RHS. Floral & Bees is inspired by The World Food Garden at RHS Wisley, the focus is on edible flowers grown on site. Each piece has been etched with lemons, alliums, artichoke, lilies, marigolds, calendula, centaurea and hyssop in a pretty repeated design in Emma's studio. The range is only available to buy in store exclusively from their RHS Garden Shops, including their showcase RHS Garden Wisley.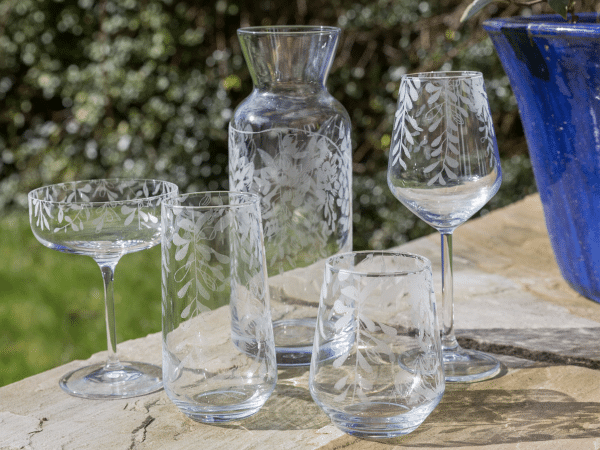 The RHS
Emma's third limited edition glassware collection for The RHS launched in 2022. Wisteria was sold in all RHS gardens and at their Chelsea Flower Show, featuring elegant fronds and dangling leaves on a Champagne Saucer, Tumbler, HiBall, Carafe, Vase, Wine Glass and Flute. Designed and decorated in Emma's studio.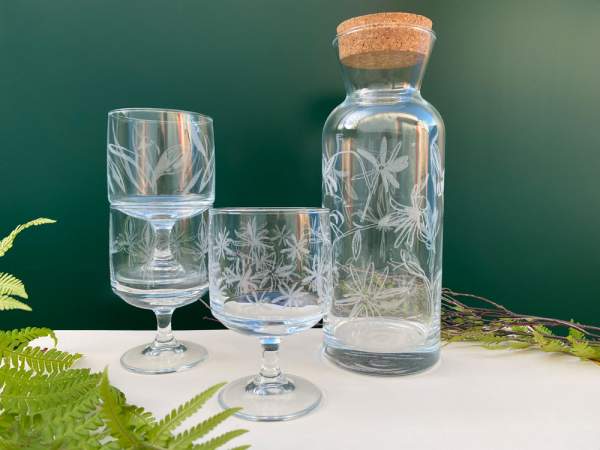 Nottingham Castle
Nottingham Catchfly was an exclusive etched glassware collection for Nottingham Castle, inspired by the county's native plant. Nottingham Catchfly was re-introduced to the Castle by volunteers in 2020 and is depicted in a design by Emma showing it from seeding to bud to bloom; in a carafe with cork stopper, goblet wine glasses as well as plant pot shaped tumblers. Glassware sales helped support the work of this heritage attraction.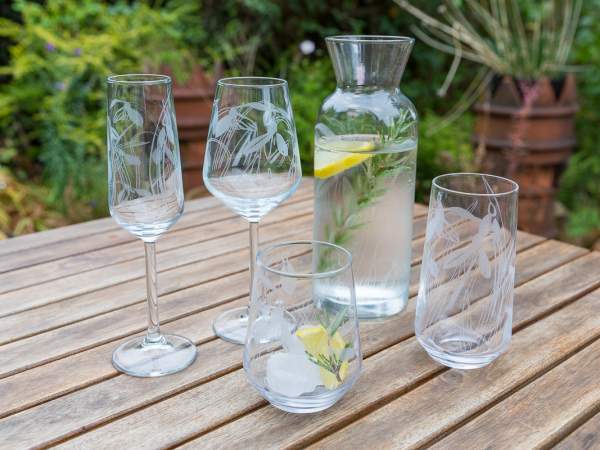 The RHS
Following the success of her first collection for the RHS, Iris, Emma was commissioned to design a Snowdrop range, available to buy exclusively from their five RHS Garden Shops, including their showcase RHS Garden Wisley and online. The Snowdrop Collection was so original and popular, more glassware shapes were added in 2022, designed to mix in beautifully with the original pieces.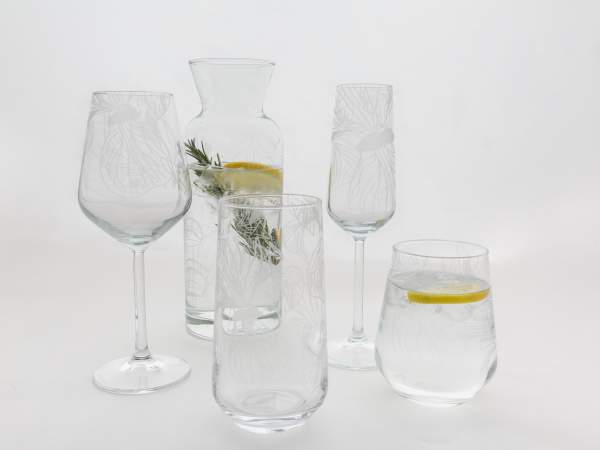 The RHS
An exclusive Emma Britton glassware collection for one of the greatest gardening organisations in the world, Iris. The Royal Horticultural Society commissioned Emma to create something beautiful and she chose the stunning Siberian Iris around which to create their inaugural collection. This was Emma's debut range for the RHS and she as gone on to create future glassware collections for their Gardens.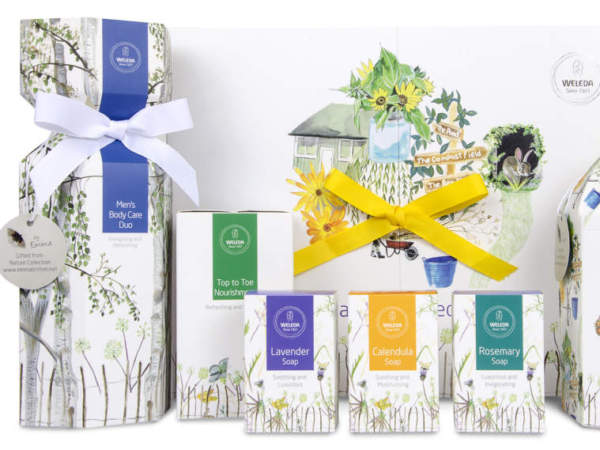 Weleda
"Emma's paintings from our gardens are beautiful, inspired by nature, our wildlife and our gardeners in Derbyshire." Jayn Sterland Weleda MD. Weleda commissioned Emma to create the packing designs for their 2018 collection 'Gifted from Nature', capturing the essence of 'The Field', Weleda's 13 acre Demeter-certified gardens, close to her studio. The Collection was available online, and on the high street, including Holland & Barrett and Waitrose.