Blossoming Beauty: How Floral Splashbacks Can Add A Fresh Touch to Your Kitchen
Blossoming Beauty: How Floral Splashbacks Can Add A Fresh Touch to Your Kitchen
31st July 2023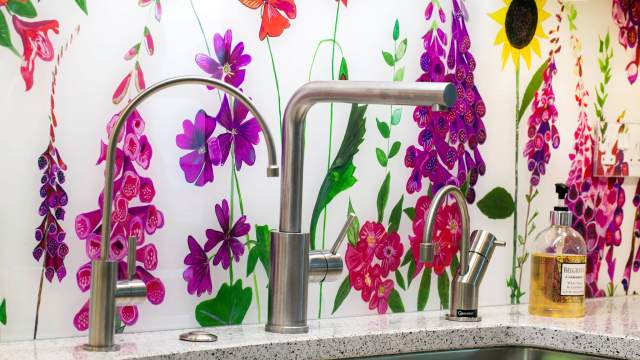 Emma Britton floral glass splashbacks for kitchens will bring a vibrant touch and fresh feeling to your room. A great splashback design choice for introducing colour, beauty, and a sense of nature into your kitchen decor. Whether you opt for full floral designs or more subtle flower patterns, putting them in your kitchen will make your room blossom!
In this feature we focus on three popular Emma Britton Floral Glass Splashbacks from her Up the Garden Path collection, that celebrates favourite flowers in British suburban gardens, but you can find plenty more inspiration here.
Country Garden
New for 2023, Country Garden is in the prettiest colour palette of blues and purples with accents of green. Created with the trend for blue and green cabinetry in mind this is the most versatile of floral kitchen splashbacks. It's a design that looks perfect in traditional kitchens, all white kitchens, farmhouse and cottage kitchens too.  A popular splashback for keen gardeners and florists, and those who just want the feel of a country garden in their kitchen.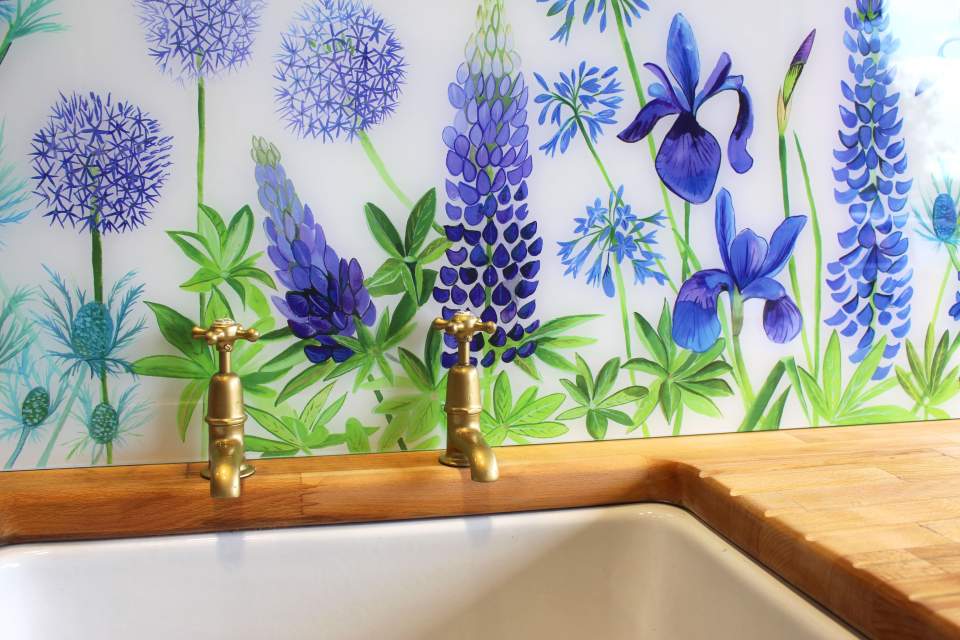 Country Garden is fresh and floral and this flower splashback will create an inviting atmosphere in your kitchen. A wonderful choice for celebrating these favourite garden flowers: Agapanthus, Alliums, Eryngiums, Iris and Lupins. Embrace the design in a single glass panel worktop splashback for some serious wow factor.
Country Garden is a hand painted design created specially for splashbacks, like all of Emma's collection patterns and bespoke designs – whether you choose her floral splashbacks or more a more abstract, textural look.
Order a sample of Country Garden

Foxglove Splashback
The charming and distinctive Foxglove is a beautiful choice as the feature flower in this splashback, the pattern that launched Emma Britton Decorative Glass Designer established in 2010. Foxglove is still one of her most popular patterns and a classic splashback design choice.
Foxgloves with their touch of whimsy and elegant shapes create a focal point that is very complementary to a whole range of cabinetry, worktops and interior styles. Emma's Foxglove splashback brings natural beauty and a pop of colour into your room. Its a unique and eye-catching addition to your kitchen decor. Behind a hob is lovely for really showcasing the height of these flowers in the design.
Order a sample of Foxglove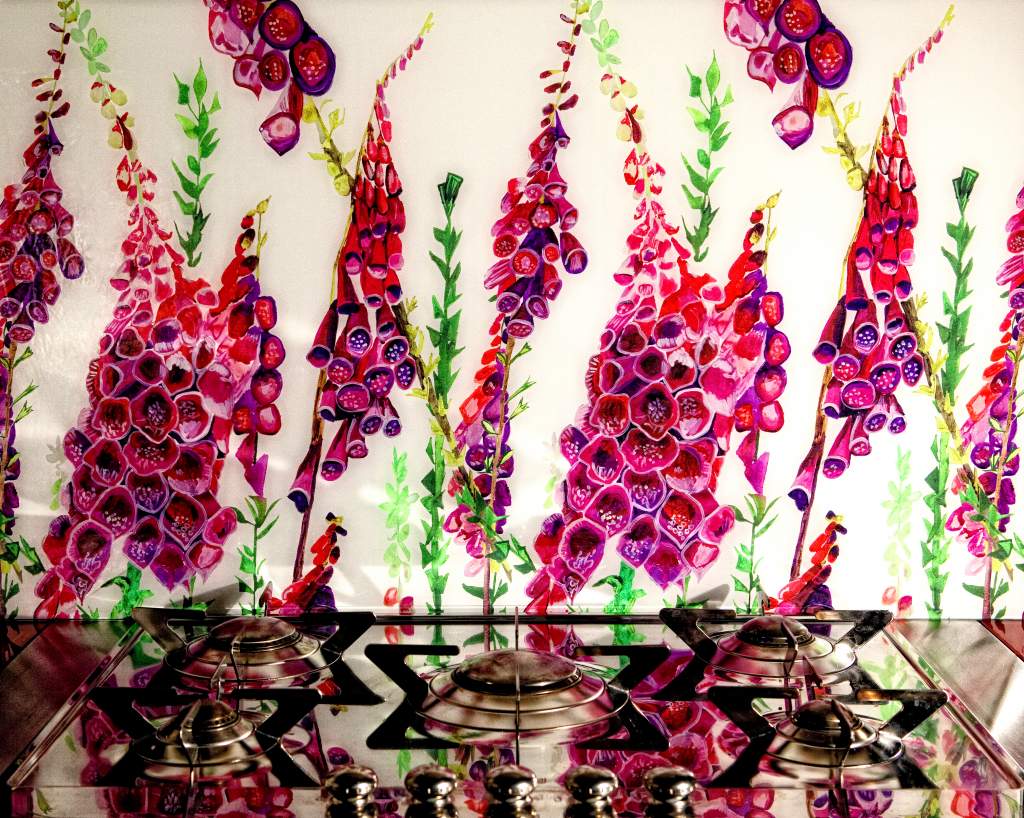 Sweetpea Splashback
Inspired by the delicate and charming Sweetpea flower, this floral splashback is a tempting choice. Sweetpeas are known for their lovely fragrance and soft, colourful petals, making them a popular choice for floral-themed decor and a fresh look. The nostalgia that lots of people have for these flowers makes the design hugely enjoyable to live with, hence its popularity.
Sweetpea looks great behind hobs and is also great for small cloakroom basins. Although this feature focuses on floral splashbacks for kitchens, Emma's designs are versatile for other areas in your home that need wall protection. Check out our other posts on the best splashbacks for small spaces and bathroom ideas or this one about refreshing your kitchen with a new splashback.
Order a sample of Sweetpea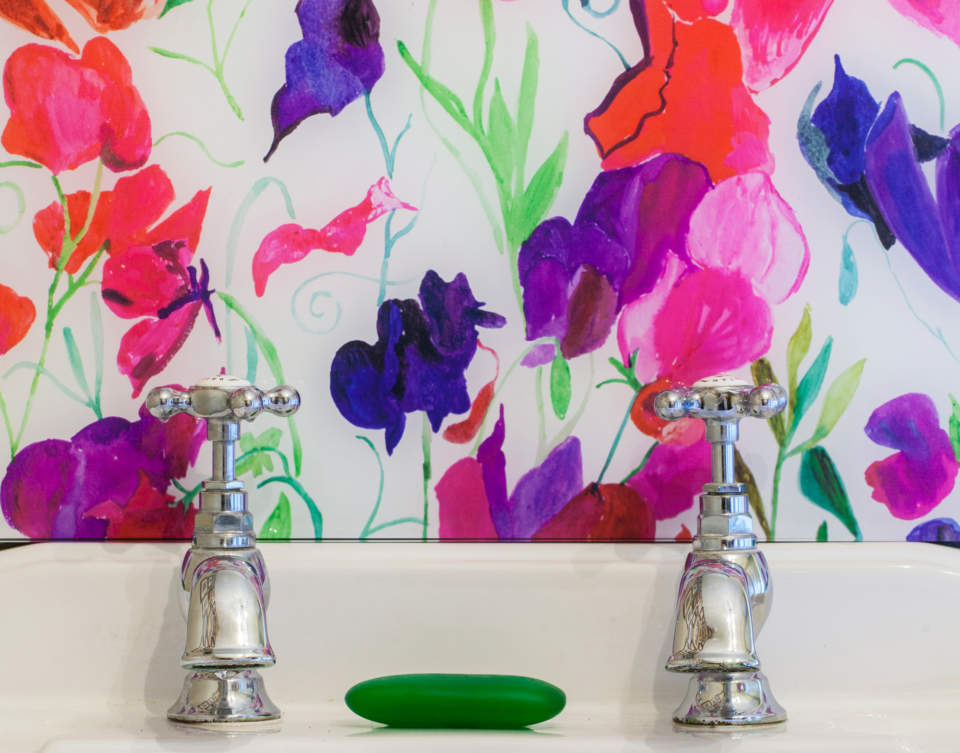 Bespoke Floral Glass Splashbacks for Kitchens
If you work on a bespoke design you can incorporate any or all of the flowers you love in a pattern created exclusively for you. Just like these below! You can find out how to commission a unique splasbhack for anywhere in your home, here.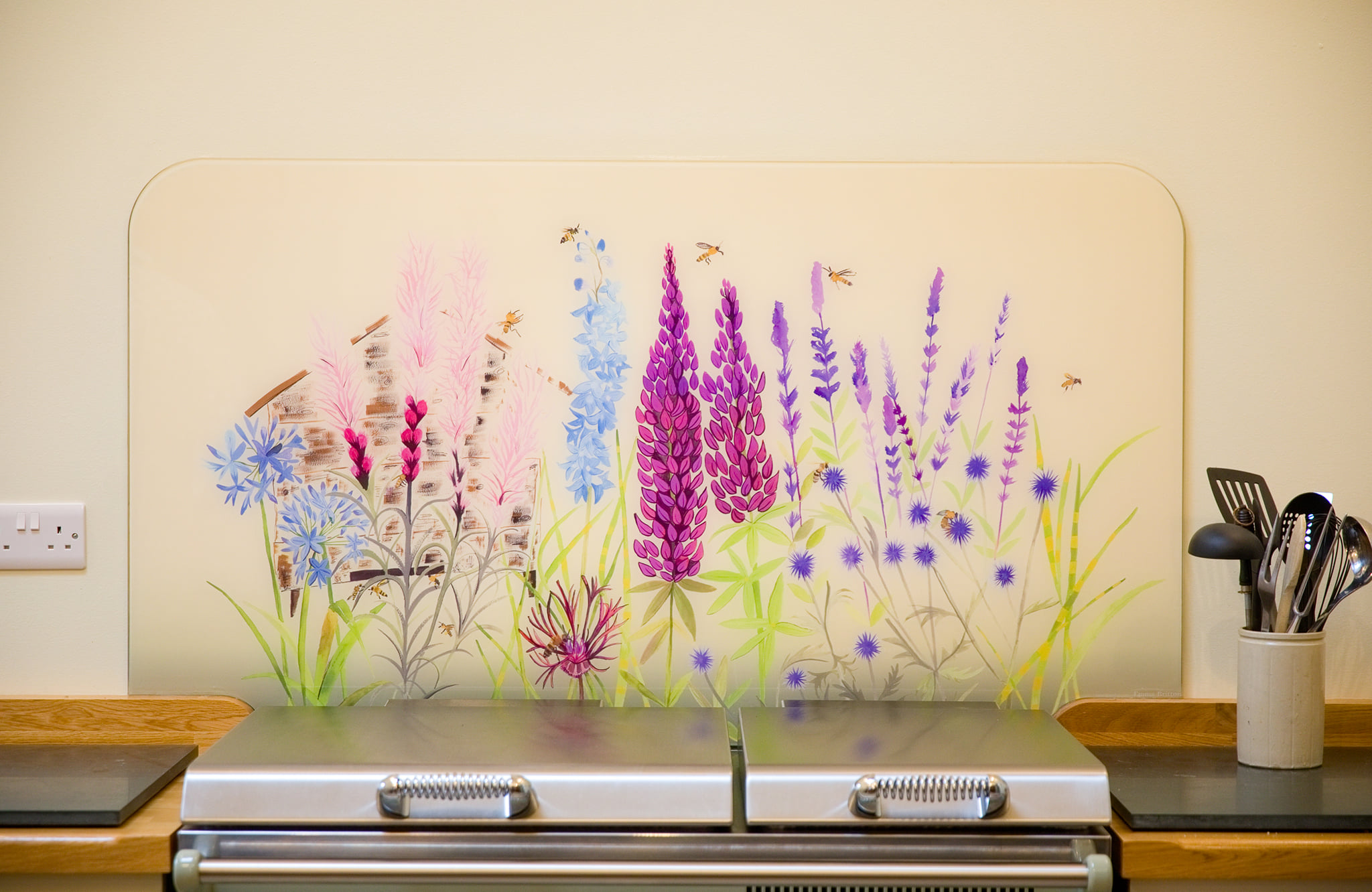 Emma Britton Floral Kitchen Splashbacks – Made to Measure
Send your dimensions to Emma for a splashback quote and start the journey to a stunning new look for your kitchen today.
Emma Britton glass splashbacks are independently hand designed and made to measure in the UK to industry standards. Emma continually develops new approaches and techniques to glass design at her own glass laminating studio. She produces splashbacks in her designs both in-house and 'works with' experts in the UK glass industry to fulfil a wide range of projects. From supply-only to supply and install.
You can order samples of any design, the cost of one sample is refundable when you order your splashback.
Did you like this post?
We have a regular newsletter full of ideas with Emma Britton Decorative Glass, lifestyle inspiration and occasional offers.  Scroll to the bottom of the homepage to sign up for a colourful inbox read.