Period Bathroom Transformation – Case Study
Period Bathroom Transformation - Case Study
9th September 2022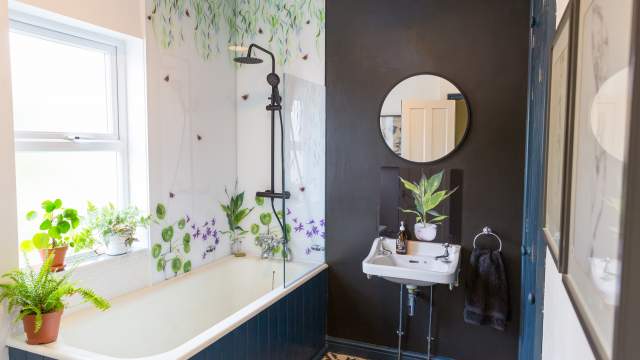 The period bathroom transformation in this Edwardian home created a contemporary look whilst retaining the heritage feel. Shower splashbacks, a bespoke glass shower screen and windowsill in designs from Emma Britton's GLASSHOUSE Collection give this traditional bathroom a fresh style. This project shows you how to mix up different designs from Emma's GLASSHOUSE collection to create a relaxing and original bathroom interior. 
Glass Shower Panels
The shower panels in this bathroom steal the show and combine two GLASSHOUSE designs within single panels. Look up and you'll see Willow & Red Admiral with Plant Life in White neatly finishing at the bath. In situ, these shower panels are a contemporary but complementary look for this period bathroom. 
Full height to ceiling shower panels are a great way to maximise wonderful period property dimensions and you get a real sense of Willow & Red Admiral's cascading effect with the high ceilings here. Real house plants on the bespoke glass windowsill and around the bath work well to emphasise the trompe l'oiel effect (paintings that create the illusion of a real object or scene) you get with Emma's Plant Life in White design.
Bespoke Etched Shower Screen
The bespoke etched shower screen echos the falling Willow leaves in the shower panels for a practical and beautiful surround. It gives the experience of showering fully immersed in nature. Pairing this modern glass shower screen with the original bathroom suite brings it right up to date, but retains the heritage charm found in period British houses.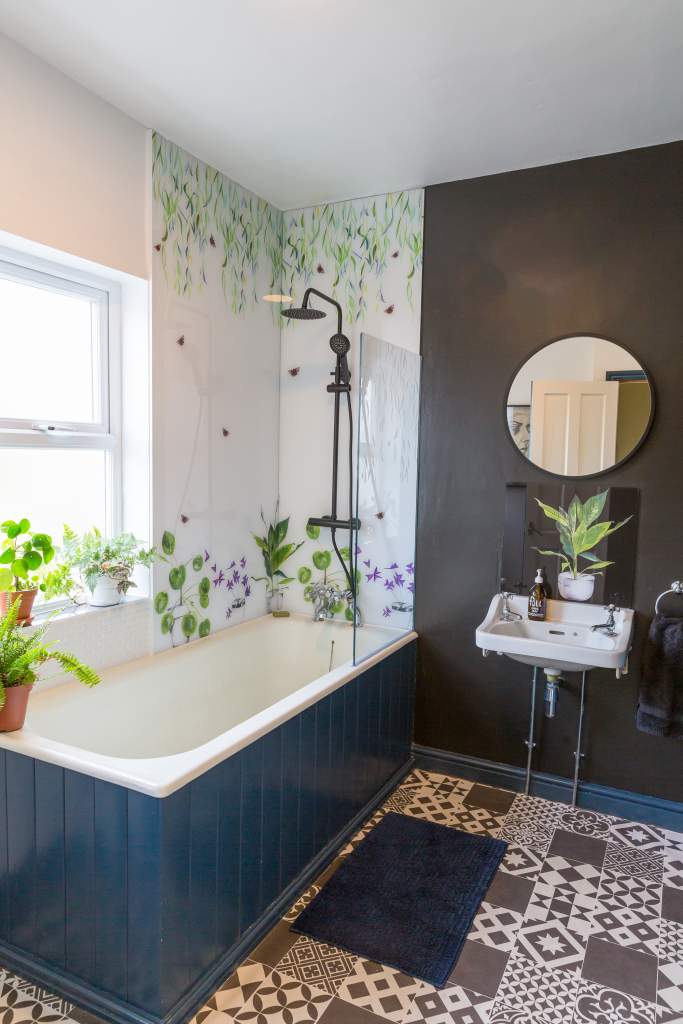 Glass Sink Splashback
Emma's Plant Life design is available in three colourways (white, black and blush) and this bathroom uses two of them. Plant Life in White for the shower panels and Plant Life in Black as a statement sink splashback. Using the same design in a different colourway creates cohesity in the room in an original way.
Painting the wall behind the sink splashback black grounds it for a contemporary finish. It can feel like a bold move to paint a wall black, but in this bathroom it works well. The predominantly white and black colour scheme accented with blue and green can take it.  Painting the rest of the room white also offsets this statement wall.
Bespoke Glass Windowsill
The bespoke black and white glass windowsill made by Emma is a geometric design to complement the tile effect floor. Sometimes it's the little details that really bring everything in a room together. 
Layering textures using a floor tile effect in the floor adds interest, but keeping the main decorative elements in glass makes for easy bathroom cleaning!
Get the Look
Order samples of the 3 designs. Emma's NEW Willow etched mirror is the perfect finishing touch too. All from Emma Britton's GLASSHOUSE Collection.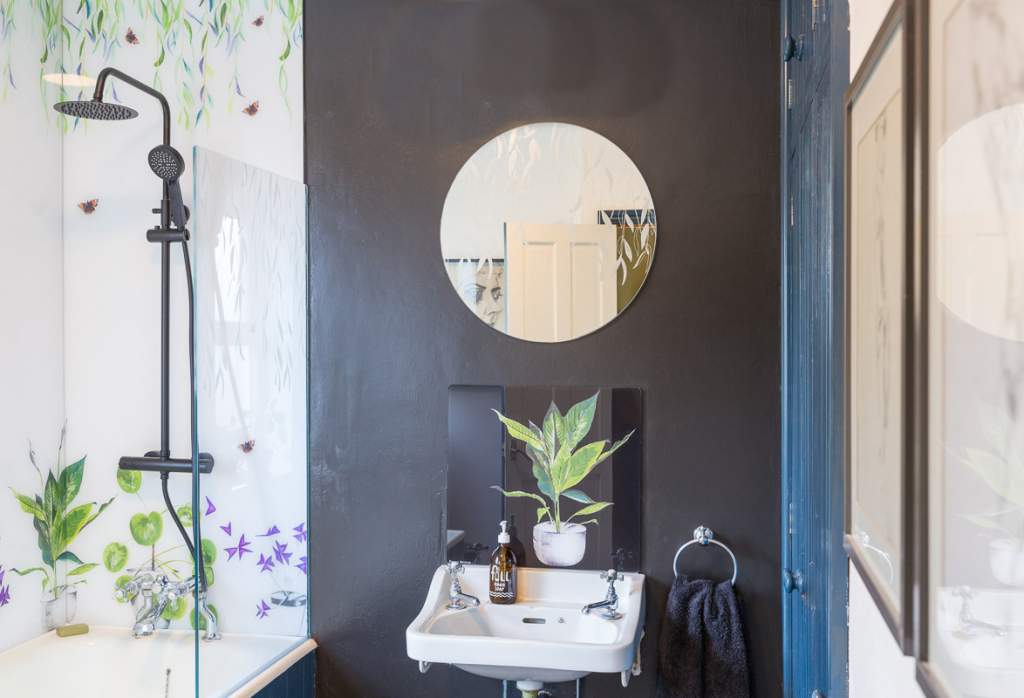 Sign up to the newsletter on the homepage for more features like this and a colourful inbox read.