Splashbacks for Small Kitchens and Bathrooms
Splashbacks for Small Kitchens and Bathrooms
12th May 2023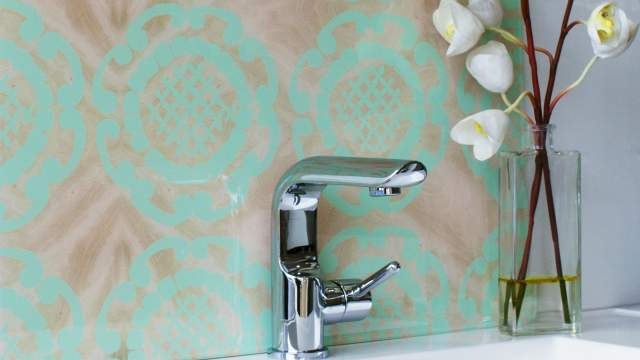 Splashbacks for small kitchens and bathrooms. Whether you're looking to refresh your downstairs loo, or add some interest into a kitchen nook, there's plenty of Emma Britton tried and tested splashback designs that work well at a more compact scale.
A small glass splashback is an easy and affordable home renovation idea for your kitchen, bathroom vanity unit, cloakroom or utility area. Here are some of our favourite small space splashbacks by Emma to consider for you home:
Sweetpea
Add a welcome pop of colour and pattern with the enchanting Sweetpea design. This all-over floral pattern works well in smaller kitchens. Bring out accent colours with bright bars of soap and choose colourful interior accessories to match the many shades in this design.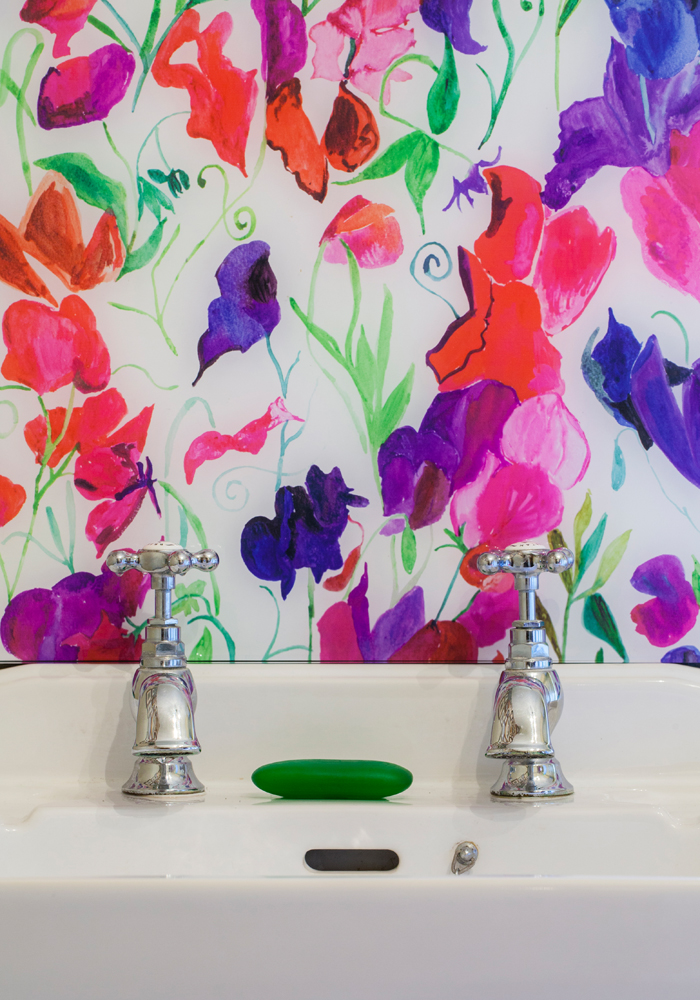 White Floral in Grey
A firm customer favourite that works well as a short vanity splashback. Featuring iris, lupins and foxgloves, the delicate hand-drawn design really pops with a white sink and tonal wall colours. Why not pair with a little posy of garden flowers to accessorise. Order a sample here.
"I contacted Emma to see if I could get a small splashback… the end product is fantastic.My little loo looks like something from a home magazine!" Fermina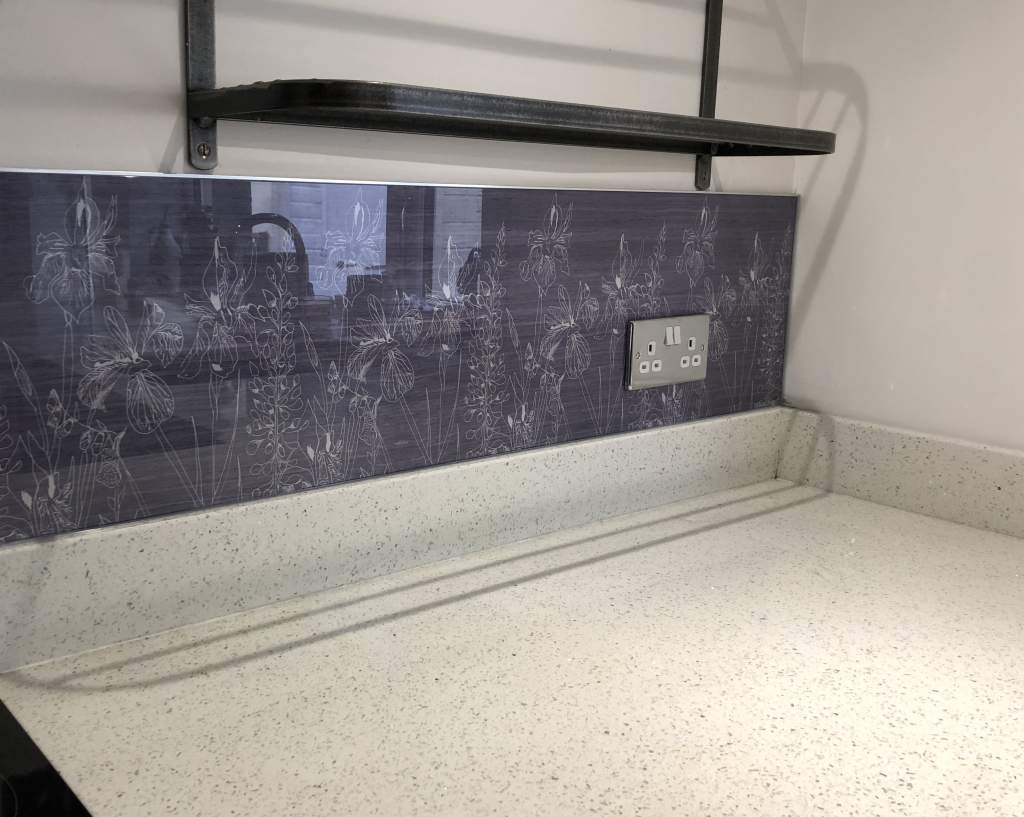 Tip:
If you are hanging a mirror, think about how tall you are and decide on the height of this first. Then measure how tall your splashback needs to be. If the splashback is for a guest bathroom, Emma recommends a splashback no higher than 300mm, to ensure small people can still see in your mirror!
Plant Life in Black
A contemporary choice, perfect for those who are green-fingered. Pair with dark walls (and an Emma Britton mirror – Willow is featured here) for a chic bathroom look. Houseplant goals!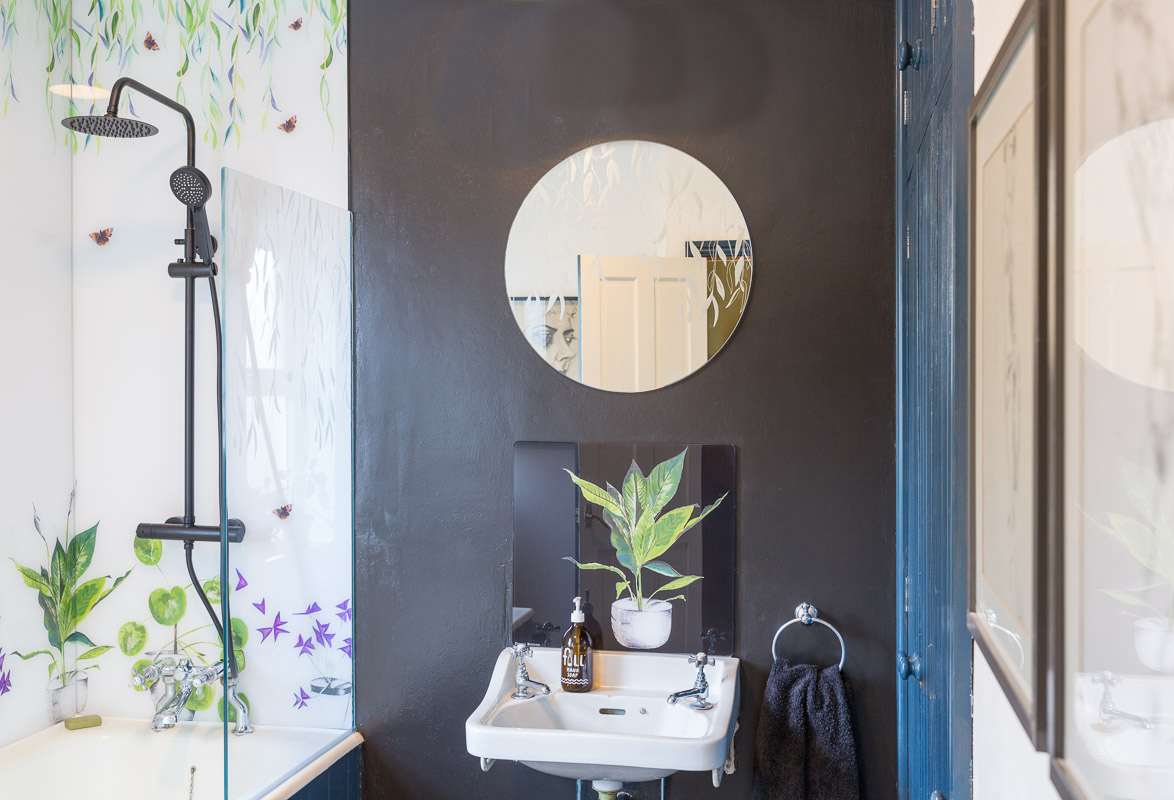 Mint Geo in Maple
Choose this modern geometric splashback instead of tiles for an easy interior refresh. A versatile splashback that looks great in both large and small spaces thanks to its bold, graphic aesthetic. This is a really fresh colour way; browse the 16 other colours in this design here.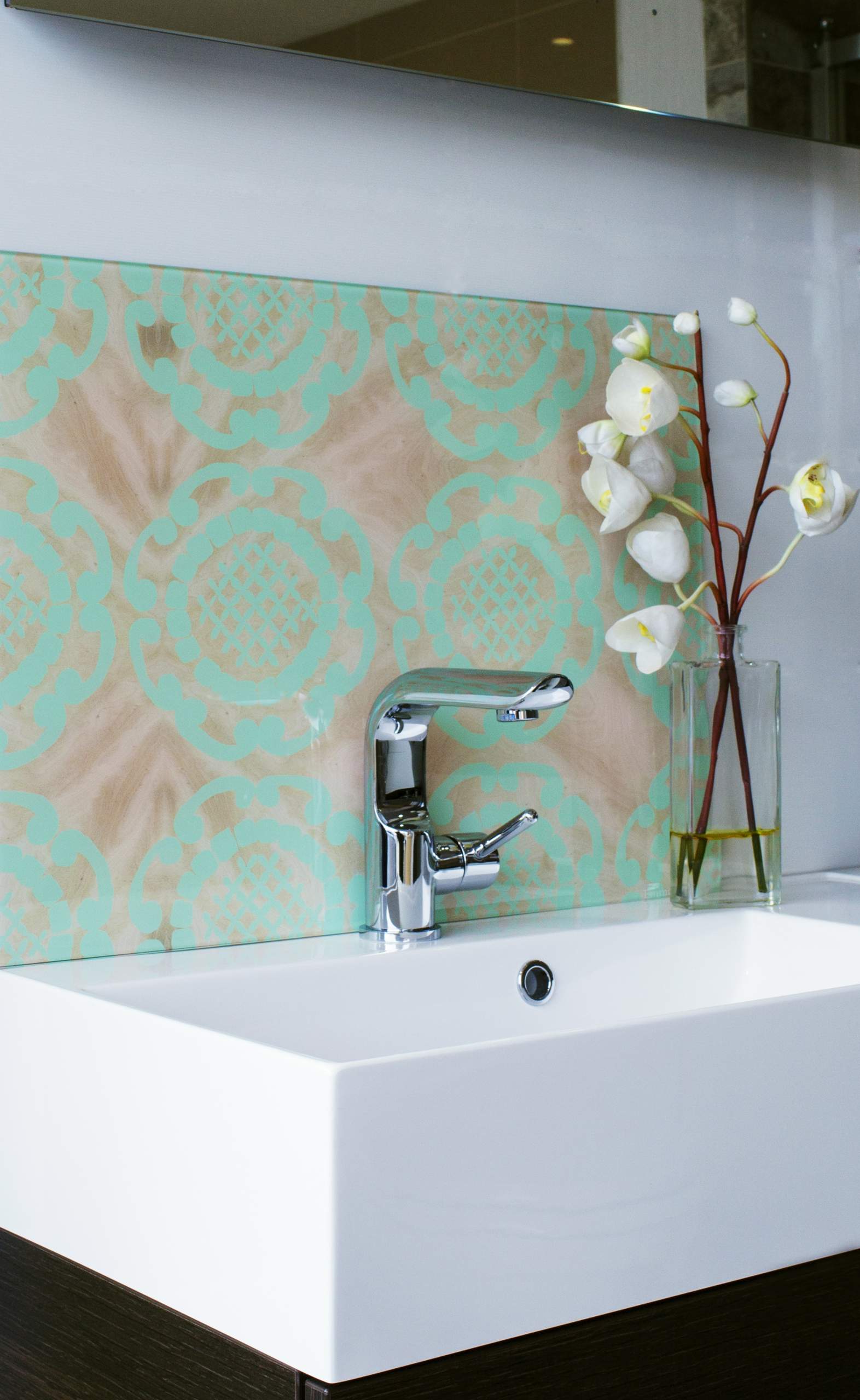 Mono
A subtle textural pattern that is great to use if you don't have a lot of space for a big splashback. Pair this monotone design with all white units for a simple yet stylish bathroom look.
"I'm really happy with the finished product- it has completely transformed our loo from rather a plain space." Reiko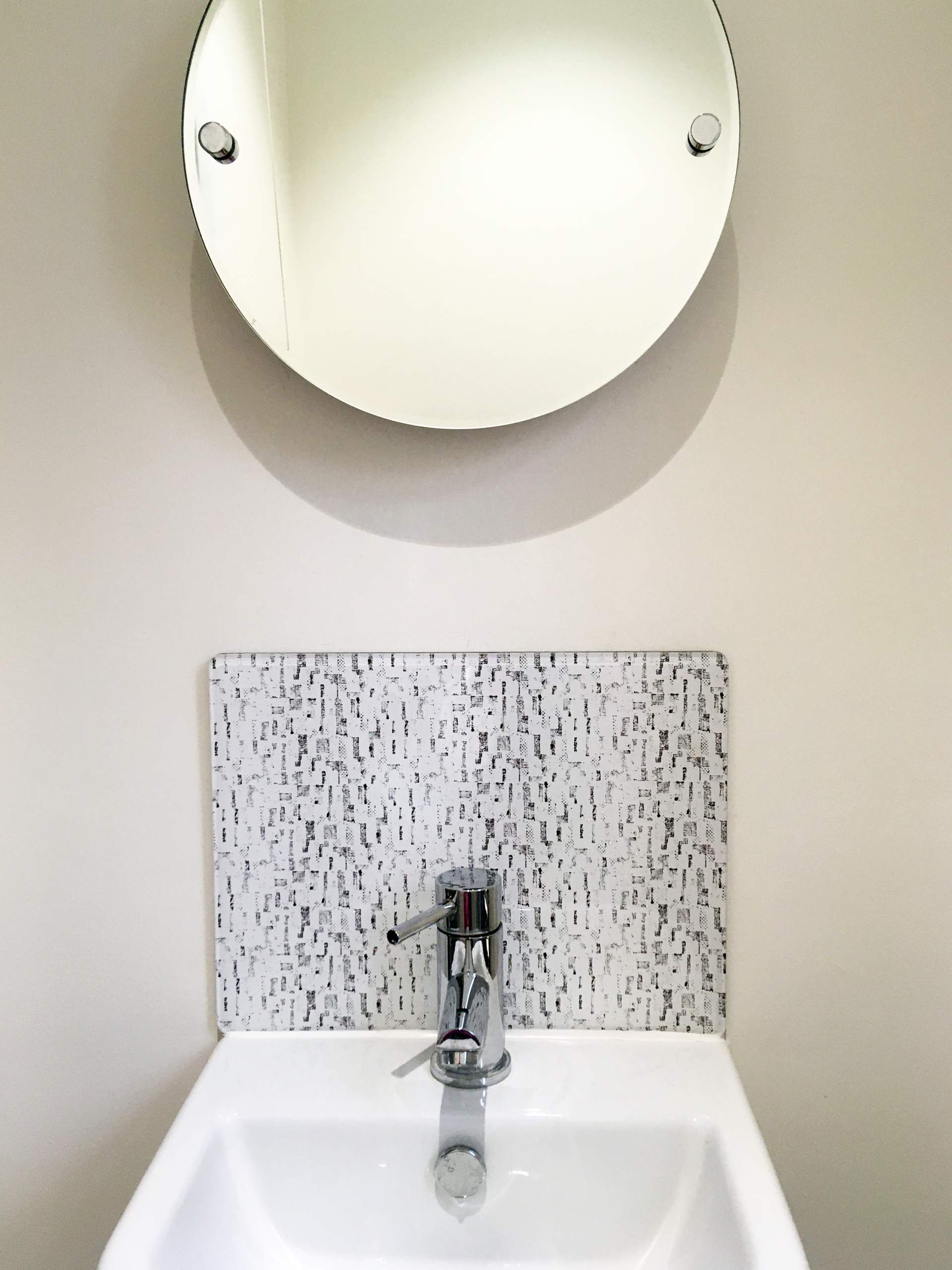 Or choose something a little different…
This bespoke sink splashback was designed by Emma to match her client's stylish wallpaper. Scottish thistles, ferns and a beautiful woodland green colour were all chosen to complement the wall print, sink and tap.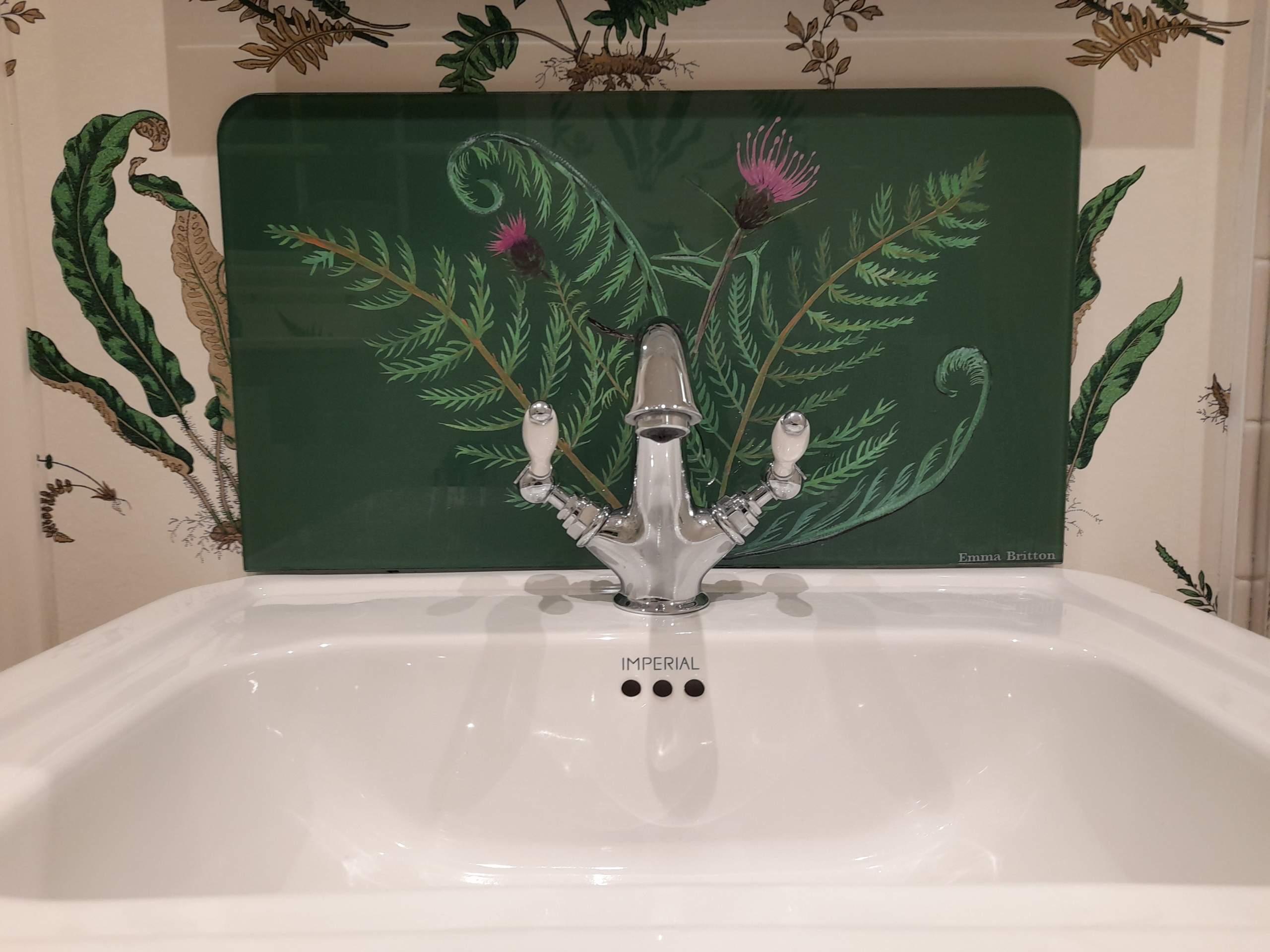 Iris in White also looks stunning as a sink splashback.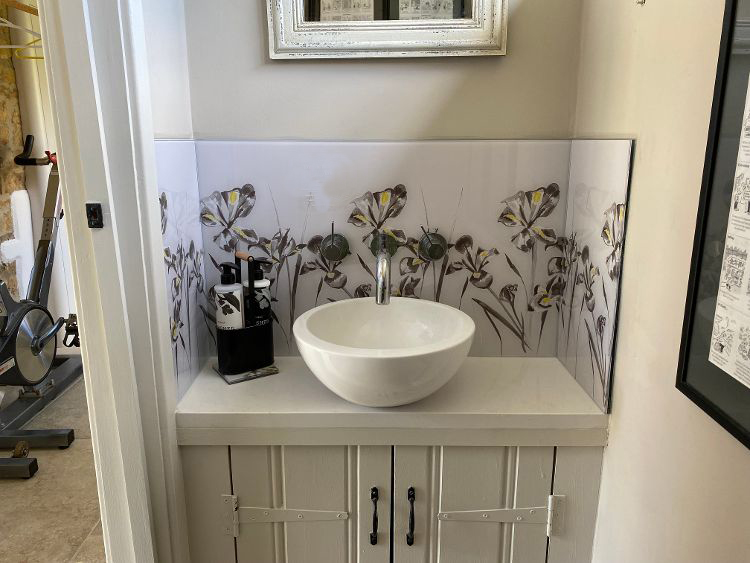 If you can't find quite what you're looking for in Emma's collections, or are looking for something totally unique, do get in touch about commissioning a bespoke splashback.
Made-to-Measure
Emma Britton glass splashbacks, made in the UK and sized to fit your space exactly.  For a quotation, please send Emma your measurements.
Did you like this post?
We have a regular newsletter full of ideas with Emma Britton Decorative Glass, lifestyle inspiration and occasional offers.  Scroll to the bottom of the homepage to sign up for a colourful inbox read.