The Elegance of Bespoke Glass Splashbacks
The Elegance of Bespoke Glass Splashbacks
3rd November 2023
Emma Britton specialises in creating bespoke glass splashbacks, tailored to clients' interior schemes, spaces and personal preferences. Bespoke splashbacks are suitable for kitchens, bathrooms, utility rooms and more. Providing both an elegant look and a functional barrier to protect your walls.
Whether you choose a pattern from one of Emma's six collections or commission a bespoke design, Emma creates only made to measure splashbacks for a perfect fit. The result is seamless; splashbacks which are stunning to look at and easy to clean! Emma imagines her glass splashbacks as jigsaw pieces; individually shaped to perfectly slot into the space they're designed for.
Furthermore, the flawless high shine finish of a glass splashback bounces light around your room to help make it feel more spacious. Emma's patterned glass splashbacks are a truly elegant finish that can really set your interior apart. 
Why choose bespoke glass splashbacks?
Above all, the beauty of commissioning a bespoke splashback is that it will be totally unique to you and your home. For a cohesive look that really ties in with your interior, Emma will incorporate elements of your wider kitchen or bathroom design. Emma has also designed lots of site-specific splashbacks where clients have chosen to bring their outdoors in with garden-inspired designs. Like the project below. 
How does it work – bespoke glass splashbacks
Commissioning a bespoke splashback is a flexible and enjoyable process. Firstly, specify your colours, space and inspiration and Emma will work with you throughout to create a splashback design exclusive to you. All of Emma's splashback designs start life as sketches and paintings, hand-designed by Emma herself. From design consultation to installation, Emma will create a look you're completely happy with. Visualising your space is of upmost importance, therefore all bespoke splashbacks are sampled for clients automatically.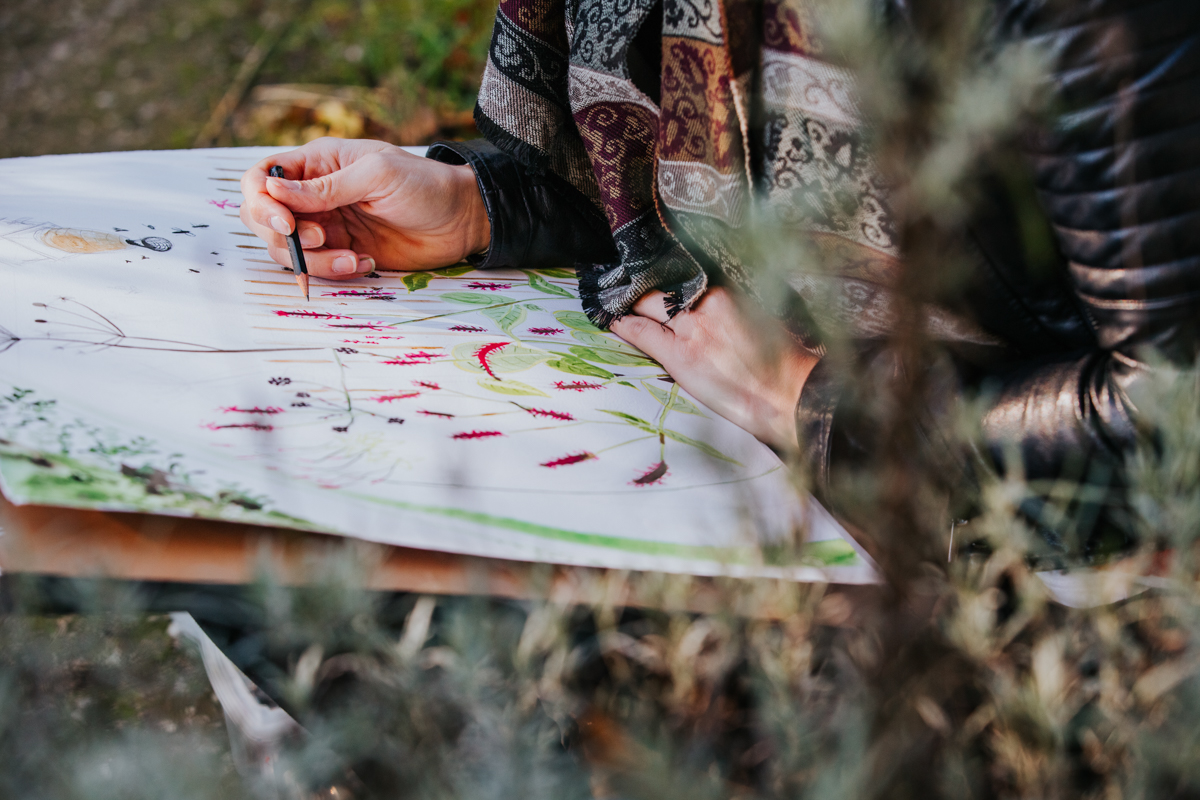 Discussing my design with Emma was a personal journey and she was so patient with me as we looked at the first designs and I realised I wanted to go in a different direction. The service was beyond bespoke, we are just delighted with the end result – it is beyond our expectations! I cannot recommend working with Emma highly enough and I just wish I could go through the experience all over again! – Nichola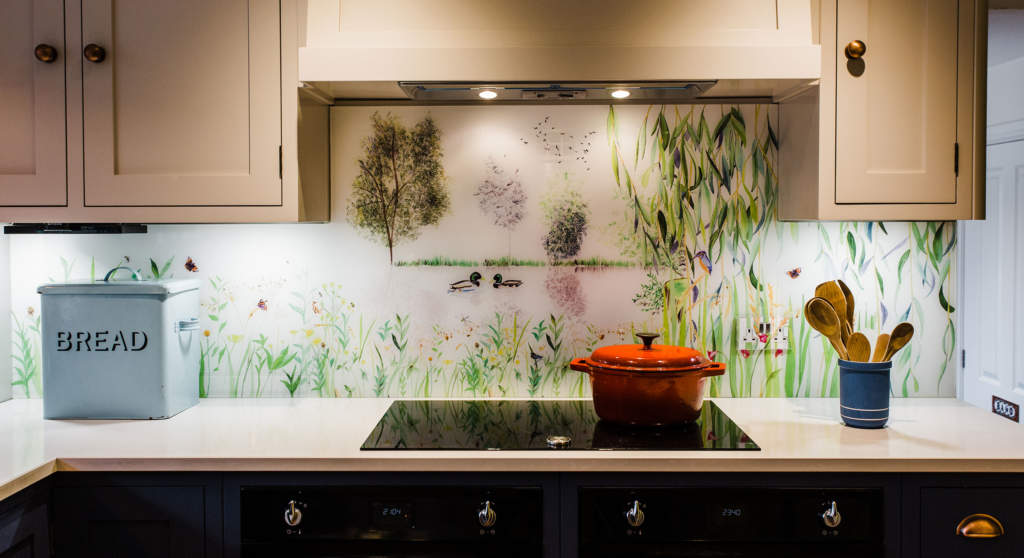 Did you know?
Additionally, Emma can create interior glass panels, windowsills, worktop protectors and more in her glass studio, upon request.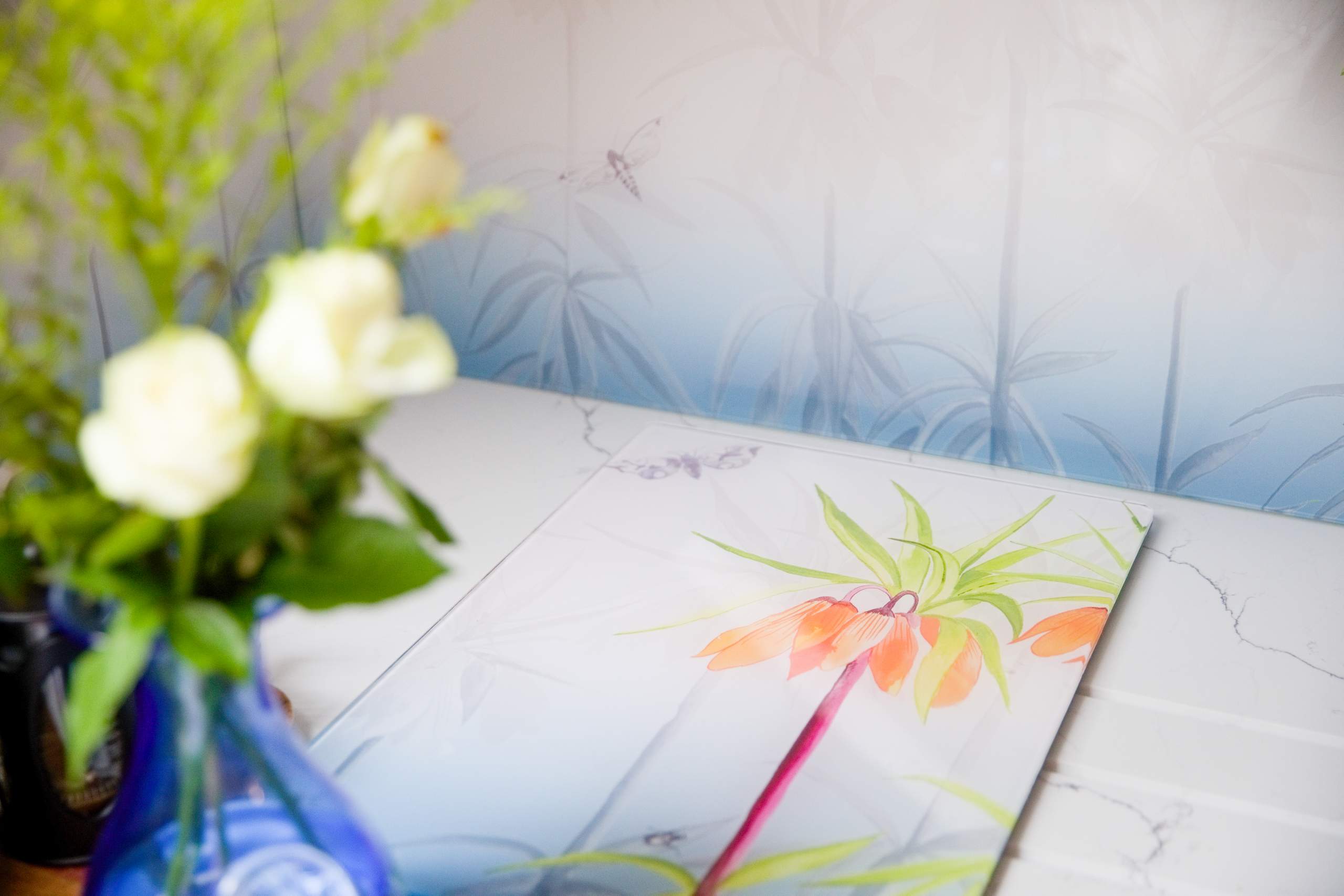 Get in touch to start your glass splashback commission today.
Did you like this post?
We have a regular newsletter full of ideas from Emma Britton Decorative Glass. Including decorative glass splashbacks, lifestyle inspiration and occasional offers.  Scroll to the bottom of the homepage to sign up for a colourful inbox read.