Garden Inspired Splashback : Case Study
Garden Inspired Splashback : Case Study
28th February 2021
The garden inspired Splashback I'm about to talk about was for Sarah and John. It features my hand painted florals and matches the kitchen of their very old cottage barn conversion.  Sarah and John's Splashback is featured in this film and is the third design to appear:
John's a beekeeper, so I included a beehive and some bees, which you can spot behind the cooker. Sarah is a gardener for the National Trust and gave me artistic rein, but sent a long list of all the flowers I could pick from, inspired by her favourite Claire Austin perennials. This was doubly exciting for me.  I really respect Claire's horticultural expertise, and she also stocks my glassware at her gardens. 
Garden Inspired Splashback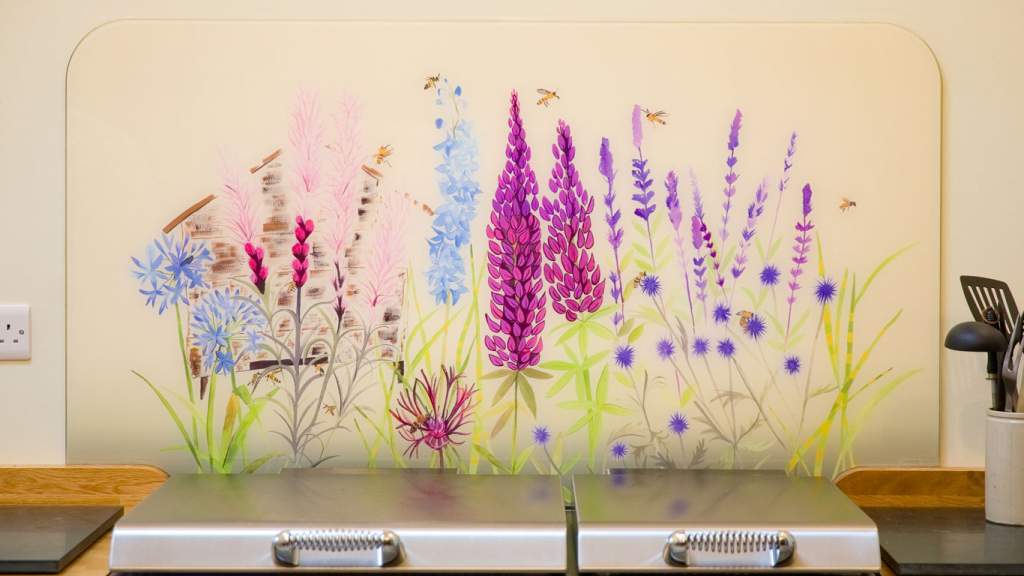 The design was a true collaboration between myself and Sarah. The sink Splashback includes her favourites:  Eryngium, Pulmonaria Trevi Fountain, Echinops Blue Globe, Geum Mai Tai and Geum Totally Tangerine. As always, this bespoke Splashback is designed to work with the space. It includes curves to mirror John's joinery, cream to match the cupboards and green to match their Everhot Cooker. By daylight, the corner window in the kitchen looks out over the garden. The design now reflects Sarah and John's garden back inside inside the kitchen. The Rosehip branch is particularly successful, which comes in top right of the sink, as it does in the window. It's always about attention to detail with me!
How did you discover Emma Britton Decorative Glass Designer?
 A friend and I visited Emma at RHS Tatton Flower Show. I was so impressed with what I saw, that I took a card. And then when we were ready, I just got in touch with Emma.
Why did you choose Emma Britton Decorative Glass Designer?
I'm a gardener by profession, so we tried to choose flowers which were around the year thinking about heights, styles and colours. We keep bees and we wanted to have a beehive on the Splashback, at the back of the cooker. The rosehips sit at the very edge of the sink; that theme is continued out of the corner window, through to the rosehips in the garden. I think for both of us, that is a real positive point of the creation.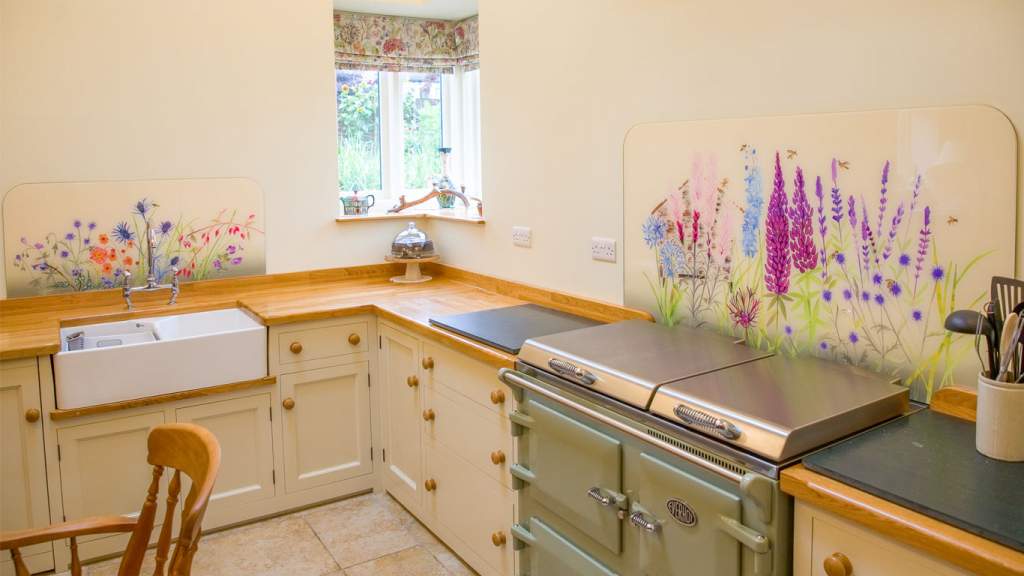 What was the design process like?
I really feel it was a collaboration between the two of us, and it was a very equal collaboration. Emma was only concerned that the design was right for what we wanted.
Bring your garden inside
I will design a Splashback equally beautiful for you! Please get in touch today to talk about your ideas: emma@emmabritton.net. Browse the Collections for ideas here and read the customer reviews on my Houzz profile. Lots of inspiration on my social media feeds: Instagram @emmabrittondecorativeglass and Facebook.