HomeGrown Design Collection Launch at RHS Chelsea Flower Show 2021
HomeGrown Design Collection Launch at RHS Chelsea Flower Show 2021
20th September 2021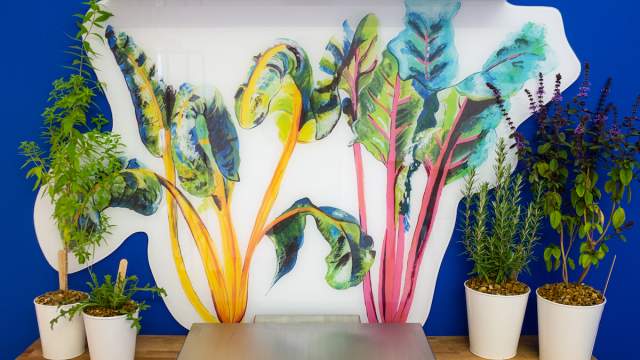 The HomeGrown design Collection by Emma Britton is officially launching at RHS Chelsea Flower Show this autumn (21 – 26 September 2021). The collection features a new Splashback design, 'Bright Lights' and a lovely leafy tray joins the homeware ranks. Many of you will already be familiar with the two Gardener's Trays (pictured) which are the seeds for this collection of HomeGrown designs. 
I'm delighted to be unveiling 'HomeGrown' at the greatest flower show I know. This is my second Chelsea exhibition and I'm eager for a coveted stand award, so get rooting for me! Say 'hello' if you're visiting, we're  in our normal spot just a few stands down on the right from the main entrance, 412 Eastern Avenue.
Read on to find out more about HomeGrown and Emma's exhibition for RHS Chelsea Flower Show 2021.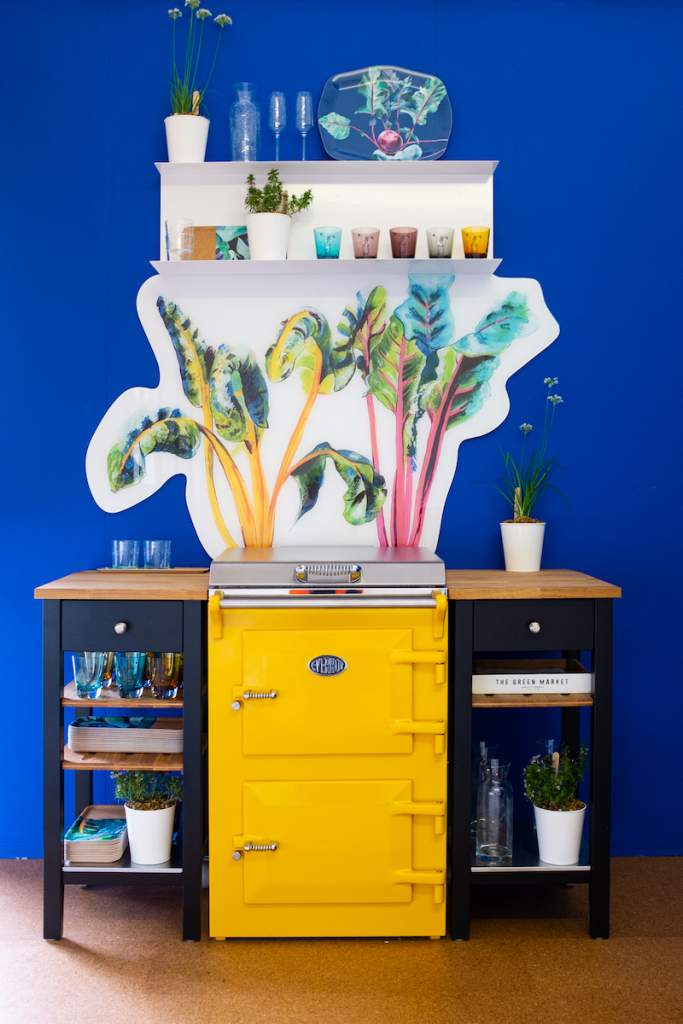 HomeGrown Collection Revealed
Emma's HomeGrown designs are all inspired by vegetables, especially those with 'look at me' and architectural leaves. HomeGrown is very much about celebrating the stalks of life and the ideas for this Collection actually came about during Emma's RHS Chelsea Flower Show debut in 2019.
The show vegetables that year were striking and sculptural, with real potential for shaping a bold and beautiful design collection. 
Little did any of us know, just how popular growing vegetables at home, however small the plot or container, would become. The Collection has a timeliness about it. It draws on all that amazing 2019 Chelsea show vegetable inspiration, but also captures something of the revival for food shopping locally, slowing the carbon footprint and taking the time to tend and nurture. These are pattern designs with conscience.
'Bright Lights' is the new hand painted splashback for HomeGrown, depicting the chard variety of the same name. It's a visual feast both when growing and on the plate and provides a wealth of natural design inspiration. The gorgeous new tray is luscious and leafy and nearly good enough to eat. Available online soon. 
HomeGrown at RHS Chelsea Flower Show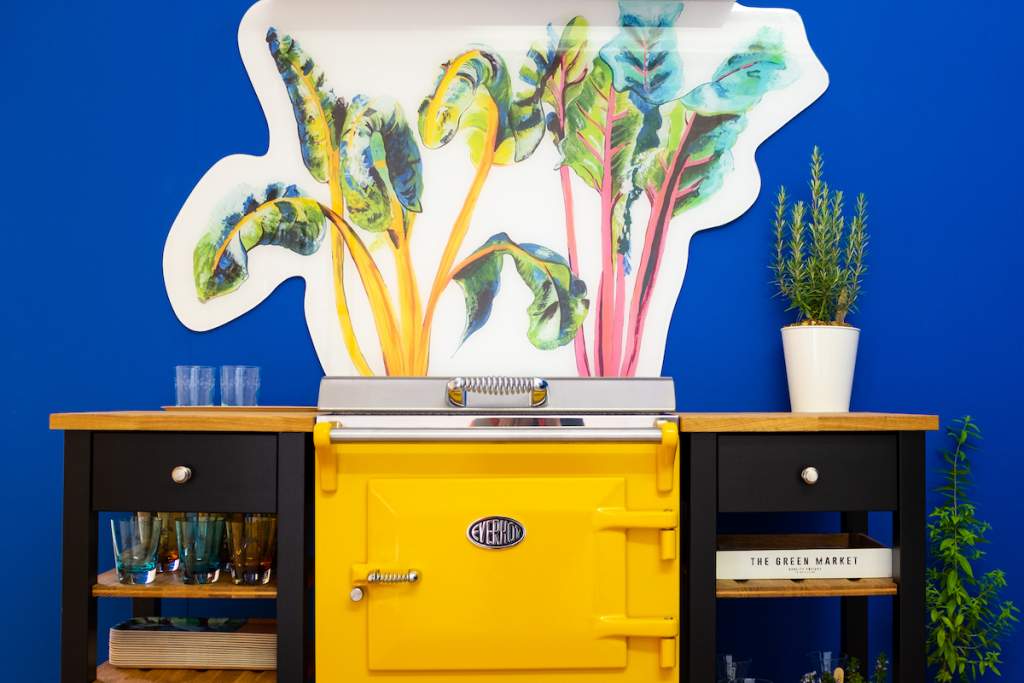 Emma Britton for RHS Chelsea Flower Show 2021 presents a serious kitchen style statement with HomeGrown. The scene created for the stand by Emma demonstrates the possibilities of using colour and pattern effectively in any kitchen. Emma's Chelsea 'Bright Lights' splashback design is also shaped into an unexpected and organic form. Curved edges, rather than straight lines, don't conform to the usual idea of a splashback making it eye catching, striking and very show worthy. Bright Lights is work of art as well as a functional and practical kitchen solution.
Teaming Bright Lights with a fabulous Everhot 60 range cooker in mustard, generously lent by Everhot, is the perfect pairing. For over 40 years, Everhot has represented British engineering and craftsmanship at its best. Everhot cookers are handcrafted to last a lifetime, made with materials sourced entirely in the UK. Emma has completed a number of splashback projects for clients with Everhot range cookers, look out for our journal post on these coming soon.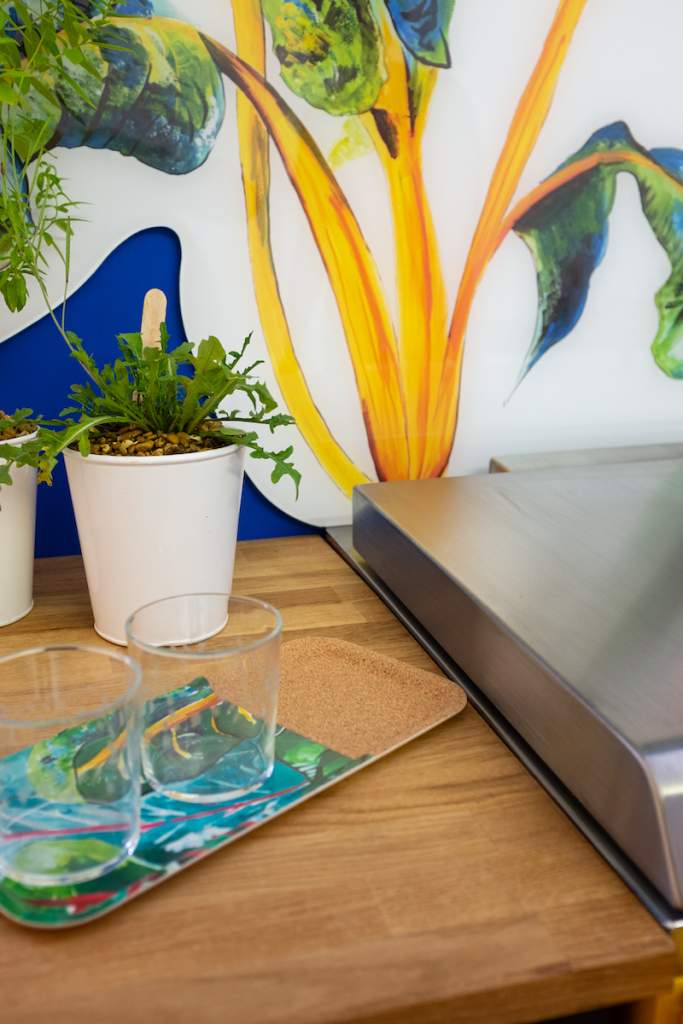 Within Emma's kitchen at RHS Chelsea is planting by RHS award-winning young designer, Jimmy McAdam. Very much in keeping with the ethos of HomeGrown, his emphasis is on herbs (from amazing Jekkas) and aromatic plants for cocktail ingredients to complement Emma's popular glassware collections, available to buy on the stand. 
I initially met Emma in 2018 at Tatton and we've since built on our relationship as creative people. Emma is a fantastic designer maker and I wouldn't miss this opportunity to work with her at the Chelsea Flower Show. I hope the plants will fully complement Emma's splashbacks and glassware. Chelsea is the greatest show on earth.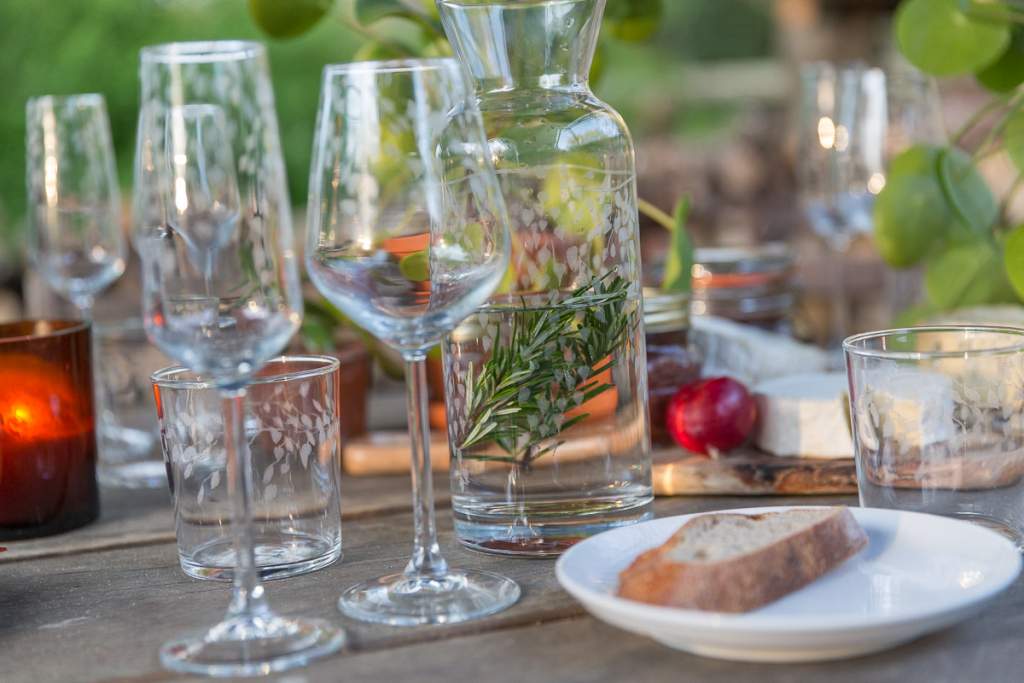 Silver Birch Glassware Collection
New Collection for the RHS too!
Emma received a design commission from the RHS earlier this year for a bespoke range for their shops. The 'Iris' design has proven a huge success. Emma is now working on a special Christmas collection, which will be arriving soon.
You can shop HomeGrown and all of Emma's other designs in products.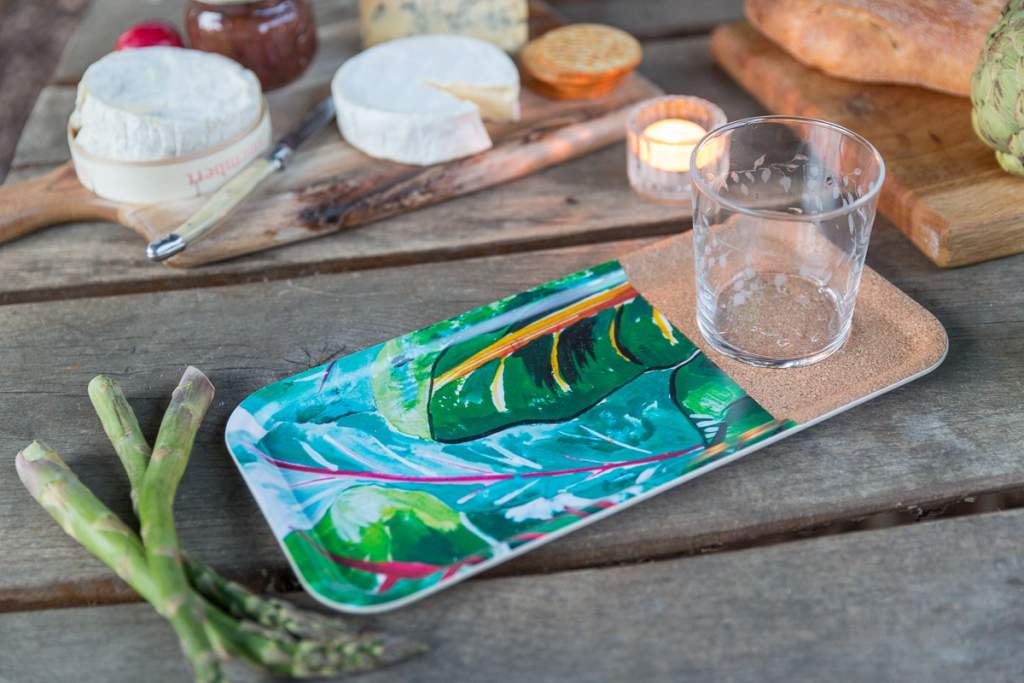 HomeGrown Collection – The Gardener's Tray Small Cork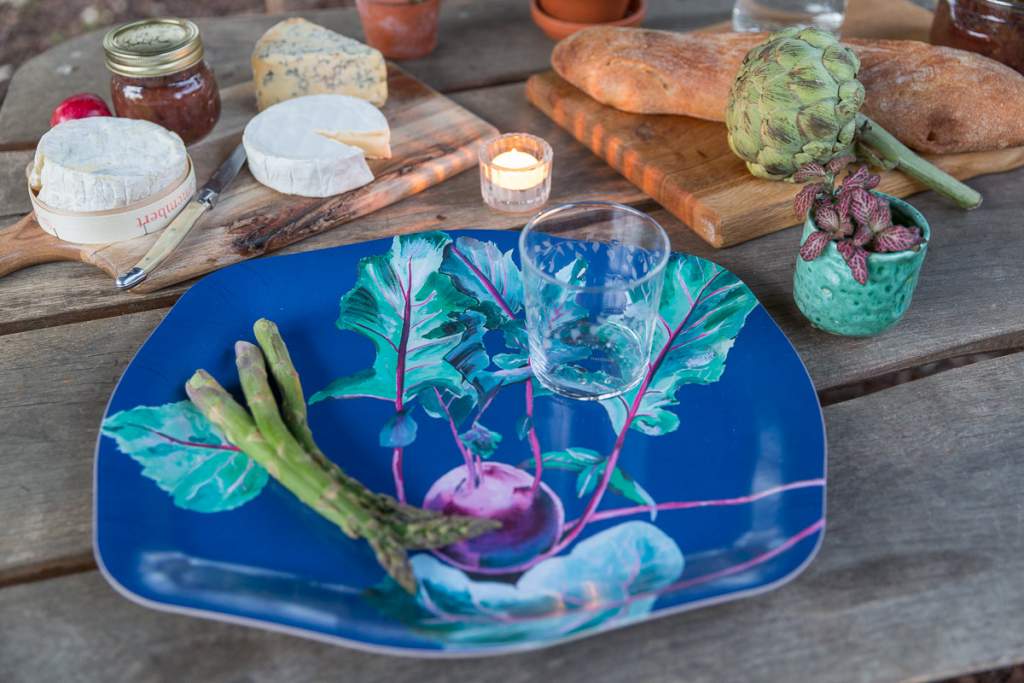 HomeGrown Collection – The Gardener's Tray Large
Did you like this post?
We have a regular newsletter full of ideas with Emma Britton Decorative Glass, lifestyle inspiration and occasional offers for readers.  Scroll to the bottom of the homepage to sign up for a colourful inbox read.