Emma Britton Decorative Glass Designer: Celebrating 10 Years
Emma Britton Decorative Glass Designer: Celebrating 10 Years
30th April 2021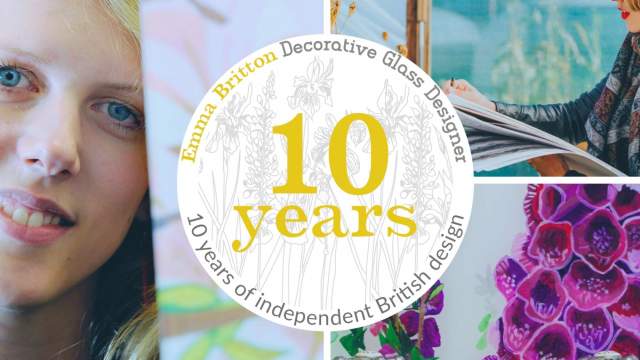 It is 10 years since Emma Britton Decorative Glass Designer had the previously unseen idea of applying pattern to glass for Splashbacks. 10 years on, her Splashbacks are still a distinctive and beautiful interiors choice. Emma's 'Foxglove' design launched the business and a debut collection which is now complemented by three others and her coveted home accessories range.
Decorative Glass Birthday Celebrations
10 years in business is a milestone worth celebrating. A chance to tell the story of Emma Britton Decorative Glass Designer so far and look to the future. The lead up to this business birthday hasn't been quite as anticipated, but there's lots to be thankful for. Certainly the loyalty of customers and other brand supporters. 
I'm grateful for all I've been able to achieve, so to say thank you, enjoy some special offers over the next few months. The chance to win a Splashback will also be coming later in the year. As well as some mentoring sessions with me for a startup or pre-start business. I would really love to give something back and use my experience to help another early stage entrepreneur.
The next 10 years are an exiting prospect – bright, bold and definitely optimistically floral.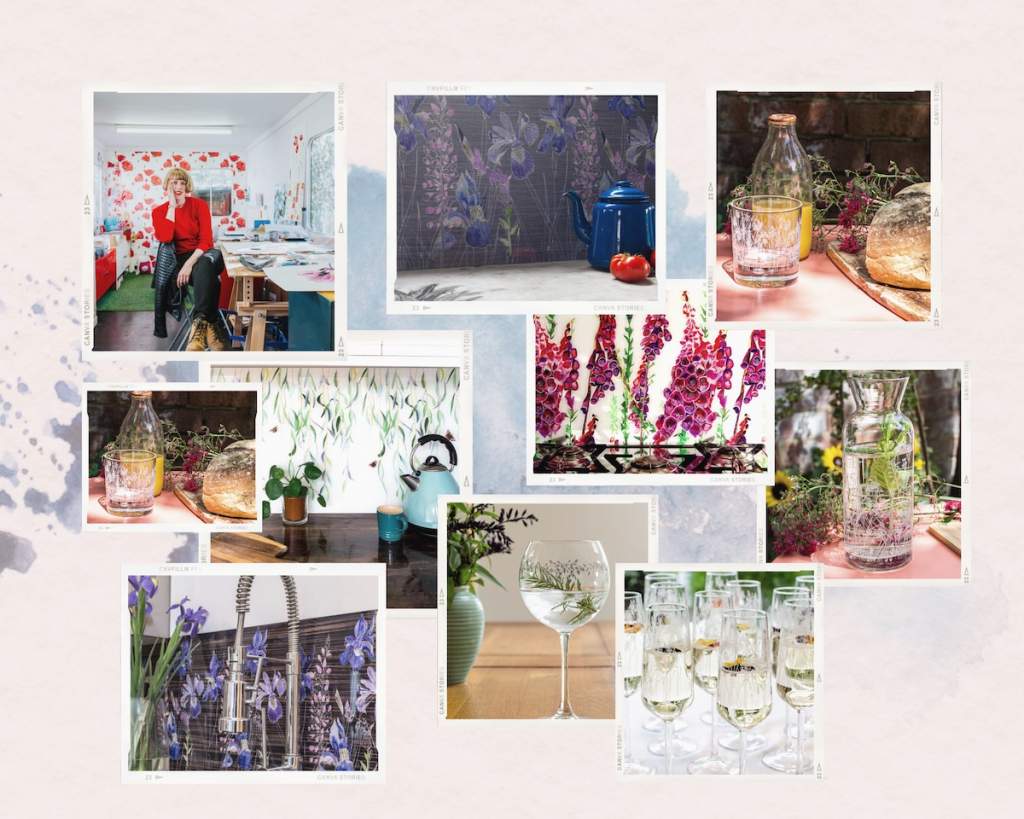 10 Brilliant Brand Moments
'Foxglove' was the first design in my debut Splashback Collection, 'Up the Garden Path'. GLASSHOUSE  , MAPLE and PINEAPPLE STICKS Collections now sit alongside with a variety of designs inspired by British flora and fauna. I will always be in debt to my idea, and the East Midlands graduates grant that enabled that first design.
The first projects I completed in glass for clients were pretty special. The support and trust of those early brand adopters was huge in securing the future of Emma Britton Decorative Glass Designer.  I'm looking forward to sharing some of their memories and reflections with you.
In the early days I was lucky enough to meet Yvonne. She took the iconic 'Blue Hydrangea' brand image for my 'Up The Garden Path' collection. Much loved, it helped shape my brand identity and bring it to life. Yvonne's incredible lifestyle imagery has continuously told my design story ever since.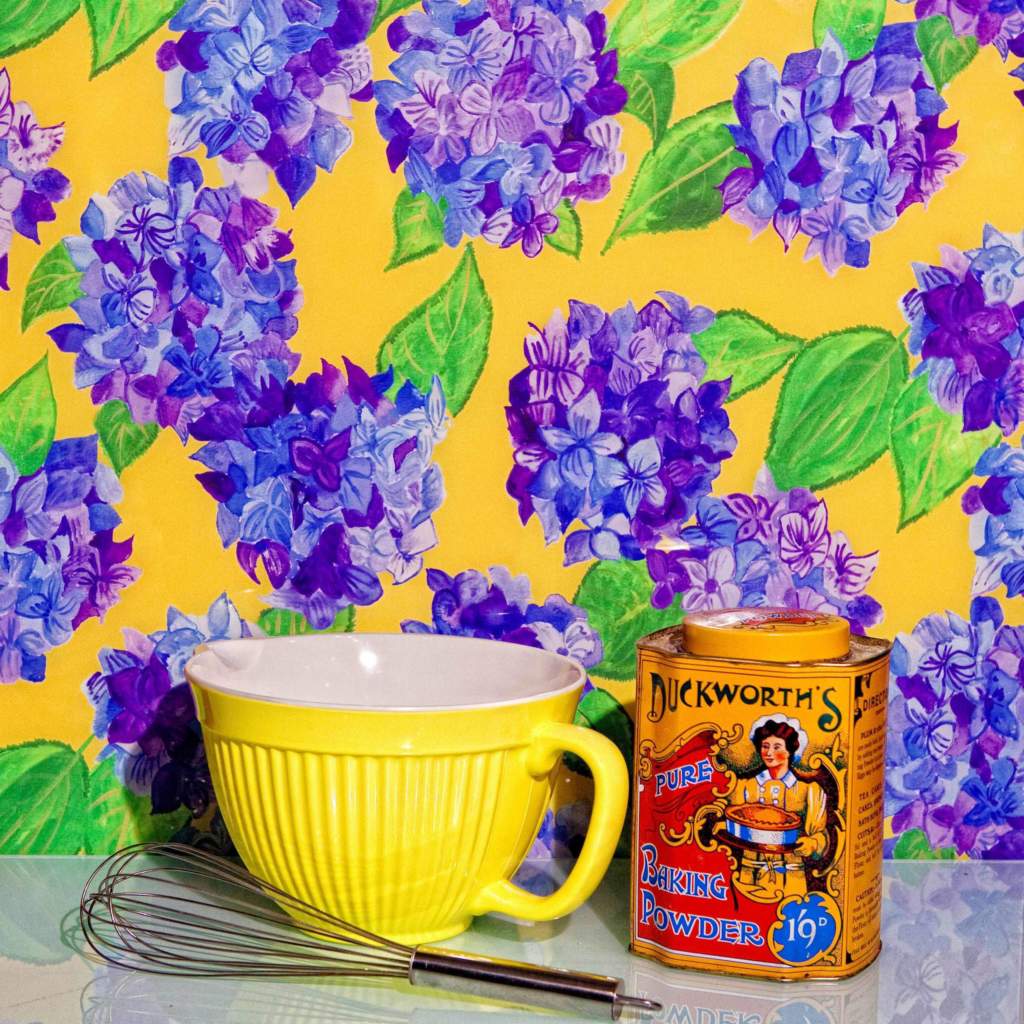 I was an early adopter of the HOUZZ platform. I still profile on HOUZZ which has rewarded me handsomely with awards for customer service over consecutive years. Being a proudly independent and trusted UK design brand will always be at the heart of the business.
 'Floral' was my first glassware range.  It's still so desired by people today. But look out for my new Silver Birch Collection launching soon. The popularity of this range told me you definitely wanted products as well as Splashbacks, which was a lovely business turning point.
…pretty and stylish and not so delicate I daren't use them!
My first acceptance to RHS Chelsea Flower Show was a real brand outing in all senses of the word. The perfect context for my design style. I met so many now loyal customers whose support has only grown. It's an honour to finally be able to return in September after the pandemic forced a break in 2020. Please come and say hello if you're visiting!
Gaining a commission from Weleda to design their 'Gifted from Nature' Christmas packaging in 2018 was a real endorsement of my distinctive design style and approach. I took inspiration for the Collection from 'The Field'; Weleda's biodynamic demeter organically certified gardens. I'll be sharing their Head Gardener's recollections of my time painting there soon.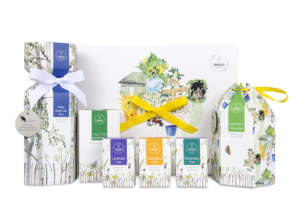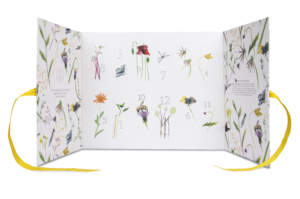 Who'd have thought that filming Splashbacks in a bathroom for Holly Tucker and winning an award for it could be so impactful on a business. Well, it was, in so many ways.
Business Mentoring through the prestigious Natwest Accelerator Programme has supported me so much recently, pushing me to strive for dream collaborations and future-proofing.
Bringing things up to date I recently took the glassware decoration side of my business in house.  The first achievement, RHS's exclusive 'Iris' range. With it, I've grown a great team who I'm looking forward to developing the brand with over the next 10 years.
Sign up to the Newsletter. Follow on Facebook and Instagram.  Hear more birthday news, stories, special events and offers!