Christmas for Less: Greener and Leaner Ways to Set Your Festive Table
Christmas for Less: Greener and Leaner Ways to Set Your Festive Table
19th November 2023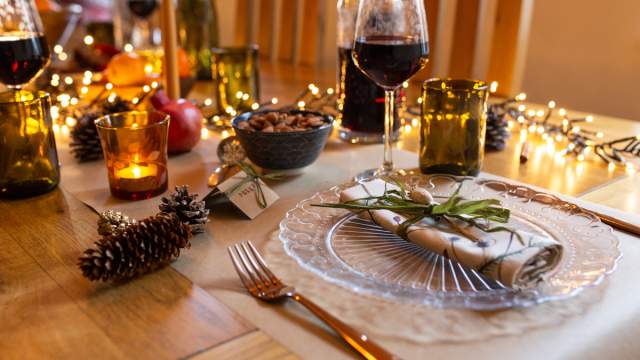 Christmas for less, yes please! Looking for something special to dress your festive table with? We've got some ideas to help you have a magical time, save money and be kinder to the environment. Less is more all round. Our mini guide to a more eco Christmas for less with Emma Britton is below.
'For me, part of the joy of setting a Christmas table is mixing together new finds with old treasures, foraged and paper decorations you can use again or recycle, for a really personal feel that also keeps costs down. The result is a stylish table that doesn't cost the earth. 

For example, you might have some of my Silver Birch glassware already, adding in just one or two new Woodland Walk pieces, like the carafe, or napkins, will give you a whole new look for less.' Emma
To Start
Use inexpensive brown paper as a table runner, it gives great coverage and will offset other elements of your setting beautifully.  This works really well if you have a long table like Emma, for maximum impact allow the paper to drape over the ends.

Greener Decorative Foliage
One of the best free resources is found foliage, collect seedheads from your garden after they have flowered, like alliums, poppy's and eryngiums.  Fill your pockets with pine cones, when you are out on country walks. Save twigs and dry buds from bunches of flowers received throughout the year, they will come in handy for Christmas time and setting a winter scene. If you have a big table go for larger vases of foliage like the Silver Birch Vase but for more crowded tables with lots of guests try smaller vessels with a few choice stems, like our Woodland Walk Vases, for ease of conversation.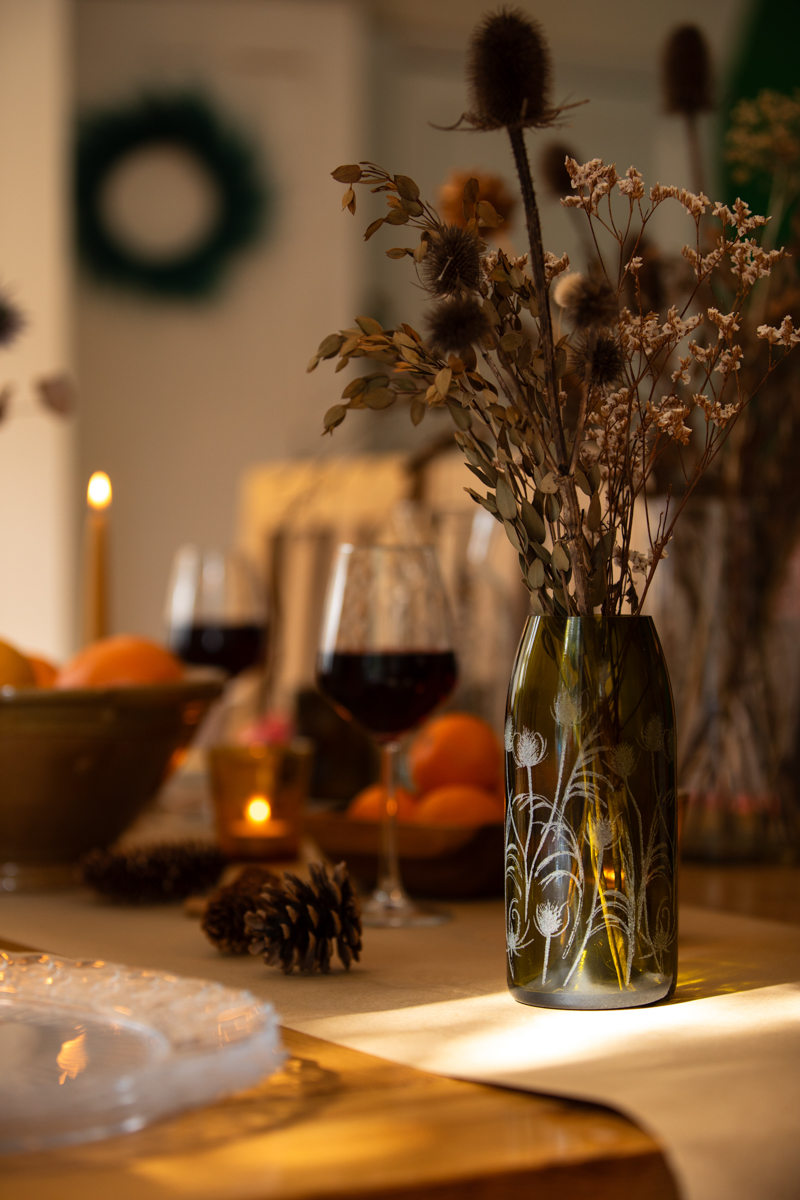 Pine cones, dried citrus fruits and cinnamon sticks all work wonderfully well for scattering along the table, to create a centrepiece. Plus they are so easy to move around to make room for more roast potatoes!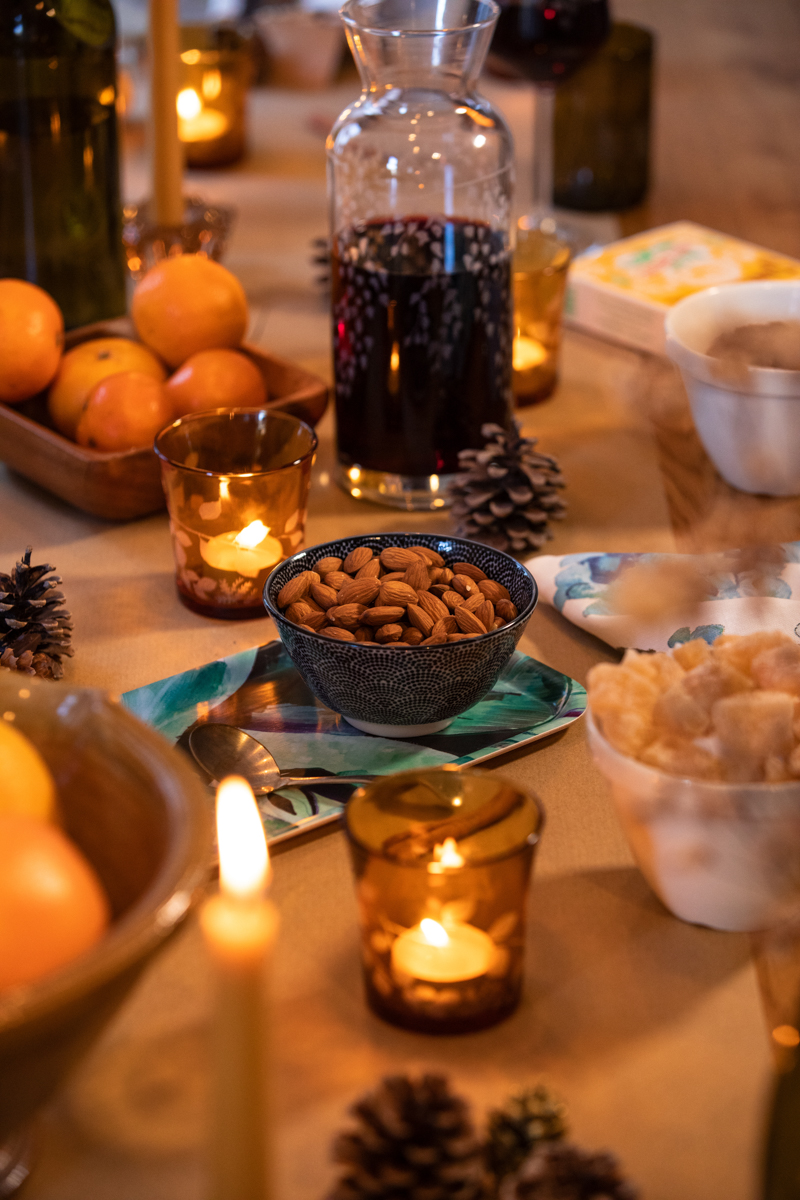 Mix and Match
Christmas tables need lots of glasses for different wines and water but you can easily mix and match your glassware, it doesn't all need to be the same set. Emma designed the new Woodland Walk Collection to sit perfectly with her popular Silver Birch Collection, just make sure there is a common theme in your choices. like colour or pattern. 

Candlelight
Tealights are a low cost way of bringing lots of atmosphere to the table, use coloured glass vessels for ambience, like our Limited Edition Amber Tea Light Holders £6 including a wonderful vegan Hygee tea light from our friends at Freckleface, whilst stocks last. Freckleface's 'Hygge' Fragrance: Warm, citrus, spice.  A rich blend of wintery fragrances, warm citrus orange and lemon followed by rich warm cinnamon, ginger and clove with hints of jasmine and fresh pine resting on a base of sensual woods and musk.
Also a great stocking filler or secret santa gift!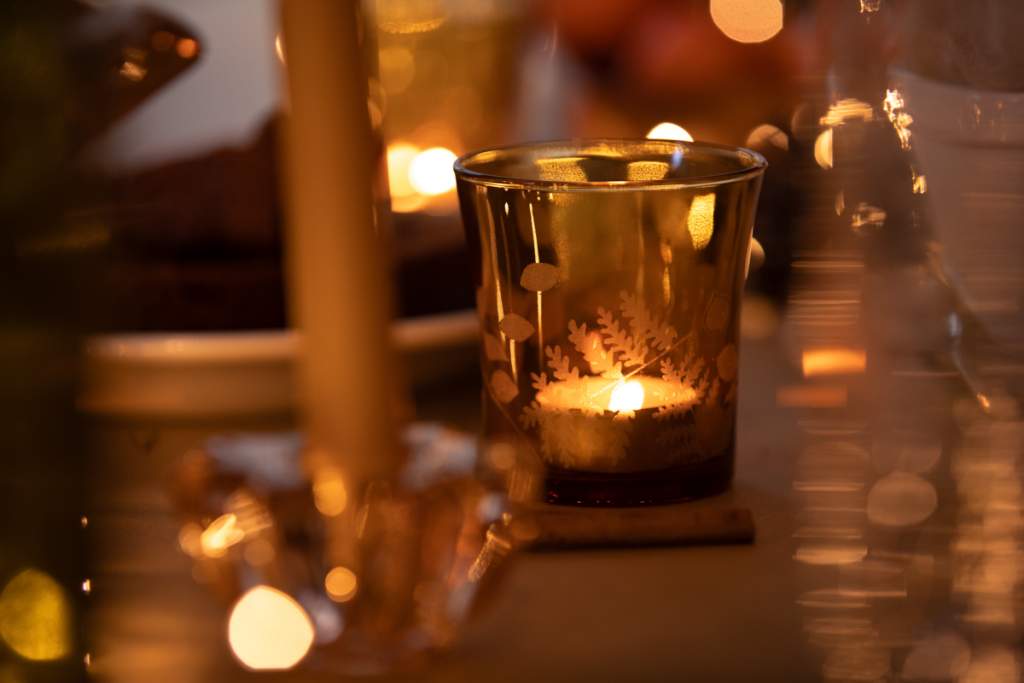 Place Name Cards
Make your own name place cards. A really personal touch for your table and is also fun and inexpensive to do. You can be as creative as you like. Use nice papers you might have saved and other crafting items you've already got. If you've got children or grandchildren, get them involved and enjoy preparing for Christmas together.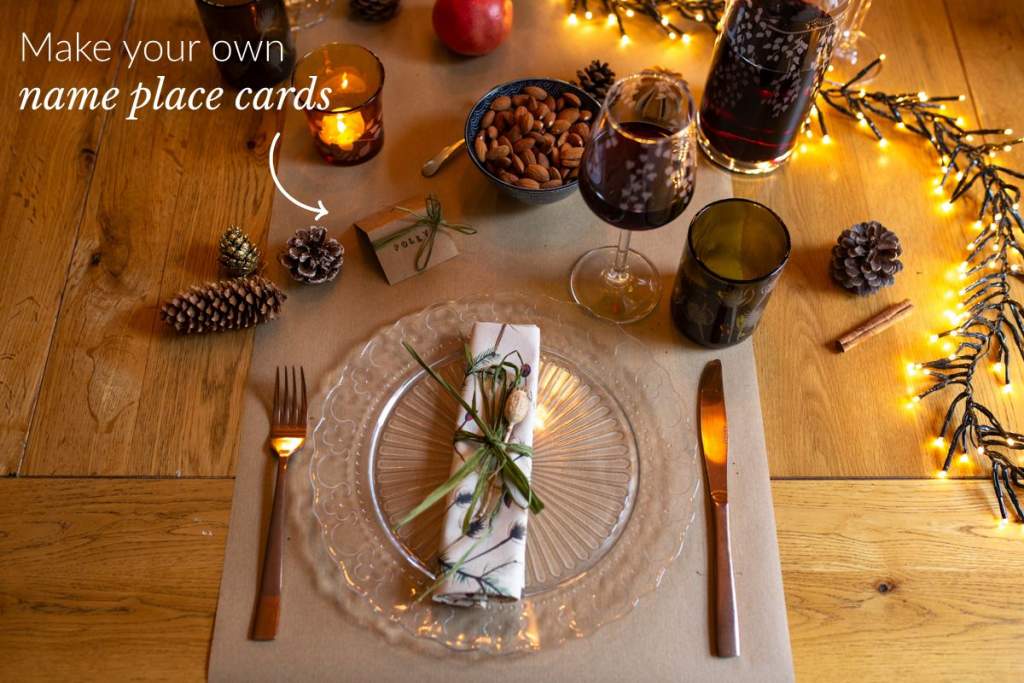 Fabric Crackers
Get more for your money, make your Woodland Walk ditsy print napkins into fabric crackers you can create year after year. Cutting down on waste, you can then use during your meal every time. Saves on the expense of buying less environment friendly crackers too. Try our tutorial.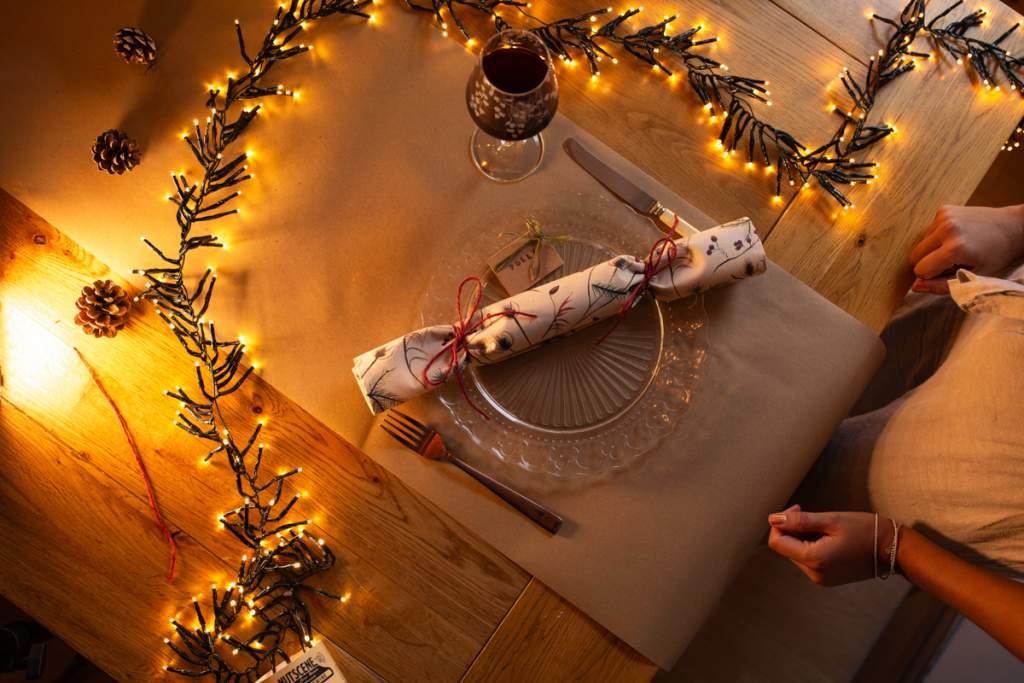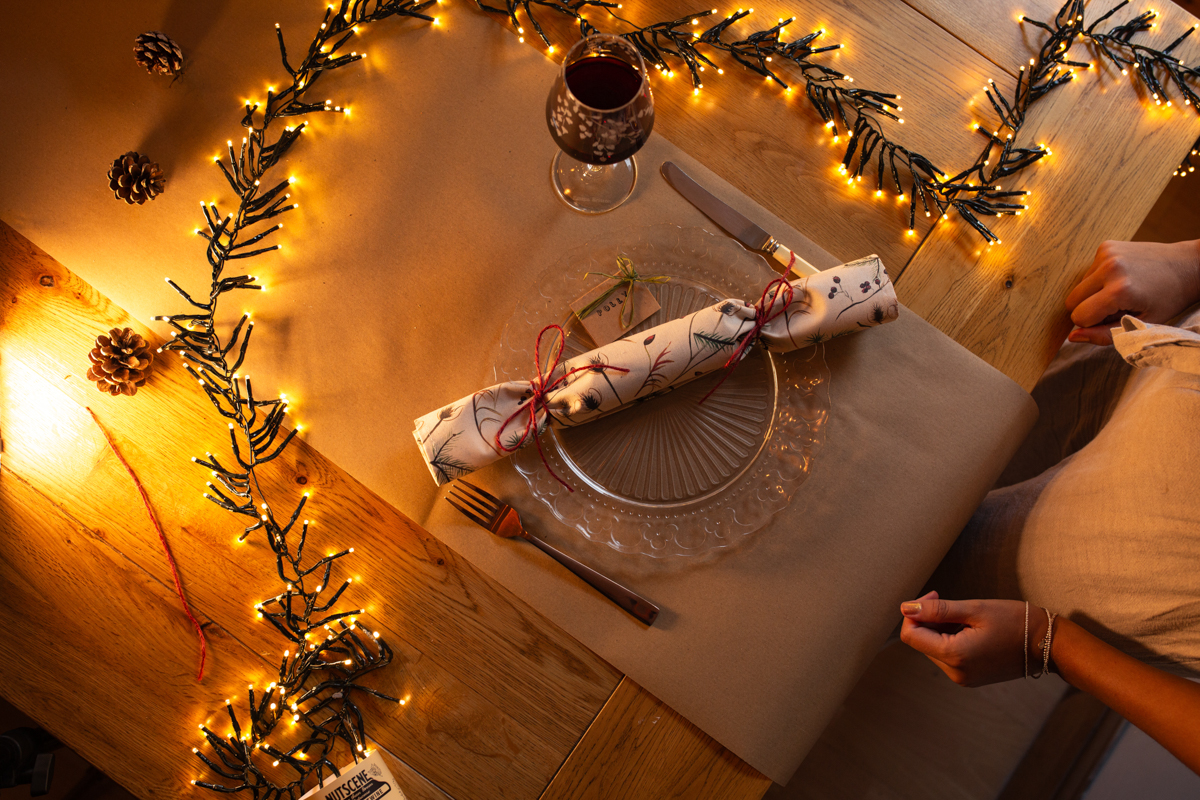 Layer Your Table
Layer your setting with other natural materials too, like beeswax candles (we love those from The Great British Bee Company). I live in an Edwardian House that can be chilly. A couple of inviting blankets on chairs are never out of place and look great to add warmth. Try So Cosy.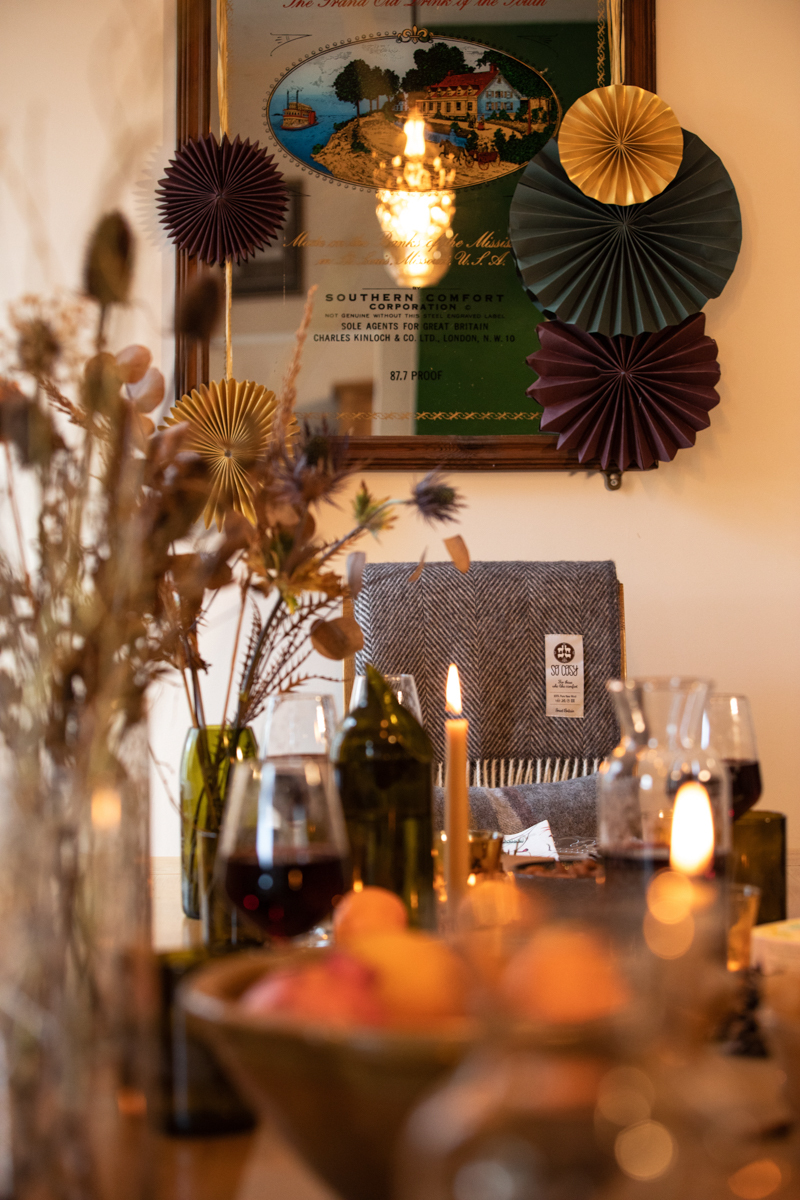 Good to Know
We send your purchases in gift ready, home compostable tissue paper. Pre-loved boxes safely transport everything to you to cut down on the packaging we use. We can send gifts direct to your giftee with a free card designed by Emma, including your message. Tell us what you want to say at the checkout in 'notes'.
Did you like this post?
We have a regular newsletter full of ideas with Emma Britton Decorative Glass, lifestyle inspiration and occasional offers.  Scroll to the bottom of the homepage to sign up for a colourful inbox read.