Fabric Crackers for your Christmas Table: With Emma's Woodland Walk Napkins
Fabric Crackers for your Christmas Table: With Emma's Woodland Walk Napkins
1st November 2023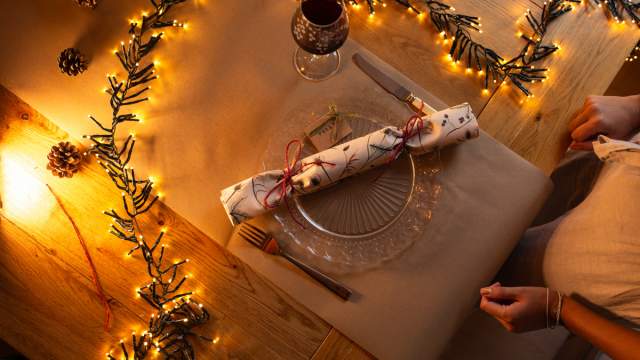 Fabric crackers are a sustainable twist on a much loved tradition, bring a treat to Autumn gatherings or get ahead for Christmas. Make them with Emma's new Woodland Walk Napkins, then use them during your meal. This is a lovely mindful activity you can do in the Autumn sunshine or for the festive season, sure to get you in the hygge mood.
A first for Emma Britton homeware, Limited Edition Woodland Walk Napkins feature a wonderfully evocative pattern of teasel seed heads, larch trees, coppery grasses and berries on a beautiful oatmeal coloured organic cotton, screen printed in the UK. Scroll for How to Make Fabric Crackers below.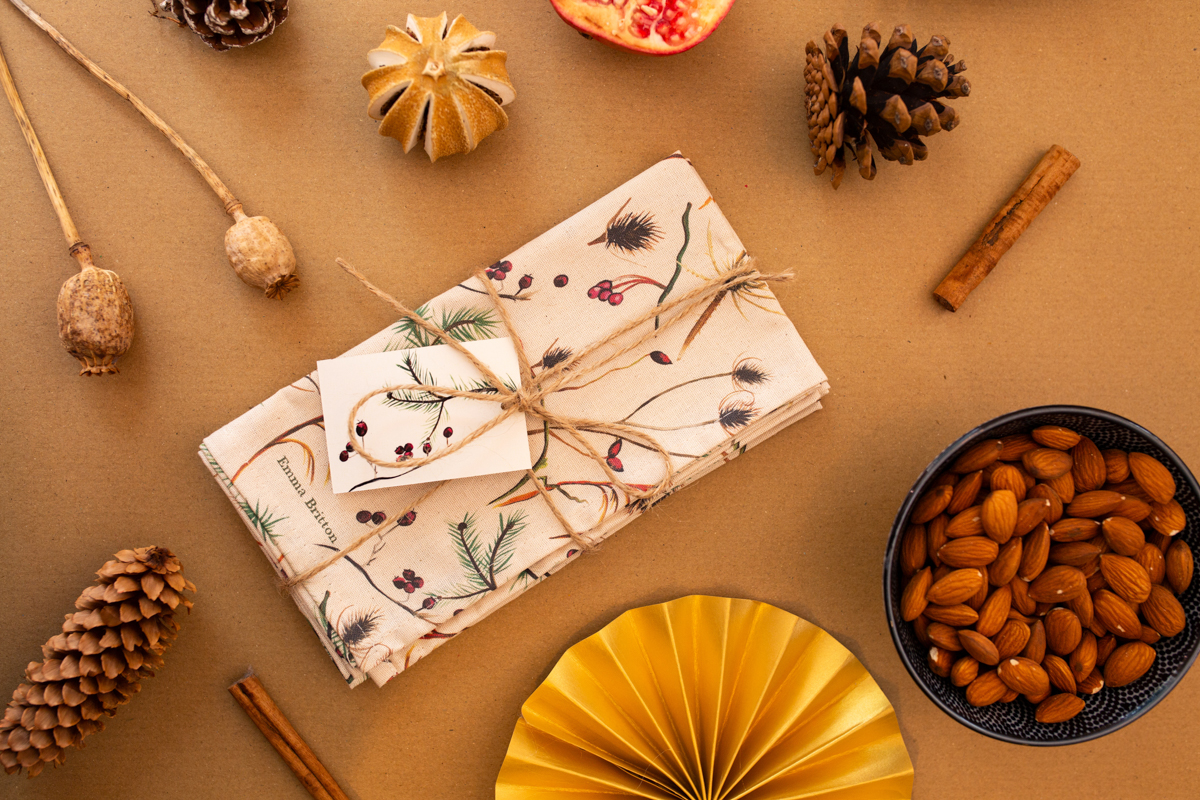 A set of two Woodland Walk  Napkins (£24) comes tied with jute string and a swing tag for plastic free, easy gifting. Up-cycled olive green glassware (designed and decorated at Emma's studio) echoing the napkin design in beautiful silhouettes is available to make a set.
Set your seasonal tables with limited edition Emma Britton Woodland Walk collection, and layer with natural materials for a relaxed and inviting look. Find more neat napkin folding ideas here.
Make Fabric Crackers
To make the fabric crackers with Emma's Woodland Walk Napkins you will need:
Emma Britton Woodland Walk Napkins
Cardboard Tube
Treats for inside
Pretty twine, raffia or ribbon – we used some from Nutscene
Scissors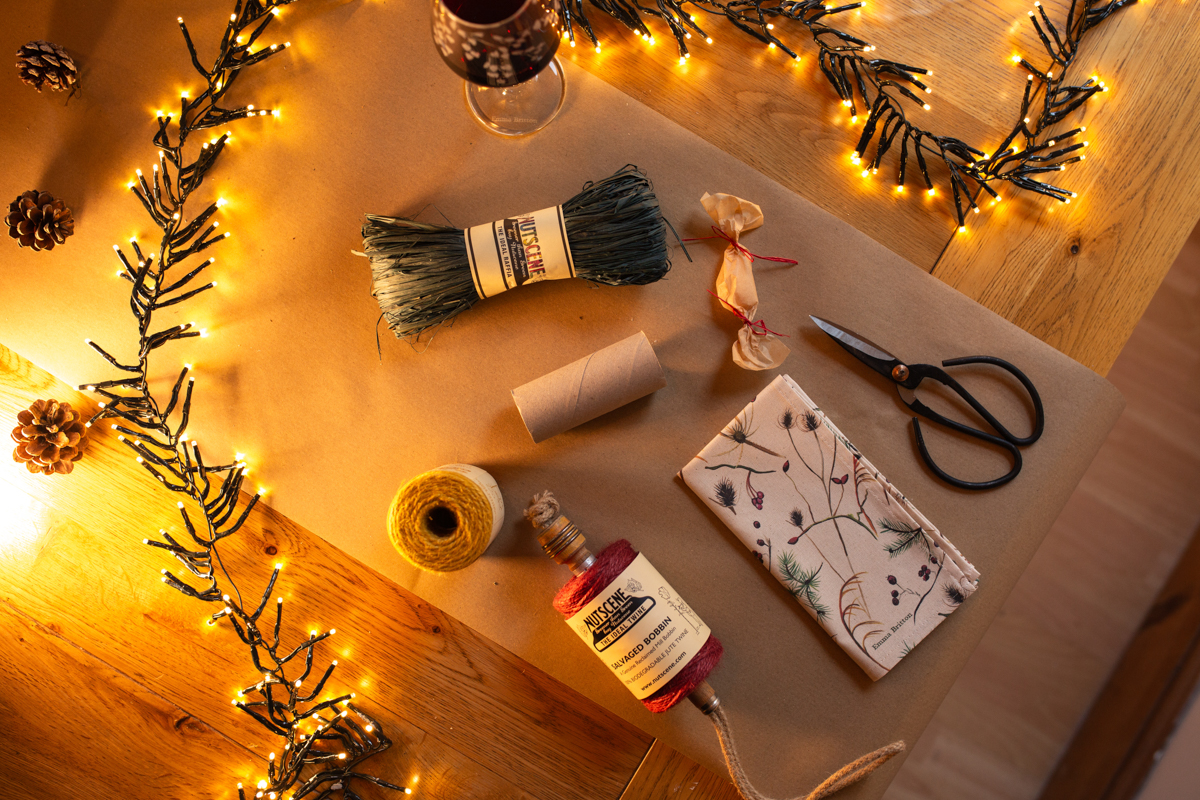 We used coloured twine and vintage scissors from our friends at Nutscene. To match the greens and reds in Emma's design. And filled the crackers with homemade treats.
Lay your napkin flat, with the pattern facing up, place cardboard tube in centre.
Fill your cardboard tube with treats, try wildflower seeds, sweets, gin miniatures or tiny toys!
Gently roll Emma's Woodland Walk Napkin around the tube.
Cut two lengths of twine or ribbon, long enough to tie into a bow.
Pinch the napkin around the ends of the tube. And tie each end/pull tight the twine with a bow twine bow.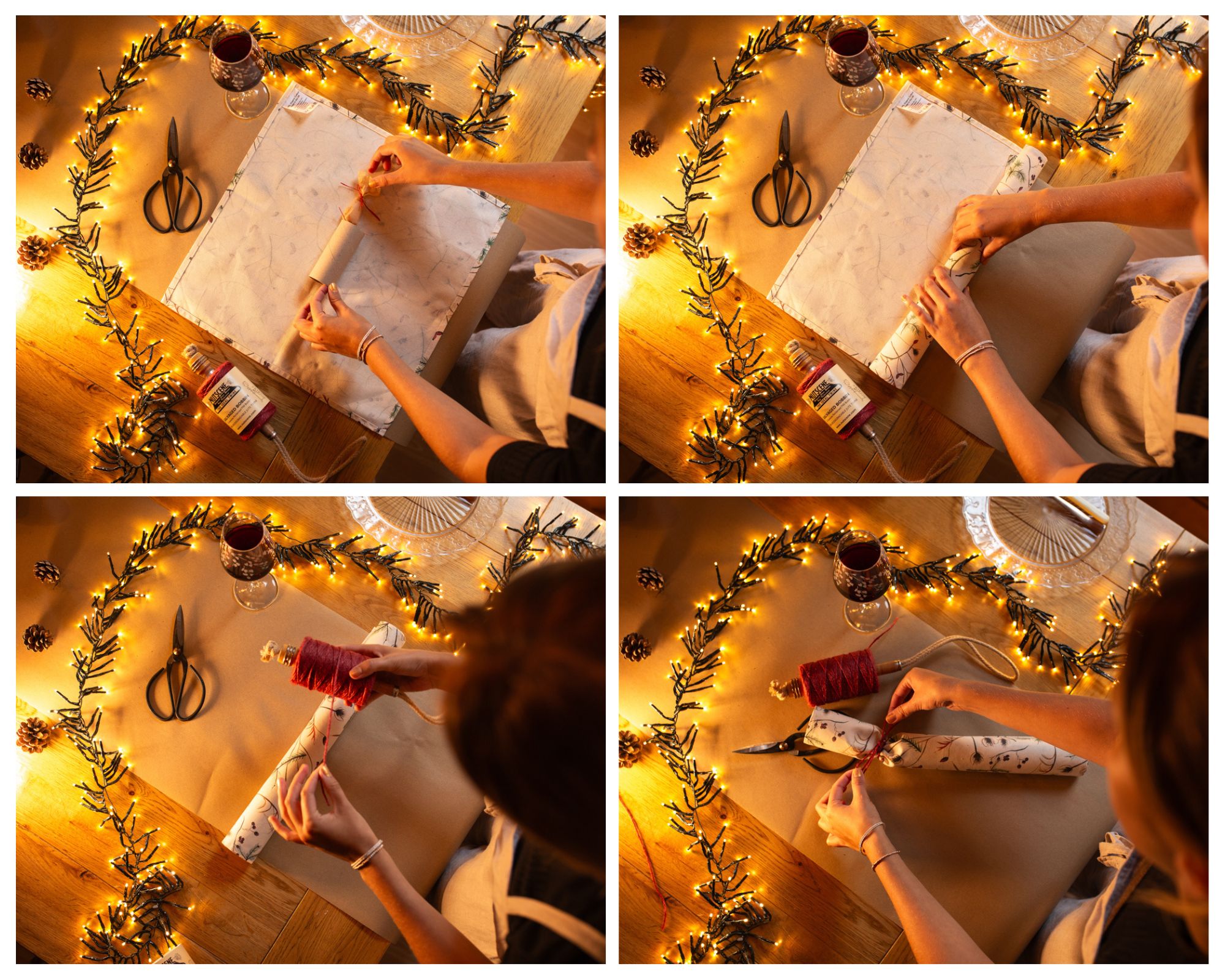 Pop on a place setting like below, and make more for your table, voila! Shop Woodland Walk Napkins here, £24.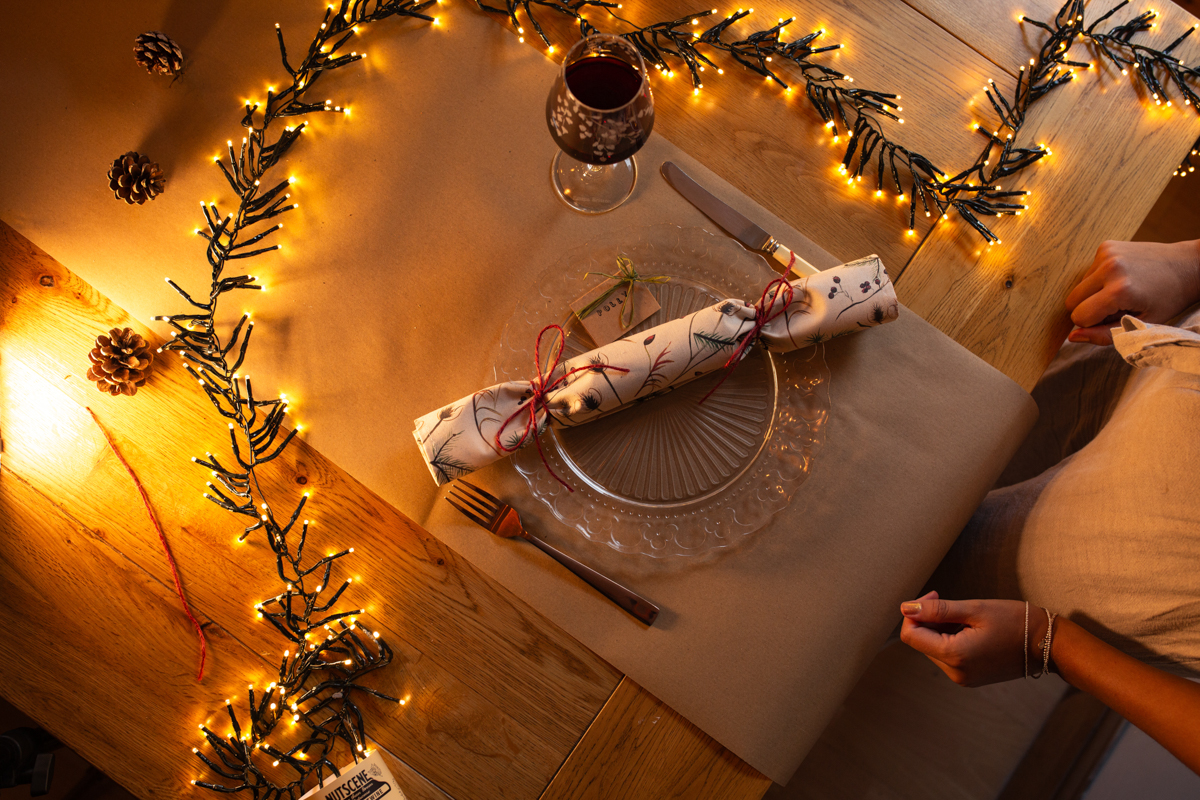 Complete Your Collection
If you love Emma's Woodland Walk Napkin design, you'll want to snap up the matching glassware made from beautiful olive green upcyled wine bottles in a tumbler, carafe and vase. The seedheads, larch tree, coppery grasses and berries, originally drawn by Emma, screenprinted on the napkins in the UK are depicted in silhouettes on the glassware, from £9.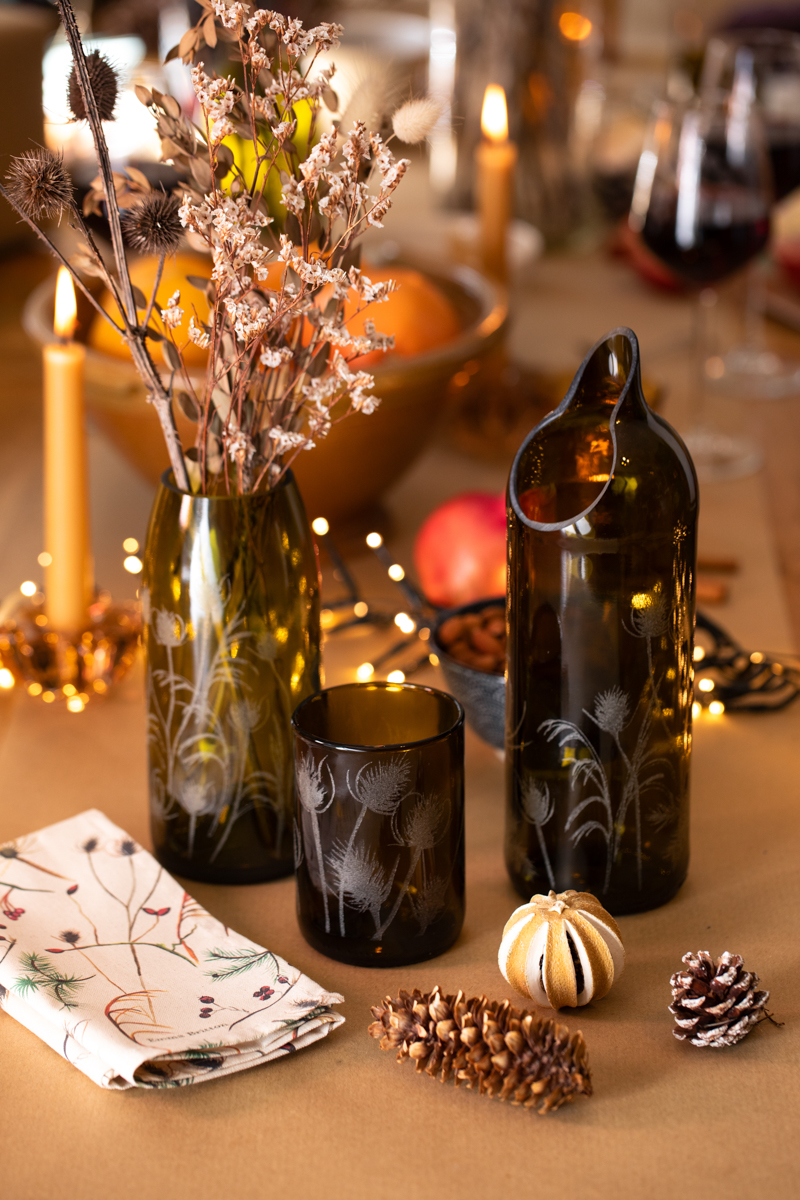 Did you like this post?
We have a regular newsletter full of ideas with Emma Britton Decorative Glass, lifestyle inspiration and occasional offers.  Scroll to the bottom of the homepage to sign up for a colourful inbox read.