A Colourful Splashback to Lift your Spirits
A Colourful Splashback to Lift your Spirits
13th January 2021
It's not the January we were hoping for, but a colourful Splashback to lift your spirits might be the tonic. Home is still the current mainstay for most of us, so investing in your environment will will pay you back handsomely in positively affecting how you feel. My Splashbacks are used as focal points, accents or as a finishing touch to a room, with amazing results. Banish the blues (unless you love 'blue' of course, choose that) and think about a more interesting future (or feature!).
Now is the time for a colourful Splashback!
Three Emma Britton Decorative Glass Splashback clients recently featured in a short film to talk about their projects and experience. They are testament to what can be achieved to suit your home, lifestyle and aspirations. Every project demonstrates the uplifting impact of their choice of Splashback. The Splashbacks featured are both those from the Collection and Bespoke pieces.
If you are considering a project to add a splash of colour or decorative design to your kitchen or bathroom this year, this 3 minute film is a must watch. You'll get to understand the uniqueness of an Emma Britton Decorative Glass Splashback and the experience of working with me on your project.
Reviews from our lovely customers
Splashback Consultations are offered virtually at the moment.
Colourful ideas for every day
There are all sorts of ways to get more colour into your daily life. As well as how you use it to decorate your home, you might reflect your colour preferences in your morning juice, food you eat and clothes you wear.
Add some colour to your morning. Easily bring a bit of colour to your daily routine by starting the day with a juice. Squeezing yourself is a nice morning ritual (no need to rush out the door right now) to bring colour to even the blandest breakfast. Lux up proceedings by serving it in your favourite glassware. Hot water and a slice of lemon is a ray of sunshine in a mug, and a great detox technique too.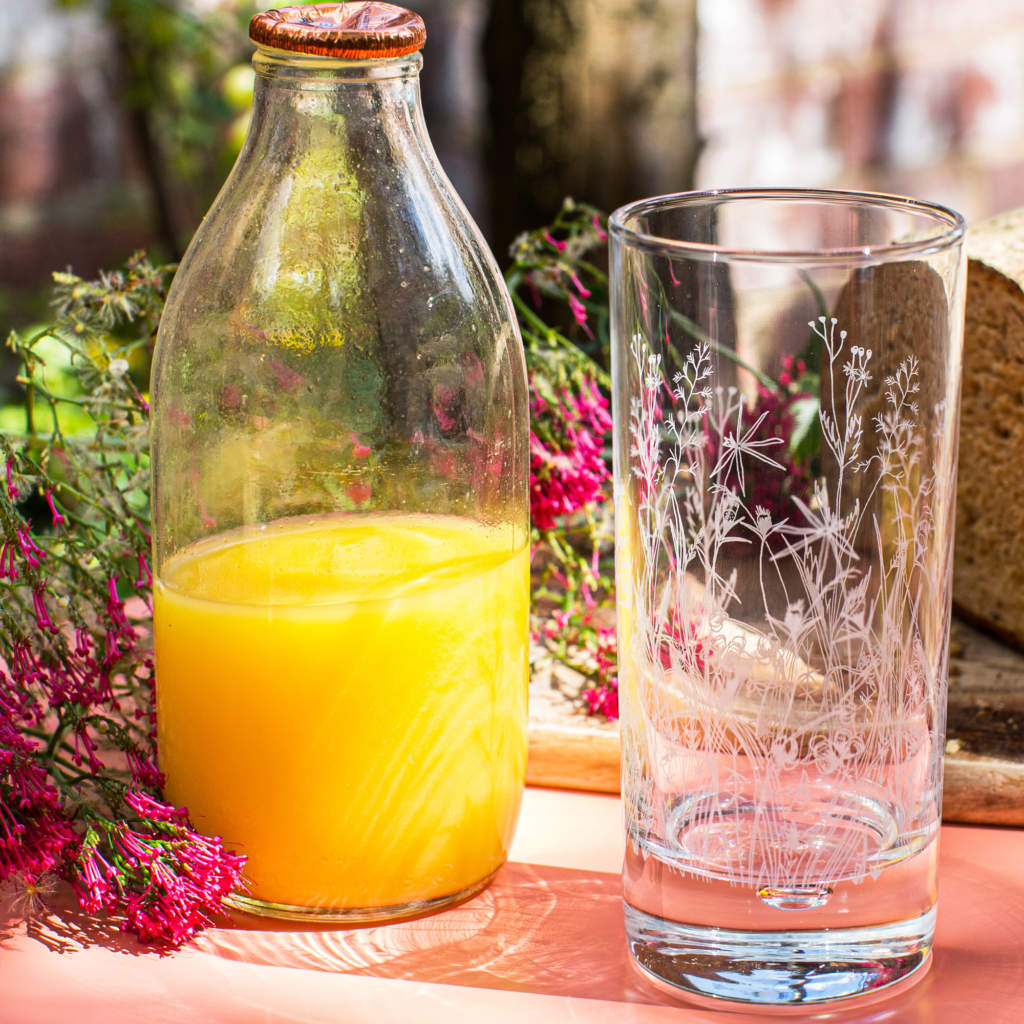 Lovely lunch. Simple seasonal veggies dressed with something zesty is always nice – a simple olive oil and orange/lemon squeeze is so easy. One of the great home working perks is the chance to prep in real time, no soggy leaves today thanks. And, yes, I'm planning my home growing year. Don't forget Radio 4, Gardener's Question Time, Matt Biggs brilliant advice on the Journal.
Rainbow Brights for Tea. If morning is too much, save your colour fix for later in the day. Take your tea on a tray bursting with colour towards the end of the day! With it still getting dark so early, it's a great tonic. 

Colourful Splashback Consultations available Today
Book your Splashback consultation today if you're inspired by all this colourful chat – when you start thinking colour, there's no going back.