'Selfridges Sensation' – North42 Gin – Enjoy Now with Emma Britton Gin Glasses
'Selfridges Sensation' - North42 Gin - Enjoy Now with Emma Britton Gin Glasses
1st June 2020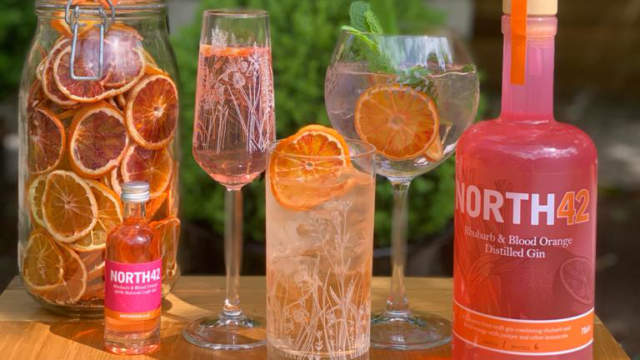 Selfridges Sensation, North42 Gin, and Emma Britton Decorative Glass have joined forces this June. We're including a complimentary North42 Gin miniature (NOW SOLD OUT) with the first 20 Silver Birch Gin Glasses purchased (£12 each).  This is the first collaboration between our brands and it starts NOW! Get your orders in, if it's good enough for Selfridges…!
As two fantastic female-founded businesses we both give 100% and our passion is reflected in our product quality. We're excited to be working together and hope you enjoy the collaboration. Watch this space to see how we work together next!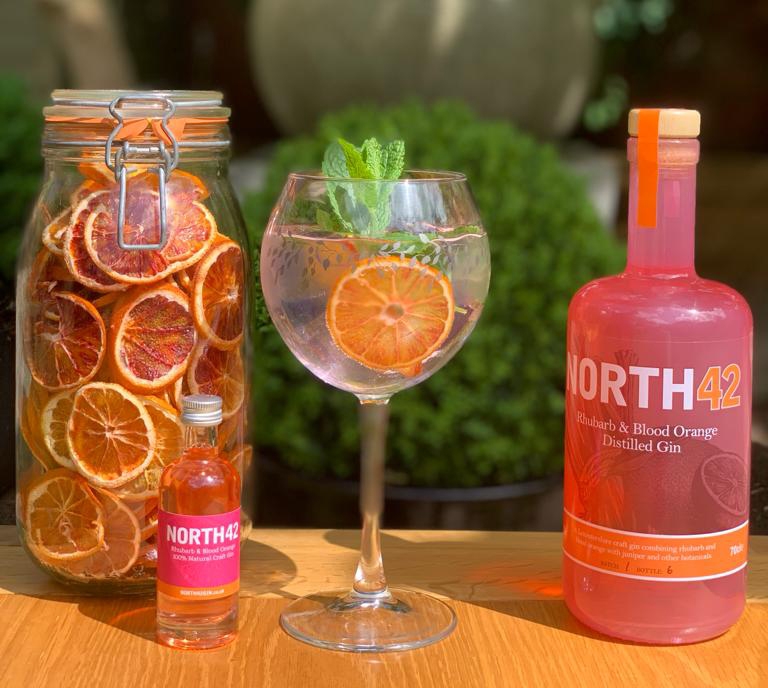 Read on to discover what makes North42 Gin unique; their perfect serves and the difference a good glass makes to the taste + more.
Tell us a little bit about yourselves and North42 Gin?
We're Sally and Joanna – the dream team behind North42 Gin; just over a year old now.  Our award winning North Restaurant is where we craft our gin, acclaimed for its exquisite dining experiences. North42 is a clever pairing of crisp rhubarb and sweet blood orange, along with beautifully balanced botanicals. This gives a fruity, flavourful taste with a deliciously long blood orange finish. Selfridges offering us an exclusive on sales was a real endorsement of what we'd created.
Together, our combination of creative flair and entrepreneurialism gave birth to both North Bar & Restaurant on 4th Feb 2015 and to North42 Gin on 28th May 2019. Joanna has worked in Hospitality for over 15 years and has a great passion for food and eye for interior design and design. The look and feel of North Bar & Restaurant and the North42 branding reflect her expertise. Sally's skills are business focussed, gained in fundraising, project scoping, and management for the Health & Sports arena, particularly in community regeneration through sport.
What makes North42 so distinctive?
North42 Gin can actually be enjoyed neat at 42% ABV and it's 100% naturally pink, meaning there are no colourings or sweeteners in the gin. It can be used to make a great cocktail too!
There are some great recipes that mix North42 beautifully – do you have a favourite?
A favourite would have to be our cocktail creation, Atomic 42. This is our take on a Pornstar Martini and as such it's smooth and delicious. It's really easy to make this cocktail at home too.
How important is the right glassware in terms of tasting and experiencing North42?
As a premium brand, beautiful glassware that reflects the quality ingredients, taste and our passion to make something great, is a must. Glassware that emphasises the stunning natural colour of the gin is always our preference. Attention to detail in the serve and adding a garnish to finish is all part of bringing together an amazing taste experience and a high-quality look. Whether you enjoy the gin neat, or as part of the cocktail, choose the right glass to bring out the intricacies of the flavour, relevant to that serve. 
What are your best food pairings to enjoy with North42?
Serve North42 with prawns or choose the North42 dessert from our restaurant that contains White Chocolate Pannacotta, rhubarb and blood orange variations.
And finally..
Follow us both on Instagram – @emmabrittondecorativeglass and @north42gin so you don't miss our competition later in the month. There will be the chance to win some lovely gin inspired products!