Refresh your Kitchen or Bathroom with Glass Splashbacks
Refresh your Kitchen or Bathroom with Glass Splashbacks
29th January 2020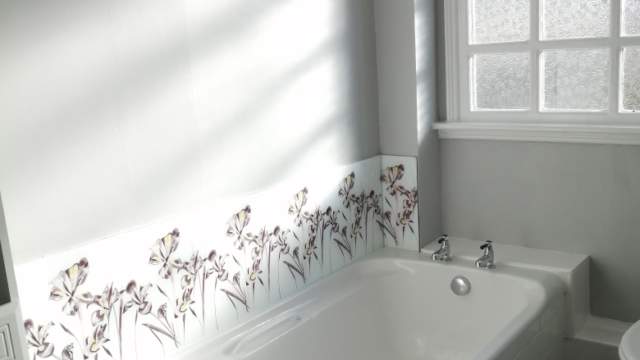 Glass splashbacks are a good starting point around which to start modelling a bathroom or kitchen interior refresh. If your January resolutions feature changing a dated kitchen or tired-looking bathroom, a new splashback could be the answer.  Completely re-modeling kitchens or bathrooms can take some serious budget. So it's good to know that a completely new look can be achieved with clever and cost-effective updates.
Made to measure glass splashbacks
My glass splashbacks really make a statement. Whether you like striking colours, confident florals, painterly designs or geometric patterns, they will give you the 'wow' factor.  Consequently, other elements you'll need to finish off the room can be more simple and cost-effective. Put your energy into getting the splashback choice right and the rest of your room design will be easy to complete.
Example projects using glass splashbacks
I've recently worked on two jobs to update existing kitchen and bathroom spaces. Both projects use 'Iris in White' from my GLASSHOUSE collection and demonstrate the versatility of the design. It looks great in both the bathroom and kitchen that were completed with it. Keep an eye on my instagram and facebook pages to see the results of other projects too. No new furniture was required in the making over of these spaces and the results show it is possible to create a stunning new feel without the need for new kitchen cabinets or a bathroom suite. This also appeals to my eco-side of trying where possible to cut down on waste if it's not absolutely necessary whilst still being able to achieve a desired look.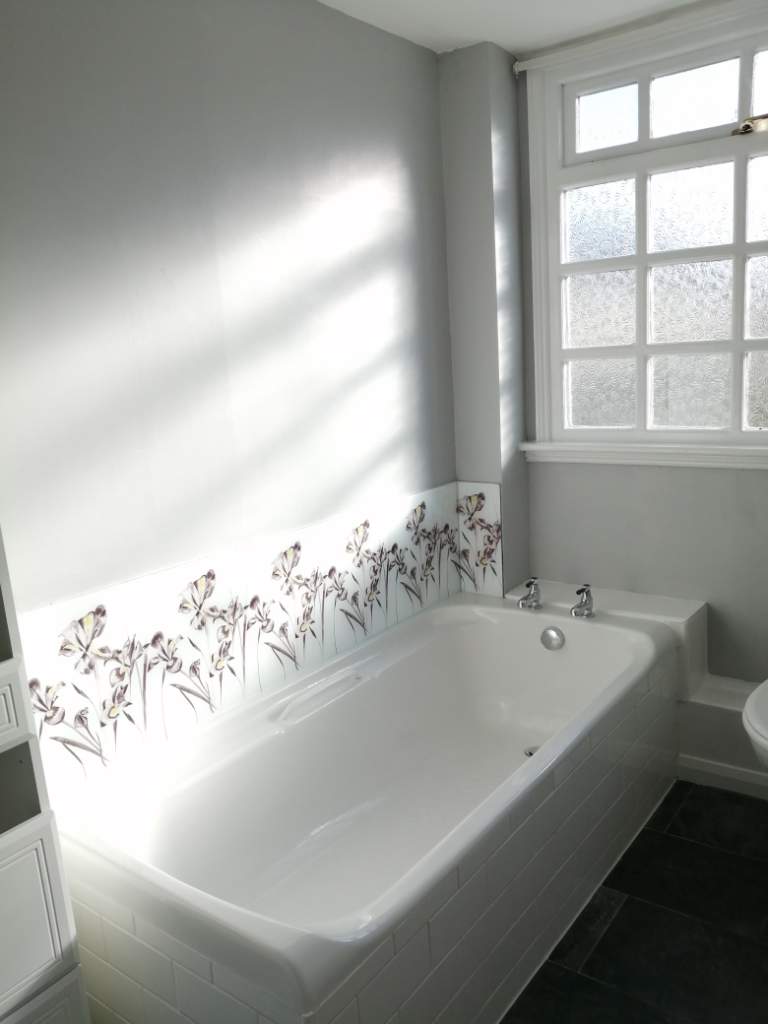 Bathroom Makeover
Old dated tiles were removed and replaced with a made to measure 'Iris in White' glass splashback. Applying a complimentary new wall colour enables the pattern to take centre stage in the room. A new window blind unifies the space and adds softness and texture into room that is traditionally full of  'hard surfaces'.  Vibrant yellow towels pick out the accent colour in the splashback design. Overall the look is fresh and modern and no new furniture was required.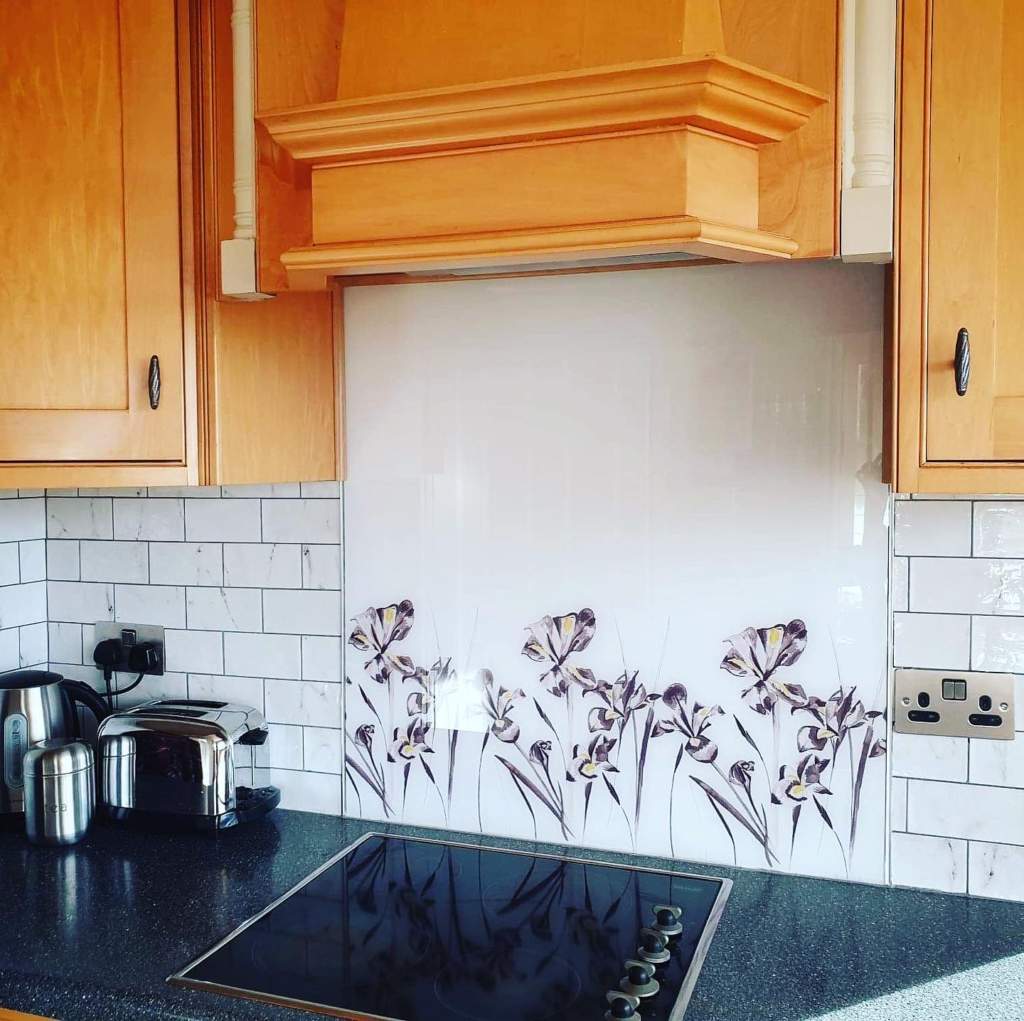 Kitchen Refresh
'Iris in White' was the design of choice for this kitchen splashback which was installed as an alternative to bright eighties tiles. The result was a contemporary, clean update. The splashback was teamed with classic metro tiles, the tones of which tie in with the black and grey colour palette used in the original hand-painted design. Using a dark grout in the tiles gives them edge and the whole kitchen a confident and distinctive look when paired with the splashback.
Kitchen and Bathroom Splashback Fitting
Emma Britton Decorative Glass Splashbacks can be installed by one of my approved fitters (you might on occasion get me!). Alternatively, smaller splashbacks are easy to install yourself. I provide full instructions about preparing your surface in advance and the recommended adhesive to complete the job to achieve the required standard. Splashback installation is much easier than tiling and a more practical solution for cleaning and maintenance in the long term.
Get in touch
My unique made to measure glass splashbacks enable you to update your kitchen or bathroom with minimum fuss and maximum impact. Use one of the designs as the focal point for your room refresh. Every glass splashback is made to measure and tailored to fit your space. You can order splashback samples here on the website. Choose a selection to see how different each one looks  in your own home. It makes the process of identifying the right design for you easier.
Commission bespoke Glass Splashbacks
Contact me with your ideas for bespoke glass splashbacks. The great thing about these is that they give you the chance to be even more creative. The result will be something completely unique to you that nobody else will have. I always talk clients through the process from the start and creatively involve as the design evolves. I can work on very small briefs or on projects that are huge!
Coming Soon
I am doing another journal post soon about the approach I take to bespoke commissions, Keep an eye out for that as it will give you a real insight into my working process. And showcase how exciting working with a designer on something unique is. I really enjoy this way of working as it gives me the opportunity to get to know you as an individual. I get to design with your likes and dislikes in mind. At the end of the process, the result is really personal and special.
Complementary Homewares
Some of my splashback collections have homewares available. Laying your splashback design through accessories is effective at accenting your splashback. Or, make your cupboards joyful by filling them with beautiful glassware in other designs. Dress my Carafes (£19) with flowers for countertops or windowsills. Sustainably produced trays (as featured in The Times, £33) will inject colour to your morning routine.