New Glassware Collection available from Emma Britton Decorative Glass
New Glassware Collection available from Emma Britton Decorative Glass
5th September 2016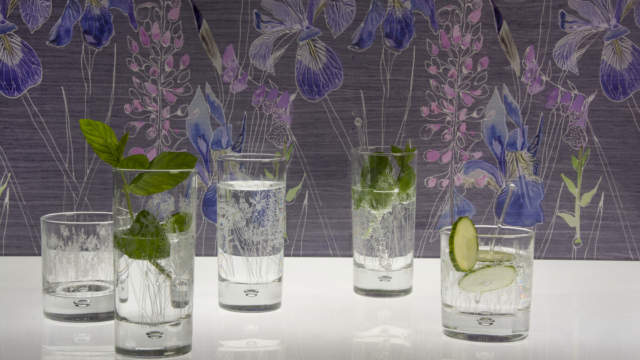 I wrote this original Journal post in 2016, and since then I've been on a roll.  Glassware is now also available in a Meadow design too. Gin Glasses (£12 each) with a Sliver Birch pattern in a Platinum finish are the latest addition to my range. I am always working on new designs in the background and thinking of exciting product ideas, so watch this space. Read on for the inspiration behind my first Floral range of glassware, below.
I am delighted to launch my range of complementary homewares as a complement to my unique splashbacks. Included is my first ever glassware collection in a Floral design. The glasses are screen printed in England with a distinctive Emma Britton Decorative Glass design on each in and etch effect. Florals in the design include iris, lupins, and foxgloves. At the moment the design is featured on a straight-sided hi-ball (set of 4 £32 or £9 individually) and tumbler (set of 4 £26 or £7 individually) with a bubble base. In addition, an elegant carafe (£19) is available. This range is perfect for entertaining, whether around the dining table, relaxed in the kitchen or cosily by the fire.
Glassware to complement a splashback from my collection or gift
I created a range of glassware that would accompany my bestselling 'Watercolour in Grey' glass splashback, from the uniquely designed Maple Collection. Many of my clients kept asking for products to accompany their splashbacks, so I knew there was a demand for this. For people that don't own a splashback, the glassware is an opportunity to buy my designs as gifts, or as a personal treat. They are already proving very popular.
Crystal Glass Tumblers now available too
At Top Drawer I am launching some reassuringly weighty, handmade crystal tumblers in four colours. Smoke, Plum, Turquoise and Amber (£10 each). I have illustrated each one with one of my handrawn designs that have been print applied to the glass – a cool quirky vase full of tulips in black. The result is a collection of sleek and contemporary glassware; available either in mixed or same colour boxed sets of two, or individually (set of two £20, £10 each). The glasses are all designed and finished in the UK.
Decorative glass that's fresh and contemporary –  designer Emma Britton has given this medium a totally new look.
Don't miss Emma Britton at Top Drawer on Stand H-B1 11th-13th September 2016.