Kitchen splashback in summery 'sunset' design – case study
Kitchen splashback in summery 'sunset' design - case study
25th June 2021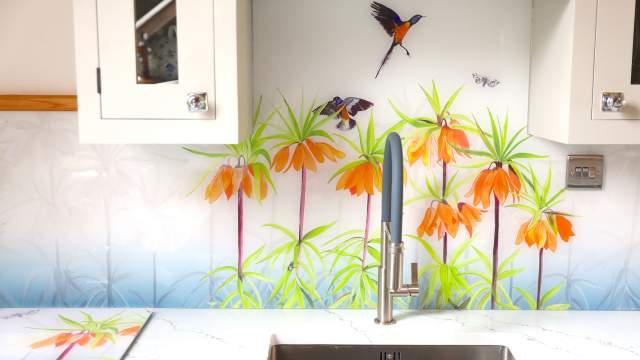 The designer Kitchen Splashback I'm about to talk about is a bespoke version of my 'Sunset' pattern. It's the latest client case study to feature on the Journal and a personal favourite. With summer very much in swing, this kitchen Splashback is the perfect embodiment of the season.
The design captures the beauty of orange fritallaria imperalis in the sunshine with a subtle shadow for a bold but beautiful look. Clever interior design and home accessories choices mean you can evoke the spirit of summer or other seasons you love, year round!
Design Details
'Sunset' is a kitchen splashback design from my GLASSHOUSE Collection and the project illustrated below includes bespoke design features for personalisation.  Tropical in feel, this Splashback also includes the flowers, plants and birds my client Smita loves in an original, hand painted design. Watch the film below to find out about this Splashback. Smita also gives a handy insight into the process of creation and installation. 'Sunset' is available with a striking blue background too.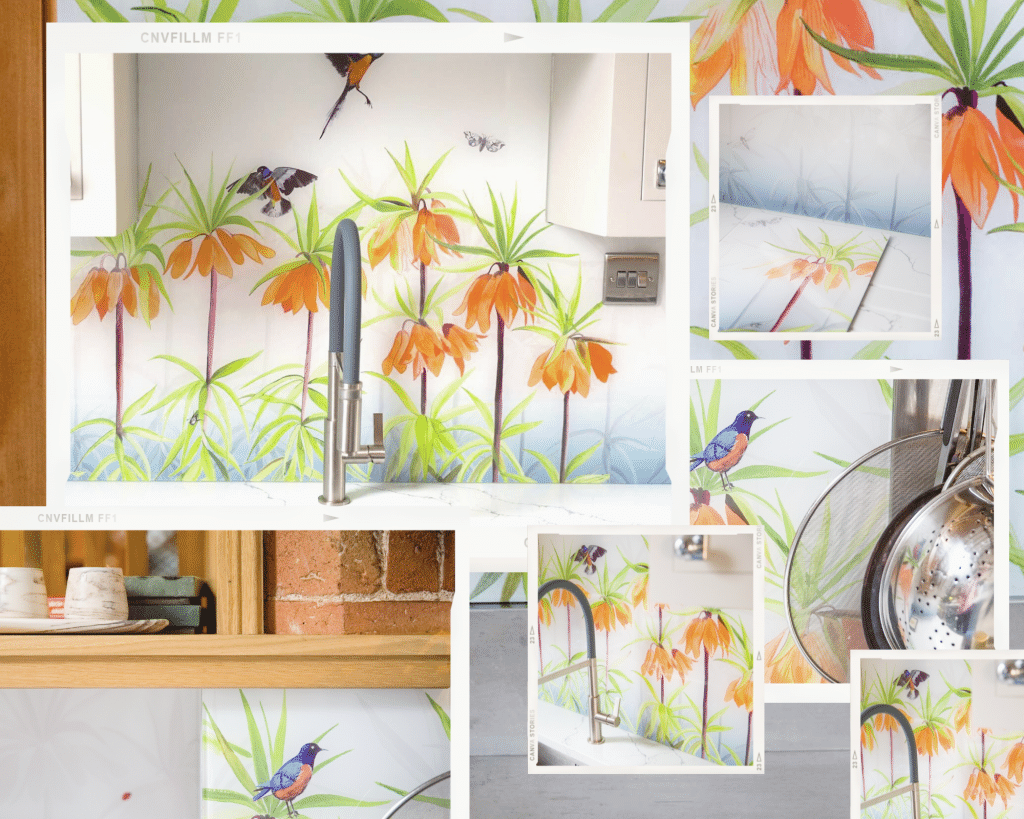 Smita's 'Sunset' Kitchen Splashback
We'd been doing our kitchen and I'd been looking at tiles. Nothing really spoke to me and I wanted something that was artistic. Emma went off and did a series of paintings with different tones and colours and we looked at them all and picked one. Emma went away and made it to our specifications.

Having the two tones in the 'Sunset' design where you've got the very bright orange colourway with the more subtle shadow effort of the grey in the background makes it really interesting. I love my starlings particularly and there's also a huge element of the tropics. You've got the starlings but you've also got the moths and this lovely stag beetle; oh, the painting of the moths, the butterflies and the beetles…

The installation process was very helpful. Emma came with her brother to take very exact measurements for the kitchen splashback to get it installed correctly. It was done professionally; the thing that really impressed me is the fact that there are so many corners. There are different edges that all have to follow a line as well as the two different colourways. It all blends and flows beautifully.

I don't think you'll find anyone else that works as well or as professionally or who is as original. Emma will convert what's in your head into something that's in your kitchen. She will translate it for you and make it special and real, which is lovely.
Contact me today…
Smita opted to have her Splashback installed by me and the team but supply only is also possible. Get in touch today to see what I can design for you emma@emmabritton.net and benefit from a free, no obligation online design consultation too.  This enables me and you to see what the possibilities are for your kitchen or bathroom.