Floral Glass Splashbacks vs. Traditional Tiles: A Comparison
Floral Glass Splashbacks vs. Traditional Tiles: A Comparison
27th October 2023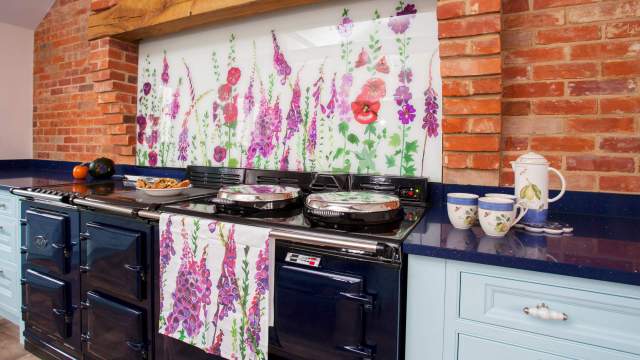 When creating your dream kitchen or bathroom, practicality is a key consideration – so why choose a floral glass splashback over tiles? A splashback is a particularly essential feature that will provide much needed wall protection from steam, spills and splashes. However, an Emma Britton Splashback is so much more than a practical solution for your home; more, a functional work of art to be enjoyed everyday. In this journal post, we compare the benefits of Emma Britton floral splashbacks versus tiles, a more traditional splashback option.
Emma Britton is the specialist for floral glass splashbacks for kitchens, bathrooms and more. First established in 2010, Emma's beautiful and functional, designer-made splashbacks bring a unique look to any interior. Her splashback expertise, designer flair and passion for interiors mean she will create a look that will really work for you and your space. Emma's award-winning customer service certainly guarantees a personalised service too – just read what customers have to say.
5 Reasons to Choose a Glass Splashback, from Emma Britton Decorative Glass Designer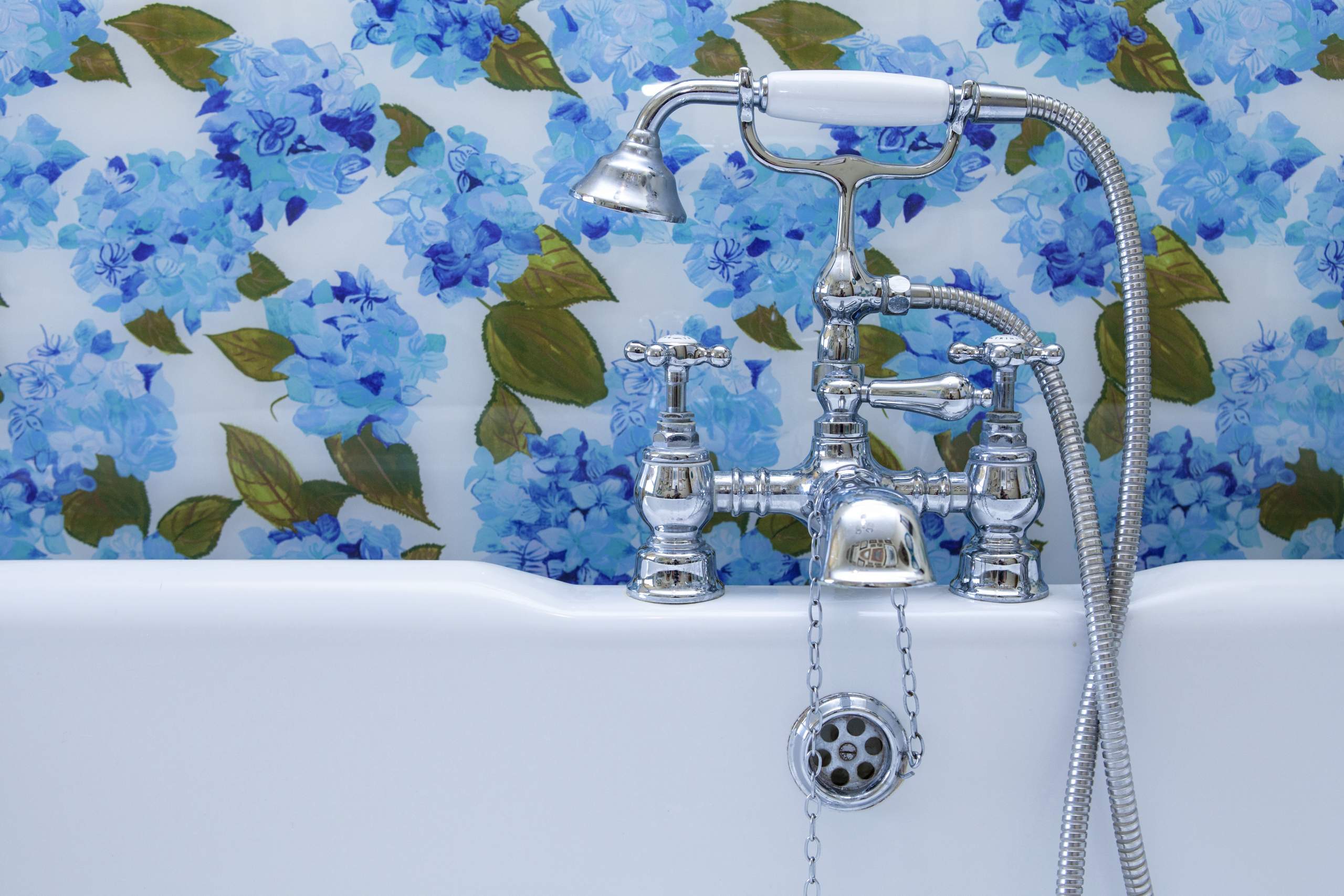 1. Above all, floral splashbacks are a pretty and practical solution. Achieve the decorative look of the bathroom wallpaper trend, without the the worry of staining. Emma Britton splashbacks are heat and humidity resistant, all made in the UK and finished to industry standards. With over 50 patterned splashback designs in the collections, you'll be sure to find a design to suit your interior.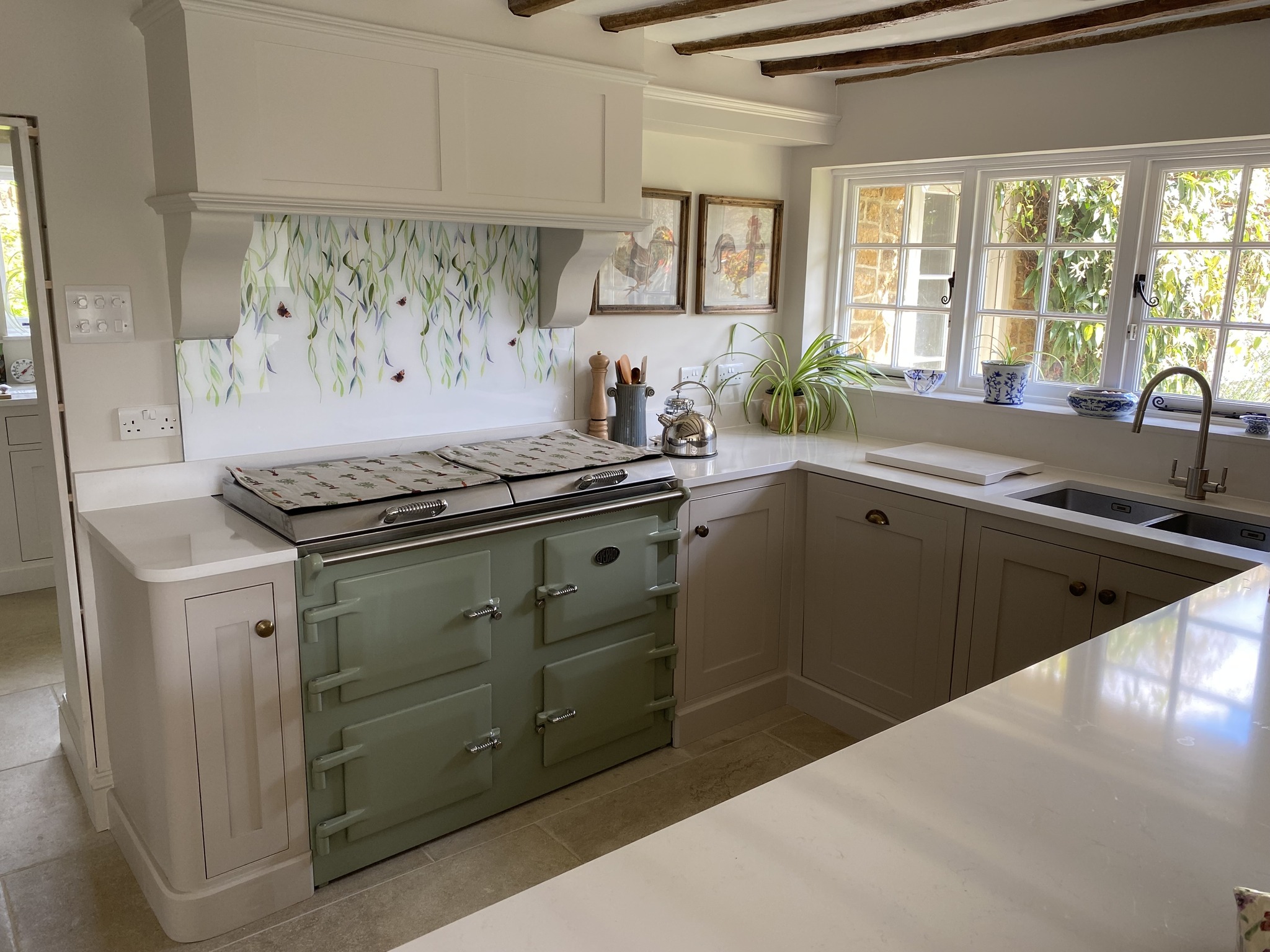 2. No two spaces are the same, therefore Emma creates only made-to-measure splashbacks. Specify your dimensions and Emma will produce your splashback to fit your space exactly. Emma's floral glass splashbacks can be made to fit around cupboards, upstands and extractor fans. Additionally, plug sockets and taps can be seamlessly accommodated for too. Forget the tricky job of cutting tiles to fit!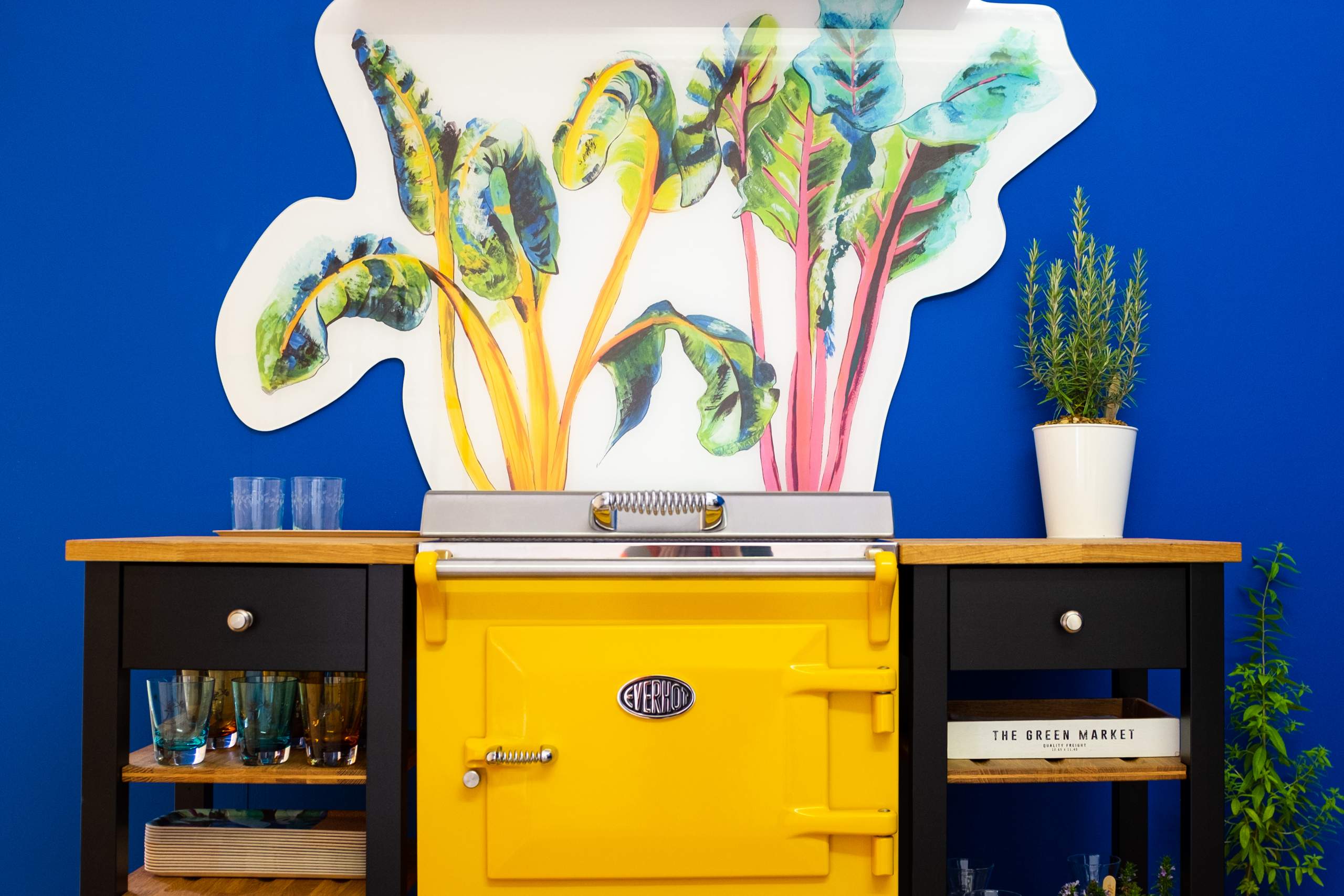 3. Splashbacks for kitchens need not be boring. Emma's vibrant Bright Lights splashback shows the potential for creativity in kitchen design. Unlike tiling, straight edges aren't the only option for glass splashbacks; a practical solution that can be a piece of statement wall art too.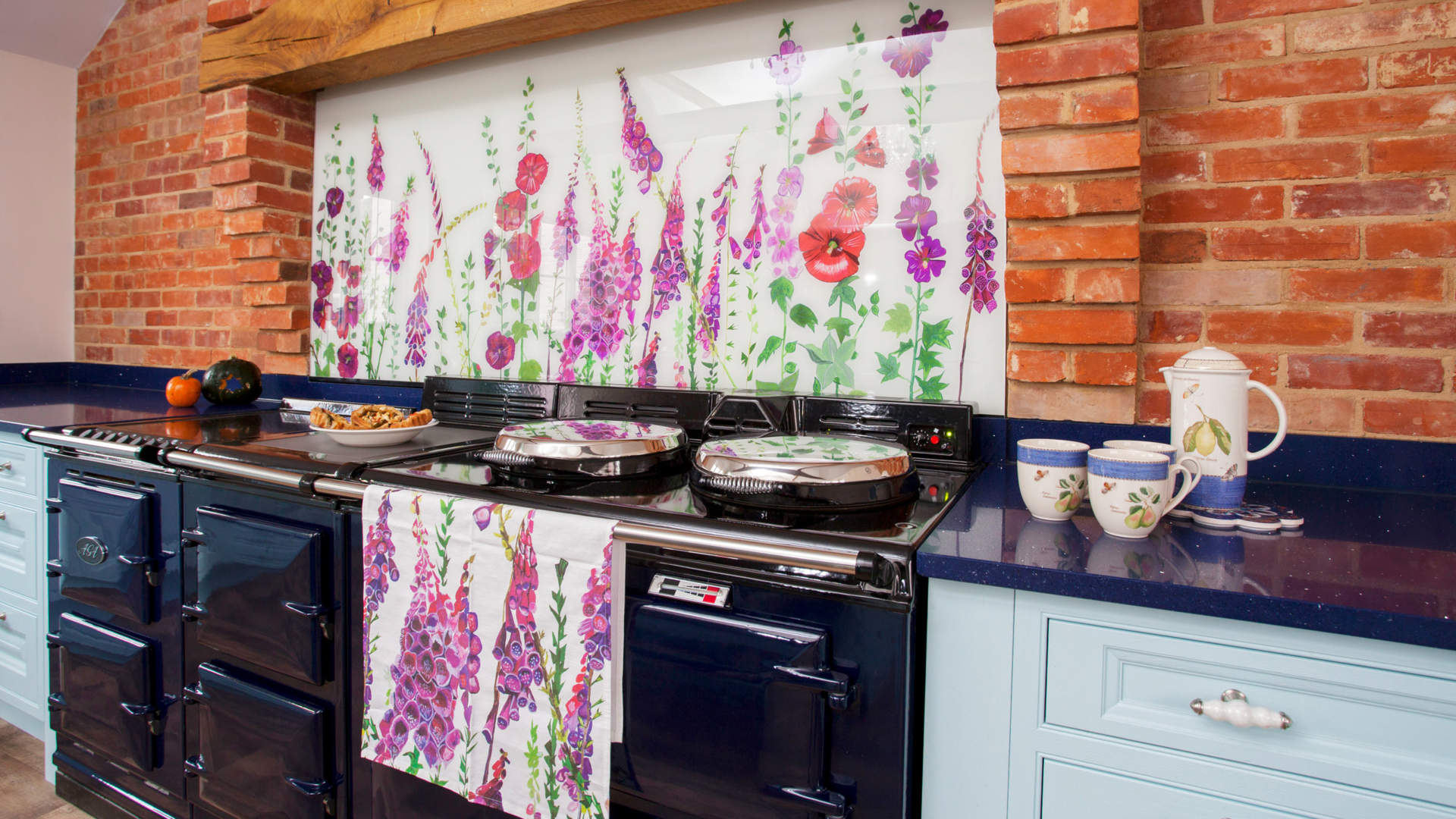 4. Why not commission a bespoke splashback for a really personalised interior look? The bespoke design service offers a flexible and enjoyable experience for those wanting a splashback that is totally unique. From tropical looks to garden scenes, Emma's portfolio of bespoke floral kitchen splashbacks is endless. Read more about commissioning a bespoke splashback here.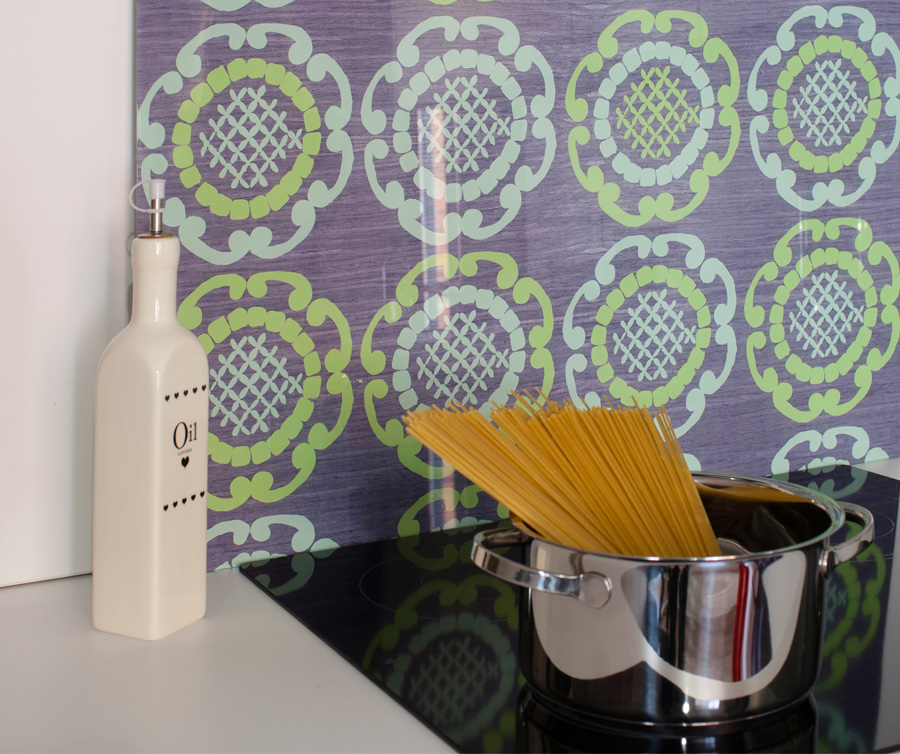 5. Finally, if flower splashbacks aren't quite your look, you may like Emma's range of metallic or geometric glass splashbacks. Green Geo in Grey gives a modern tile-effect without the need for grout, therefore being much easier to clean and maintain.
Installating a Splashback
A simple glass splashback can be easy to install yourself. With correct preparation, splashback installation can take just an hour for a small rectangular shape. A much quicker and easier splashback option than tiles, which are a comparatively tricky and time-consuming DIY.
Emma's signature floral style is well loved, with her unique glass splashbacks featuring in many homes across the UK and beyond.  All splashbacks are available nationwide, both supply-only or supply-and-install by our team of expert fitters. International export options are also available. 
Splashback Samples
What's more, you can order samples of all Emma's splashback designs for £15 (refundable against your splashback order). Get in touch today for a quotation, design advice or more technical information. 
T: +44(0) 7565 300 065
E: emma@emmabritton.net