Emma's Style
19th April 2017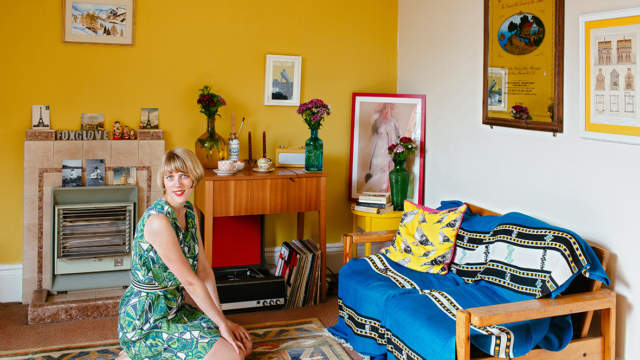 As a designer, a definitive style is something that is really important to me. I regularly get asked about my own home, clothes and if I can advise clients on whether they should paint a wall a certain colour, which blinds to choose and if I can suggest a solution for an awkward place they have struggled to decorate in their own home.
This often happens when I am surveying or installing a splashback for a kitchen or bathroom. I'm in a client's home having a coffee and sharing designs for a bespoke brief and they say 'Emma, can you just have a look at this while you are here and give me your opinion?' I'm always happy to do this for client's and I enjoy it. I find it easy to put colours and ideas together and will always give an honest, sensitive opinion when asked for it. This has prompted me to share a bit with you about my own personal style on my blog.
Home Style Tips
When decorating a home, I firmly believe that it should have your own personality in it and the objects you love. But you should be sensitive to the room and house, it's era, location and size, and respond accordingly. When you move somewhere new, you don't know where the light falls and how you will use the space initially. But, after a while, you will have your favourite place to sit in the morning and then in the evening. You might use this information to create a space for an occasion – for example, an area you will chat and cook with friends (almost all kitchens I design for are open plan and if they aren't the owners wish they were!). Or, to hone somewhere that you can work on hobbies such as a sewing table or the kid's homework.
My Home Space
My home is a top floor Edwardian flat in a leafy Nottingham street with plenty of natural light. It's quirky, with an angled roof that reminds me of Parisian apartments. There is almost nothing in it I don't like! I like everything to be useful and attractive and this includes cutlery, glassware, mugs and tea towels. If it's ugly, I put it in a cupboard.
My living room and kitchen are open plan and have a warm retro feel, probably inspired by the fireplace style. The colours are enhanced by the sunny aspect. The living room wall is painted in mini moderns mustard paint and varying shades of yellow are accented into the space through cushions and accessories.
All the pictures have meaning and remind me of special places or people. I like to buy second hand and from designers, of course, and go from cheap finds to expensive taste. But it's all about the styling and how you put things together. I have an ever-growing collection of coloured glass vases and I always like to display. For me it is a space to relax and I try not to work in it (that's what the studio is for). At most, I might send the odd email!
Perhaps you can see traits of my own style in my collections. My personal favourites from my own designs that go perfectly in my house are the Blue Hydrangea Tray, Mono Tray and the Crystal Amber Tulip Tumblers.
Did you like this post?
We have a regular newsletter full of ideas with Emma Britton Decorative Glass, lifestyle inspiration and occasional offers for readers.  Scroll to the bottom of the homepage to sign up for a colourful inbox read.