Emma Britton Decorative Glass Designer of Nottingham Awarded Best Of Houzz 2017
Emma Britton Decorative Glass Designer of Nottingham Awarded Best Of Houzz 2017
18th January 2017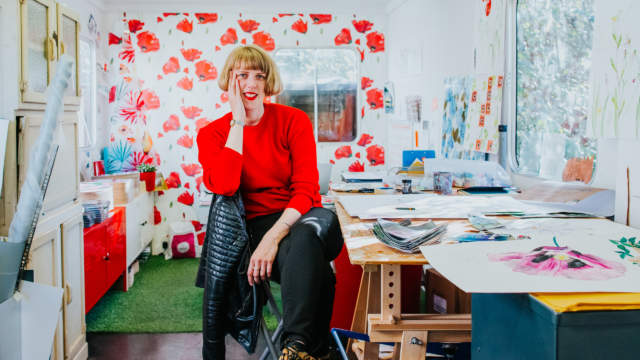 Houzz 2017 Award Winner – Emma Britton Decorative Glass Designer (yes, me!). The award is a 'Best Of Customer Service' accolade presented by Houzz®' for 2017. This means so much to me and my business.
Houzz is the leading platform for home renovation, inspiration, and recommendations and its community of users chose my enterprising brand for an award. Over 40 million unique monthly website visitors make up the Houzz community. Including over a million active home building, home improvement and design industry professionals.
Houzz 2017 Awards
There are three categories in the Best of Houzz awards, presented annually:
Customer Service
Design
Photography
A Customer Service award is based on several factors. I consistently strive to uphold these within my business as I always want to ensure my clients have the best experience possible. Houzz considers the number and quality of client reviews for the preceding year as part of the award making decision. As an independent creative business, industry recognition is hugely important to me.
Best of Houzz Badge!
You will now see a "Best Of Houzz 2017" badge against my profile on the website. Homeowners looking for top-rated professionals should definitely look out for this endorsement. It is a mark of excellence. In my experience, home improvement projects are most successful when the supplier/customer relationship is positive. This facilitates constructive dialogue and innovative ideas and consequently, the results are usually what you'd hope for. If you research and talk to home professionals before committing to their services, it will be time well spent.
"I am really pleased to have won for the 2nd year running. It means a lot that my customers value my service and have taken the time to write reviews about the service we offer. This has definitely helped me to win new projects. I take customer service really seriously." – Emma Britton on winning the award.

"We're so pleased to award Best of Houzz 2017 to this incredible group of talented and customer-focused professionals, including Emma Britton Decorative Glass Designer. Each of these businesses was singled out for recognition by our community of homeowners and design enthusiasts, for helping to turn their home improvement dreams into reality." – Andrew Small, MD of Houzz UK and Ireland
Reviews and Ordering
Houzz reviews left by previous clients are up to date on my profile page. If you are considering ordering a new splashback from me, do take a look. If you need some help to make your choice, I can advise you on not only a stunning new look, but highlight the practical features of a splashback too. Unique projects are also great as they allow for extra personality in the design. Bumblebees, Pumpkins and birds have made the cut in the past. It is always interesting to see what ideas clients have in mind for their bespoke splashbacks.
If you have bought one of my splashback designs recently, I hope you are happy with the design but also the customer service element of the job.  Thanks to my customers I've achieved this 'Best of Houzz' award for 2017.