Christmas Styling with Emma Britton Decorative Glass Designer
Christmas Styling with Emma Britton Decorative Glass Designer
7th December 2019
As well as making great Christmas gifts for family and friends, my homewares, especially my glassware, can make your home look special and inviting this year. Here's a few tips that will make guests feel welcome and give your home personality: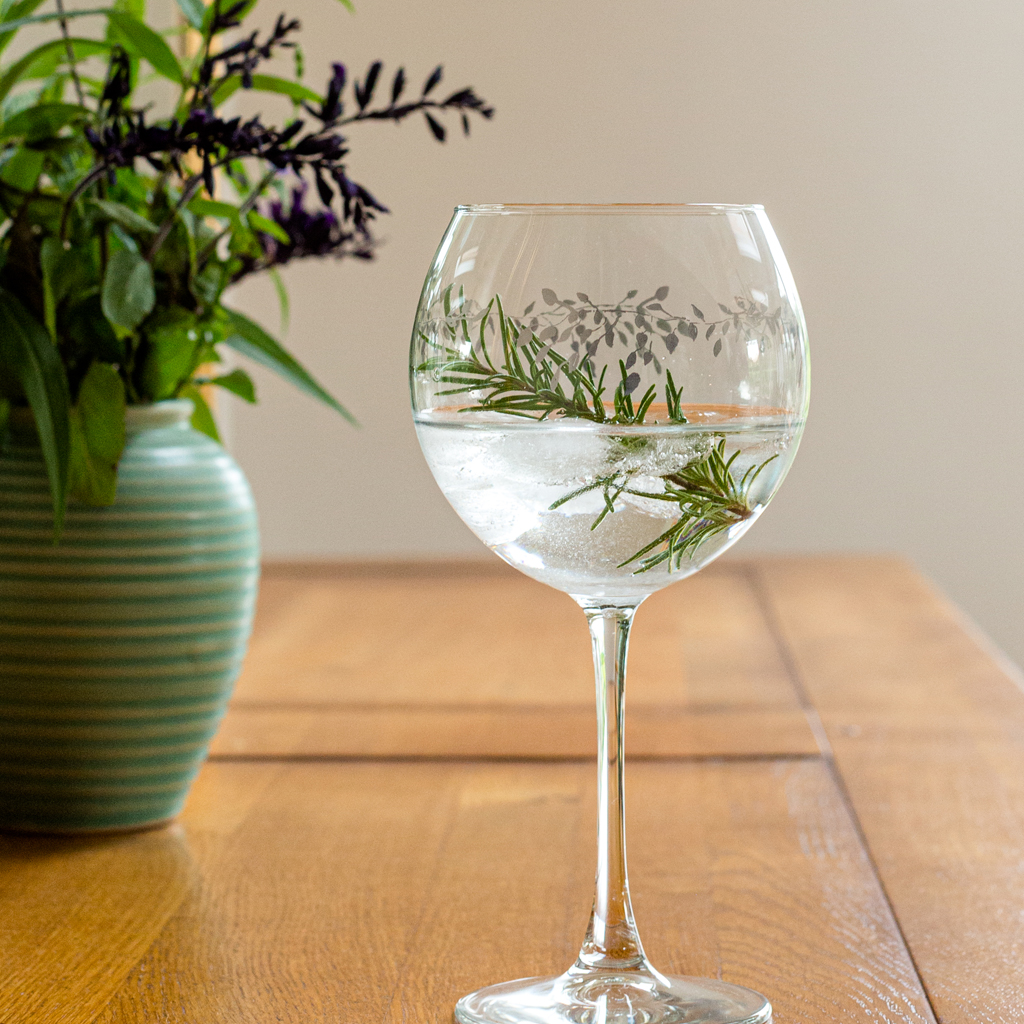 Make everyone welcome!
Give your guests a warm welcome by offering them a festive glass of fizz (set of 6, £49.50)  or an on-trend gin cocktail (£12 each). My flutes are an elegant but practical way to serve the bubbles and gin glasses in a platinum silver birch branch design will bring out the sparkle at any gathering.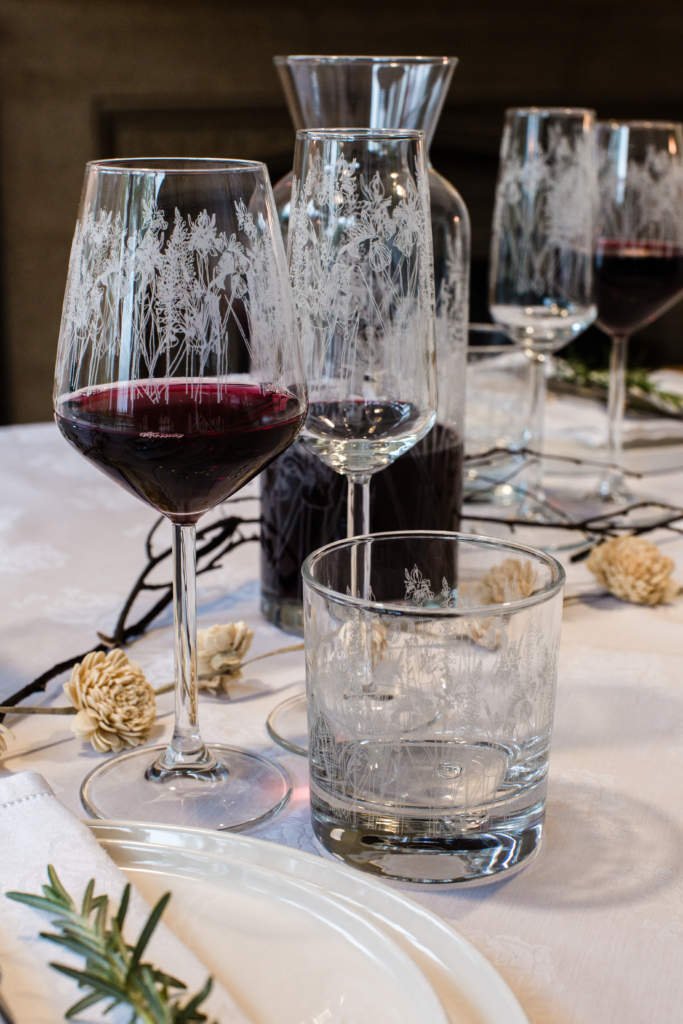 Time for a tipple
It's Christmas, so you've spent some extra on the wine and some special non-alocholic drinks. Therefore, you'll want some quality glassware to reflect your well-chosen beverages. As a consequence, they'll taste even better! My meadow wine glasses (set of 6, £49.50 / £9.00 each) look fantastic with deep reds and rose. The pattern comes alive, giving your table instant interest. Complete the look with one or two of my carafes, (£21 each) which can also be filled with festive foliage or bottle lights.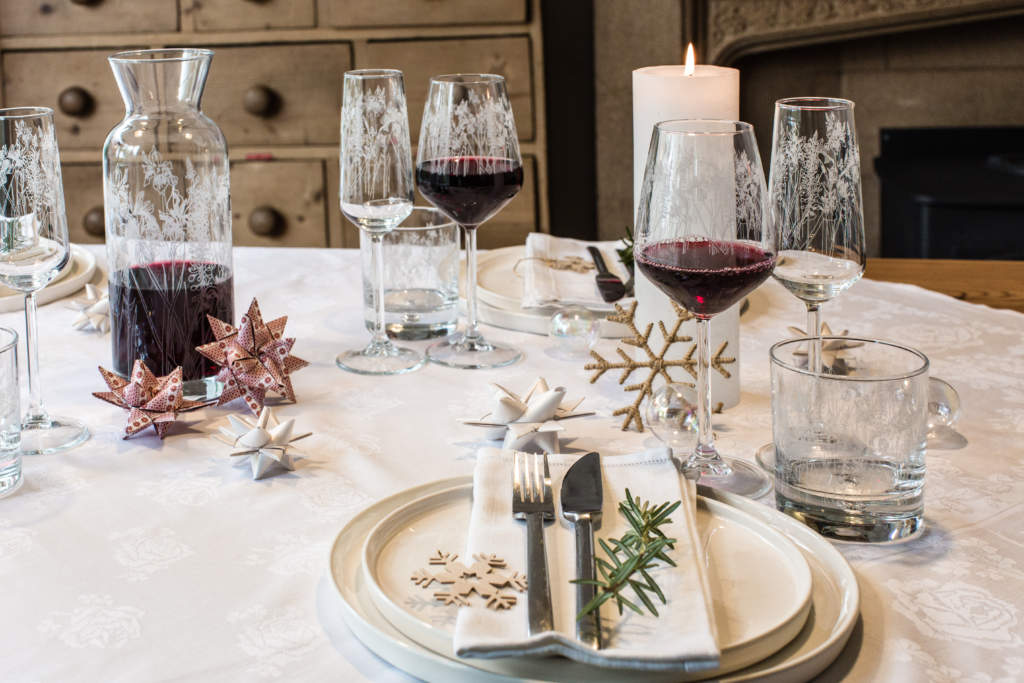 Dress your table
The dining table is where friends and family will spend lots of time on Christmas Day. It's a focal point (after all the lovely unique gifting, of course) for the festive feast after all. Although setting the table can feel like one more job, it really is worth the effort, and doesn't need to be too fancy. Make it fun and enjoy being creative with it. Reds can accent the wine colour or for a really simple look try scattering clear glass baubles. These will tie in with the glassware too.  I personally love white on white or white on clear as an inspiring colour combination.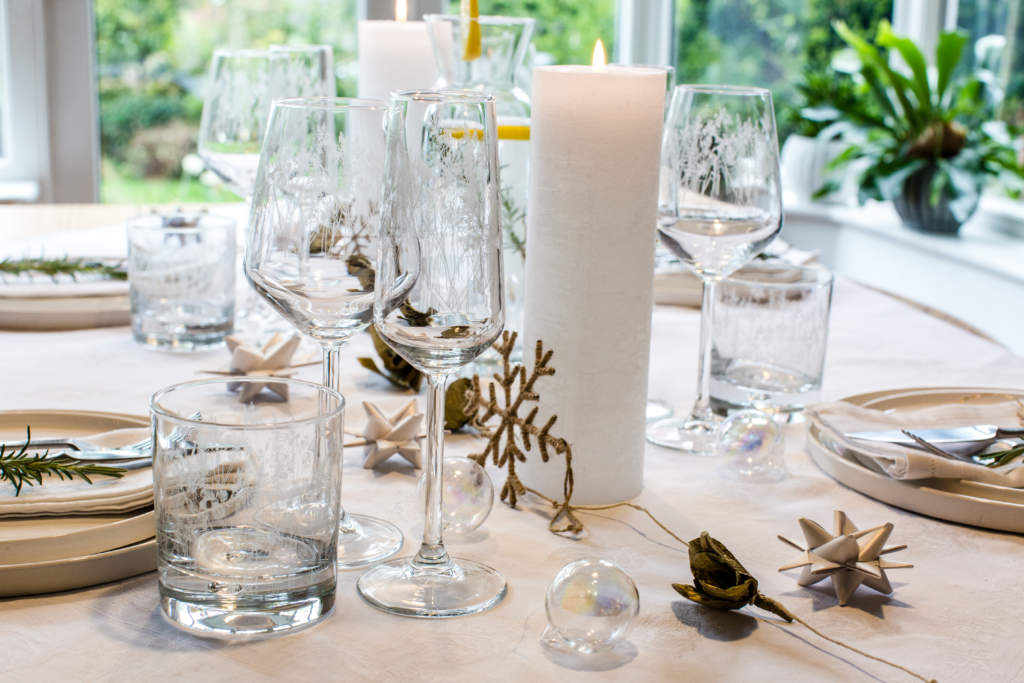 Decorate with tumblers
My glass tumblers (set of 4, £27.00) are perfect for water, but keep some aside for table decorations. Round tables benefit from a single centrepiece, but, in contrast, also look great with a number of smaller items clustered together. Long tables like a repeated series of arrangements. My tumblers can be used in both of the aforementioned ways to decorate.
Scatter glass tumblers around the table and fill them with battery tealights for an inviting setting. Consider mirrored chargers underneath to reflect the light and add extra reflections. Alternate my tumblers and hiballs (set of 4 hiballs £32) filled with foraged greenery and/or herbs for a sensory, natural look.
Place Setting Gifts
Everyone loves a surprise and gifting the glassware at each guest place setting can't fail but to go down well. Tie them with ribbon or raffia bows, a sprig of rosemary, or something foraged, and tag with names. Tell everyone that the glasses are hand-designed and printed in England and from a small independent business. Spread the #campaignshopindependent message far and wide!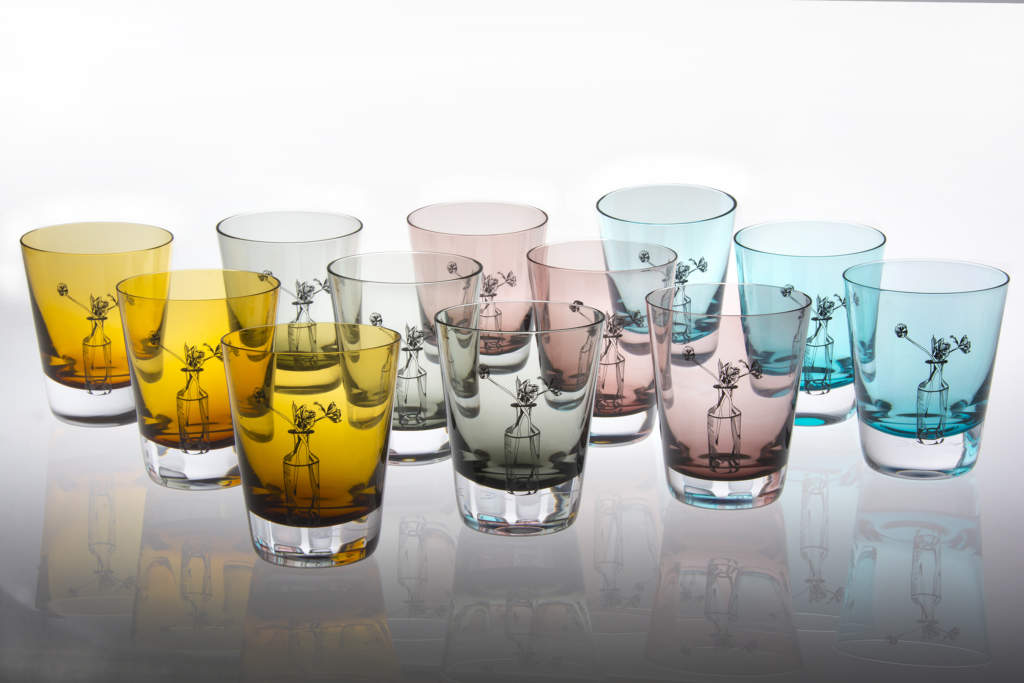 The whole house
Adorn everywhere –  as a result of filling your home with creative touches you'll feel the warmth and character in every corner. Leave out glasses filled with sweets which will ensure treats are on tap at any time. Position more festive foraged greenery in tumblers or carafes clustered on mantlepieces or sideboards. My crystal glassware is coloured and looks especially gorgeous at this time, each glass is handmade so each one is different, mix with vintage baubles for a colourful Christmas.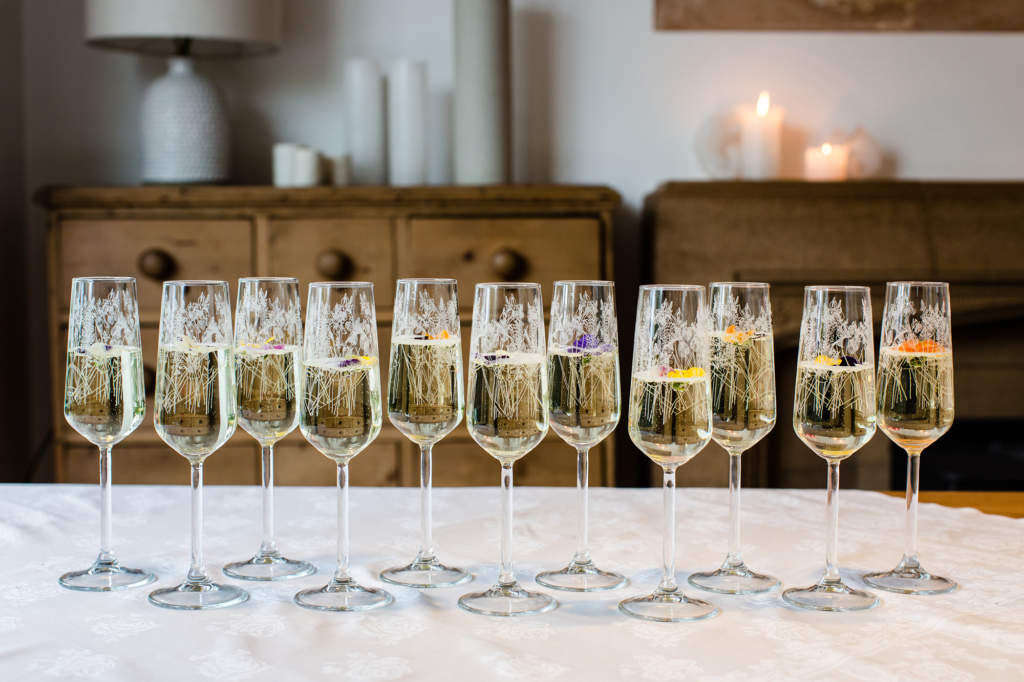 Other tips
Finally, if you prepare as much as possible a day or two before, you can just enjoy the process. Chill drinks, put candles into holders, buff up glasses and crockery and make decoration pieces. Get the bits you need for each place setting ready. Check your table linen and wash and press if you need too! Now is a good time to think about that with a few weeks to go, nothing worse than finding a stain on your table cloth on Christmas Eve.
If your dishwasher malfunctions or you need to handwash my more delicate glassware, get in some new tea towels (£10 each) ahead of time to bring everything up sparking.  AND…my trays (£24-£37) could be handy for delivering cups of tea on Boxing Day to help sore heads!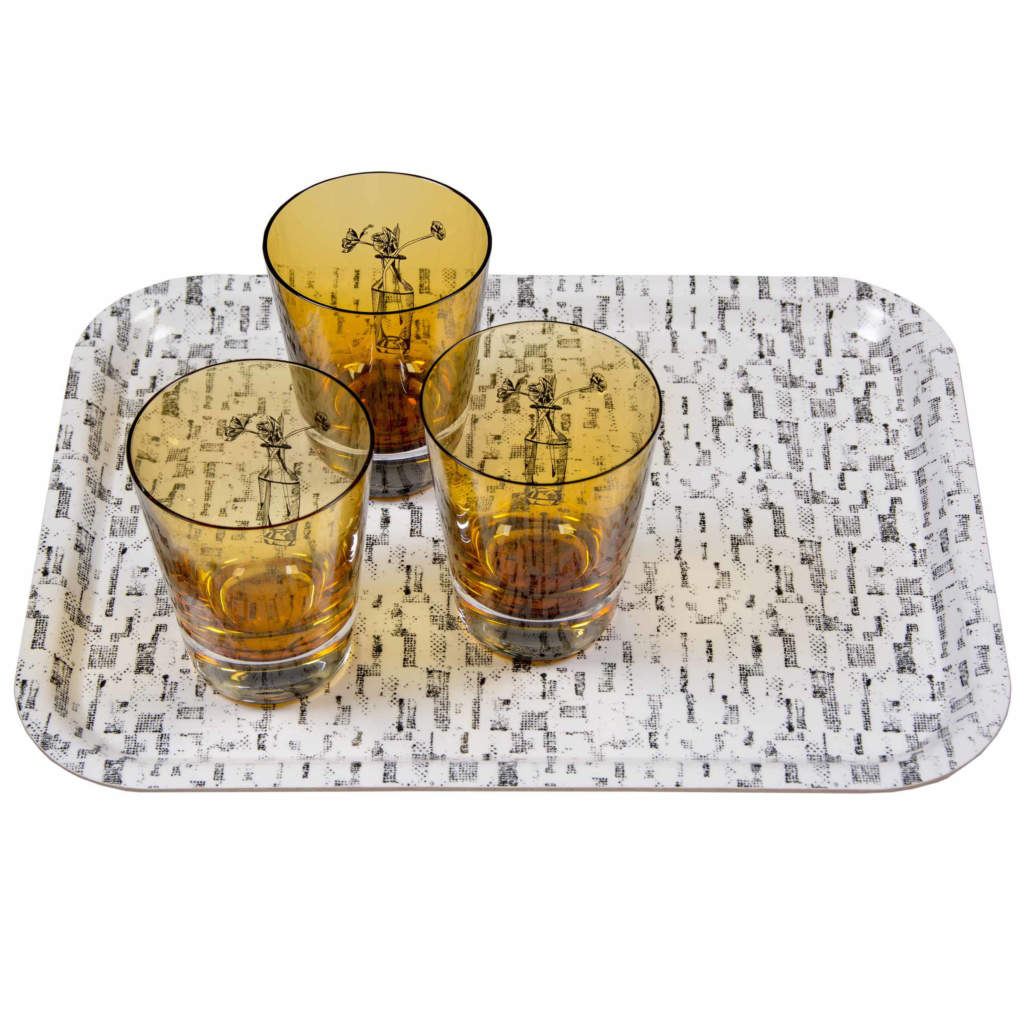 Inspired?
My homewares are an investment for the long term, whether as a gift or for yourself. I hope you'll be using them throughout the seasons and for other celebrations such as Easter or during the endless days of summer. I love seeing my products in their new homes so take a snap and tag me in your instagram posts. @emmabrittondecorativeglass #emmabrittondecorativeglassdesigner