Cheers to Forever: Make your Wedding Toast Memorable with Stunning Champagne Flutes
Cheers to Forever: Make your Wedding Toast Memorable with Stunning Champagne Flutes
21st August 2023
Champagne flutes are a timeless wedding present, made for celebrations and toasting the occasion. Put a unique spin on your big day and this go-to gift by choosing independently designed, decorative champagne flutes in beautiful botanical inspired designs, by Emma Britton.
A wedding toast is a heartfelt tradition where friends and family raise their glasses to congratulate the newlywed couple. Whether a simple 'cheers' or a more elaborate speech, the wedding toast is a special way to celebrate the couple's union. So doing it in style with glassware fit for the event and beyond is a must!
Emma Britton champagne flutes are a classic shape, elegant yet durable, and just perfect for lively cheers and toasting with loved ones. The slender shape of flutes holds the fizz in sparkling drinks, making them perfect for champagne, prosecco or even wedding breakfast mimosas. Available in two beautiful decorative Emma Britton designs – Silver Birch and Meadow – which one will you choose this wedding season?
Champagne Flutes Wedding Gift – Silver Birch
The dainty and dappled pattern on contemporary Silver Birch champagne flutes gives your bubbles extra sparkle. Silver Birch is a design that is always popular for wedding gifts, thanks to its elegant and stylish look.
These special flutes are a great choice for the top table and also make great tokens for bridesmaids to enjoy during pre-ceremony celebrations.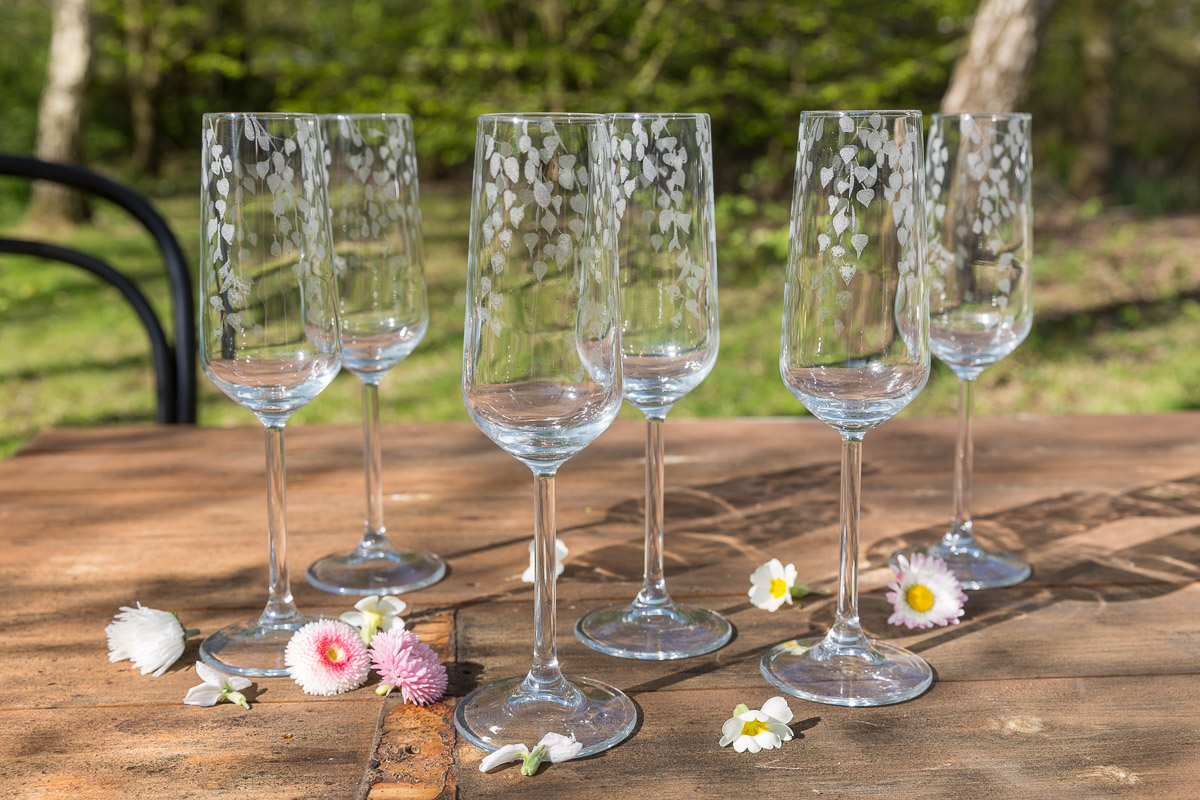 Pop Silver Birch Flutes on your wedding gift list, and add to your collection over the years with matching Wine Glasses, Tumblers & Carafes, see the whole collection here.
Meadow Champagne Flutes Wedding Gift
For those who prefer a more distinctly floral design, Emma's Meadow pattern Champagne flutes will suit. With wildflower seed heads and grasses, there's also a beautiful little butterfly in the Meadow design to spot.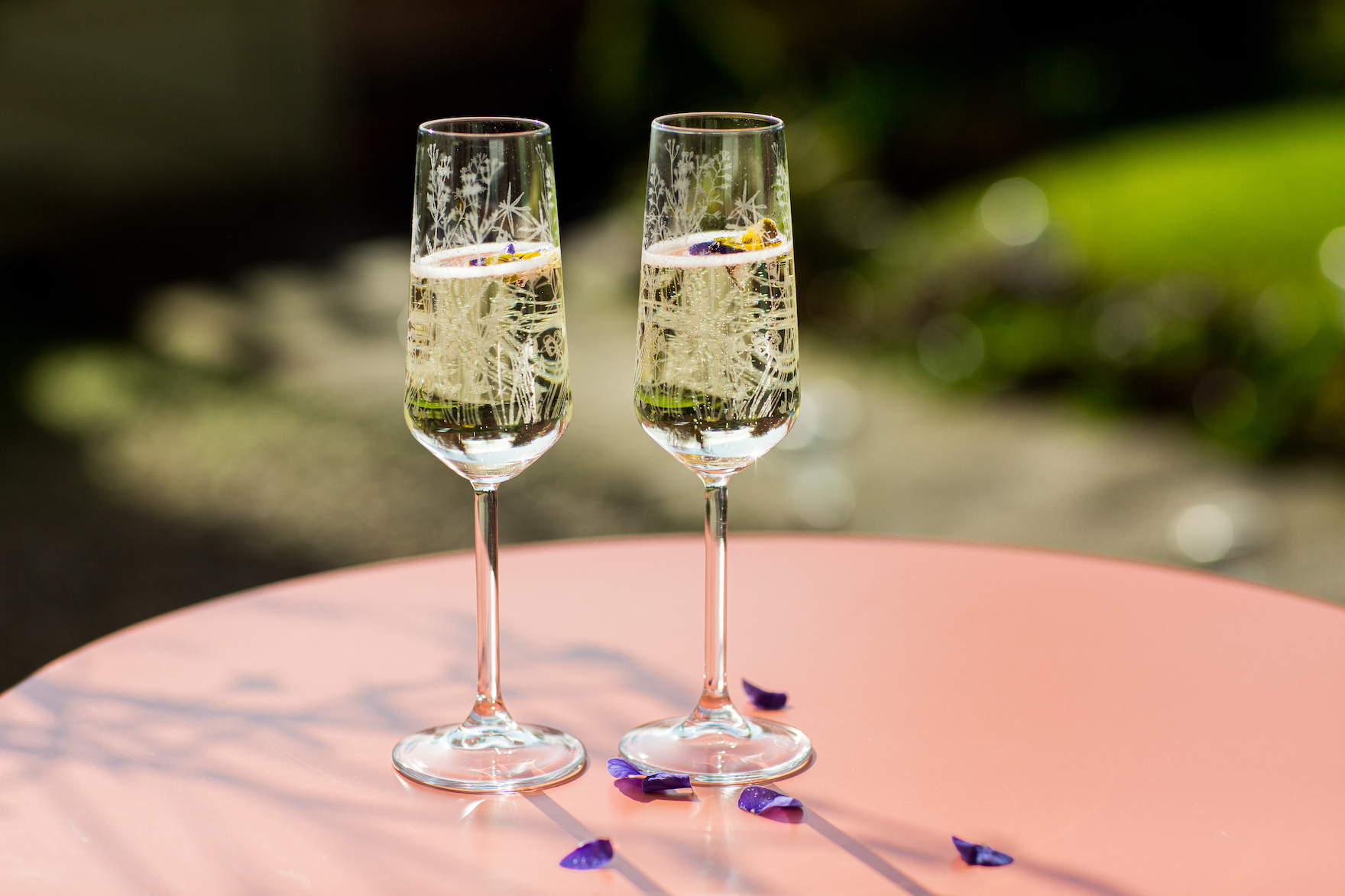 Choose a pair of these floral champagne flutes with a bottle of champagne as a lovely gift for couples to toast their marriage. A set of 6 Meadow Flutes is a special wedding or engagement present.
Try Coupes!
If vintage glamour is more their glassware vibe, Emma's beautifully etched crystal champagne coupes are a delightful choice. A wide saucer style glass in modern crystal, you can choose  elegant Silver Birch or bold Exotic Floral patterns.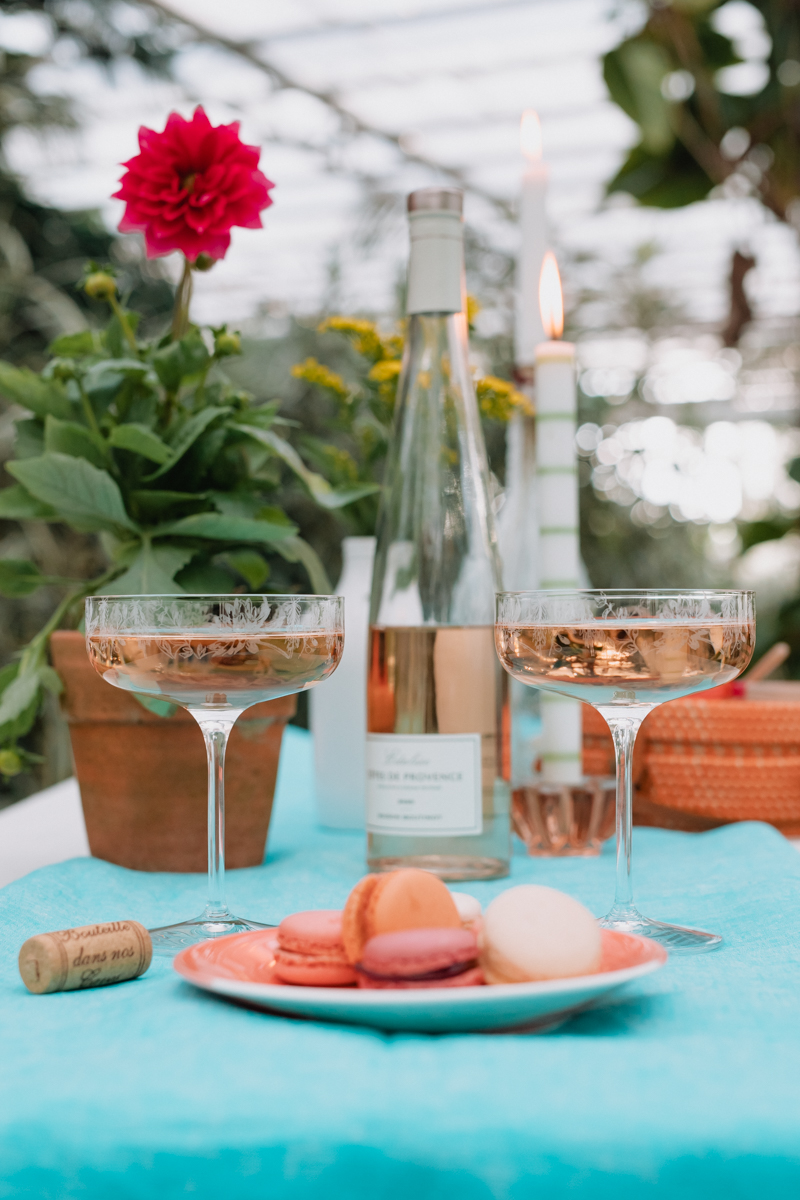 Wedding Present Ready
Send a champagne flutes wedding gift directly to your recipients. Include a gift message at the checkout for a FREE handwritten card, plus gift sticker on the box. All decorative glassware is sent gift-ready and wrapped in bright tissue paper and eco friendly protective wrap.
Shop all champagne flutes and coupes and Emma's other glassware shapes here.
Did you like this post?
We have a regular newsletter full of ideas with Emma Britton Decorative Glass, lifestyle inspiration and occasional offers.  Scroll to the bottom of the homepage to sign up for a colourful inbox read.