Bringing Nature Indoors: Floral Splashbacks for a Fresh Home
Bringing Nature Indoors: Floral Splashbacks for a Fresh Home
11th September 2023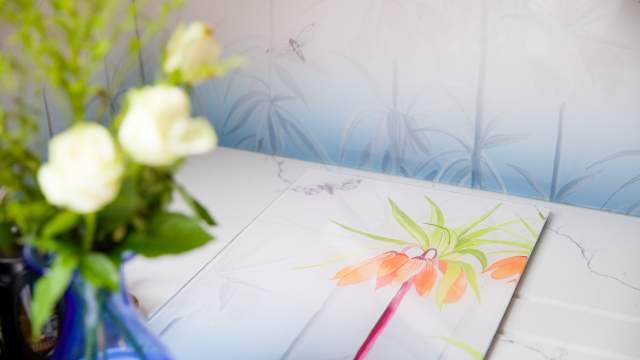 As the seasons change and we begin to spend more time indoors, now is the perfect time to refresh your home with floral splashbacks. Enjoy everlasting blooms all year round with a made-to-measure splashback in Emma's signature, optimistically floral design style. Choose something beautiful to look at everyday with floral glass splashbacks for kitchens, bathrooms, utility rooms, en-suites and cloakrooms – in fact anywhere that needs protection from steam, spills and splashes.
For a truly timeless and fresh kitchen style, Emma's more neutral coloured flower splashbacks will do the trick. Soft greys and whites will add lightness to many kitchen styles, whilst the beautiful floral patterns will remind you of summer all year round. We have picked some of Emma's most popular floral kitchen splashbacks that will really bring the outdoors in and refresh your home.
Iris in Stone
Floral splashbacks such as Iris in Stone are always popular with keen gardeners and flower lovers alike. A gorgeous soft splashback design which features rare Black Irises on a warm stone background. This design tones beautifully with neutral kitchens, and will bring the beauty of these favourite flowers into your home long after iris season is over. Try pairing this contemporary design with yellow kitchen accessories for a pop of colour.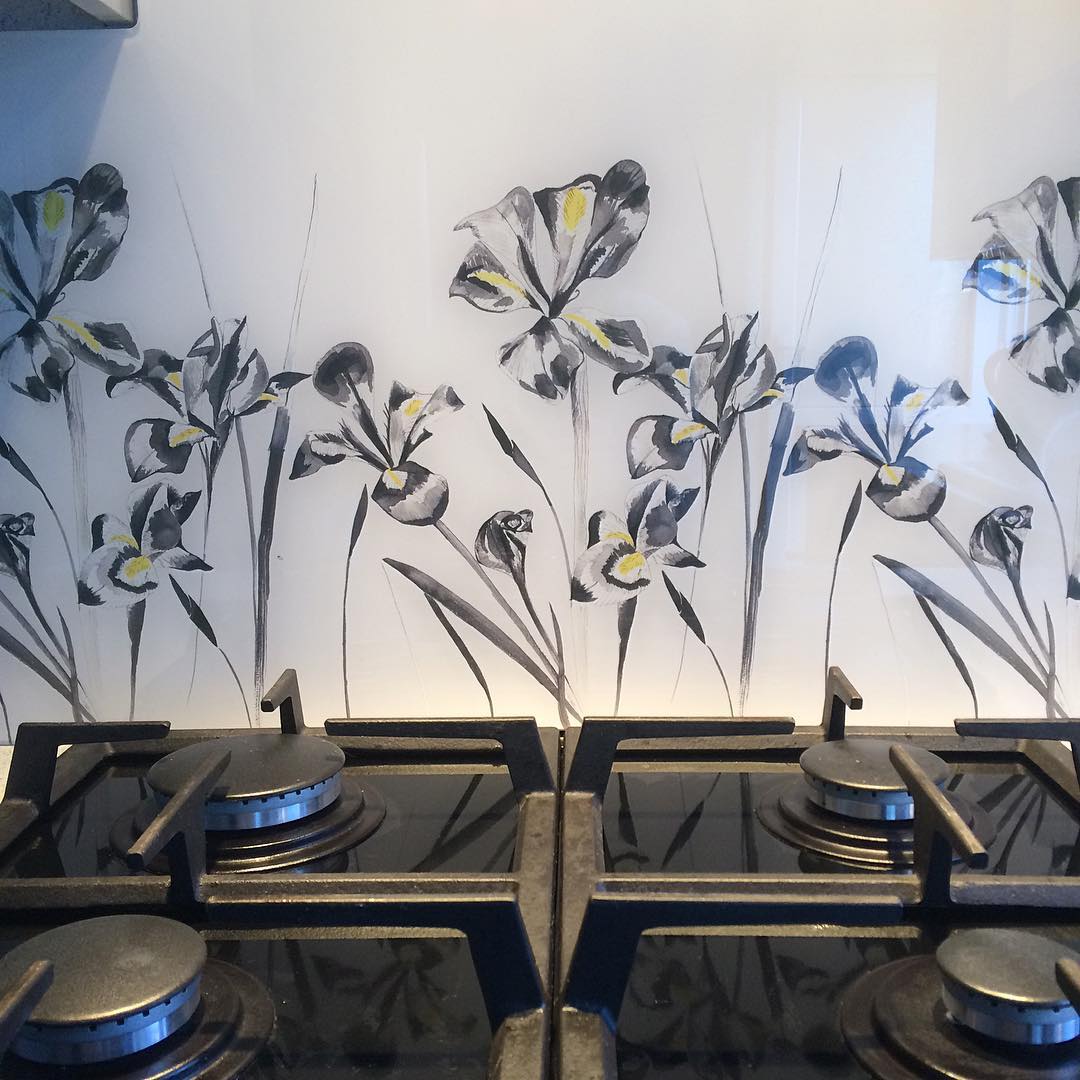 Sunset
The super fresh colour palette of this floral splashback design is sure to brighten up your walls. Even on the most grey of days! Sunset depicts orange fritillaria imperialis blooms, hand-painted by Emma on a fresh white ground. Make this leafy floral splashback design sing by complementing with warm wood worktops and cabinetry.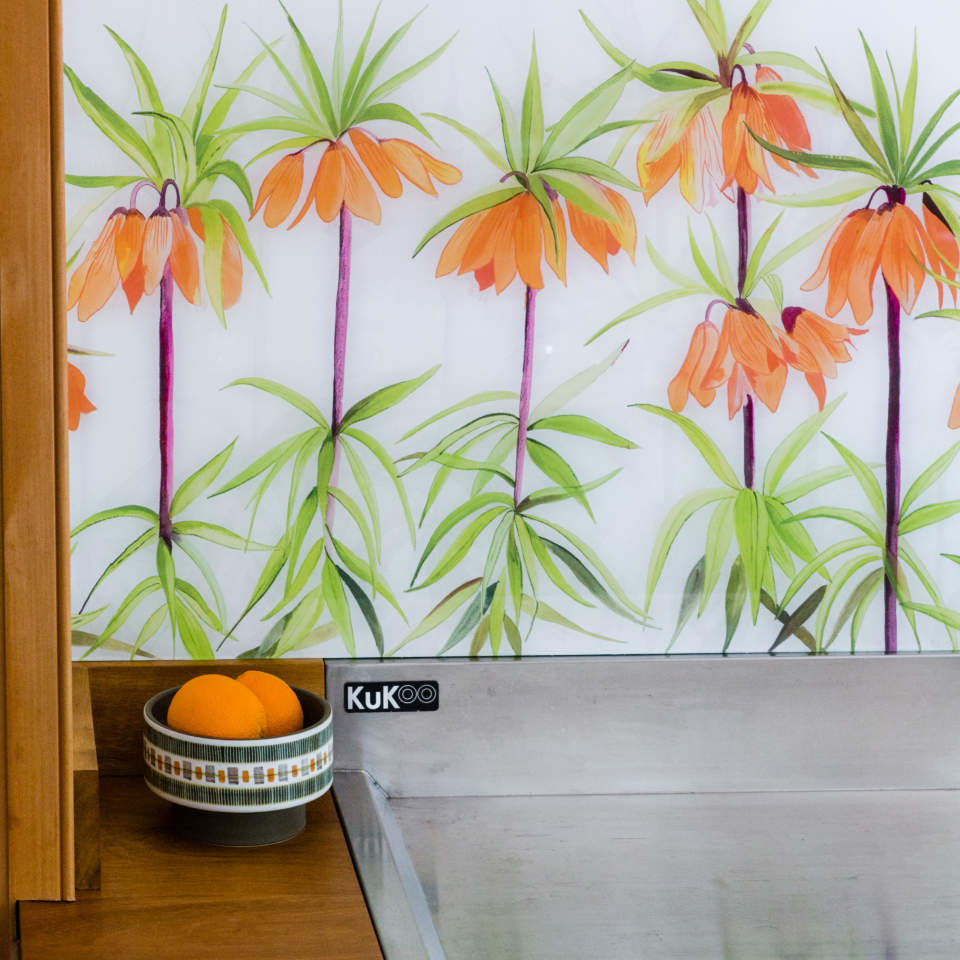 On the other hand, flower splashbacks don't have to be bright. For a sophisticated kitchen look, 'Sunset in Shadow' is a great choice. A stylish and cool blue splashback design that fades to white. Thanks to its tall flowers and gradient colour, this pattern works especially well as a cooker splashback. Bespoke version here paired with made-to-order worktop saver. 
Our feature for Ellen Mary Gardening about bringing nature inspired designs into your home including florals is well worth a read and really makes the case for why you might do this for more than purely aesthetic reasons. Read Here.
White Floral in Grey – In three Floral Splashbacks
One of Emma's most loved floral glass splashbacks for kitchens is White Floral in Grey. Featuring hand drawn iris, lupins and foxgloves for a simple yet stylish look. The pattern celebrates the structural beauty of these garden flowers in full summer bloom. This subtle floral splashback design looks especially fresh and stylish in white kitchens.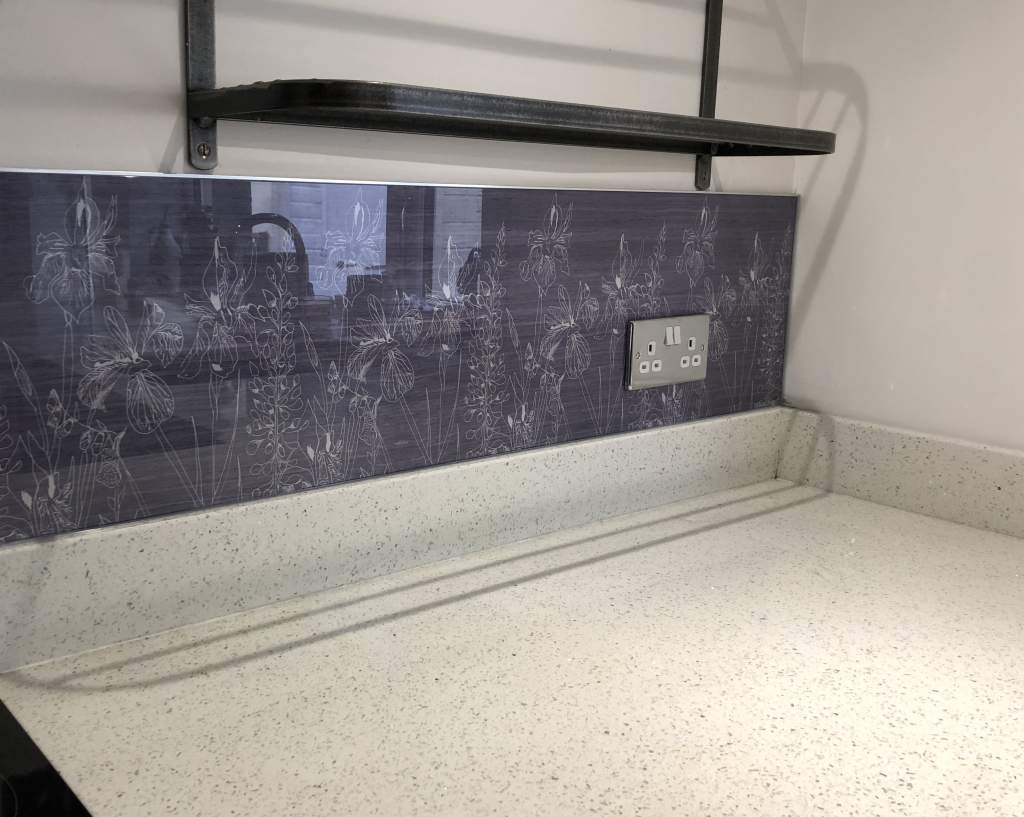 Also available in cherry and ebony colourways, the White Floral splashbacks harmonise with a variety of modern and traditional kitchen schemes. 
Floral Splashbacks Sample Service
You can order samples of any of Emma's glass splashback designs, and the cost of one sample is refundable when you order your splashback. 
Emma's designs are specially created for splashbacks and work in both traditional and contemporary interiors. For design advice on choosing a splashback to complement your space or for a quotation,  get in touch today. Email emma@emmabritton.net | Telephone +44 (0)7565 300 065
Did you like this post?
We have a regular newsletter full of ideas with Emma Britton Decorative Glass, lifestyle inspiration and occasional offers.  Scroll to the bottom of the homepage to sign up for a colourful inbox read.