Award Winning Design Brand
Award Winning Design Brand
17th September 2020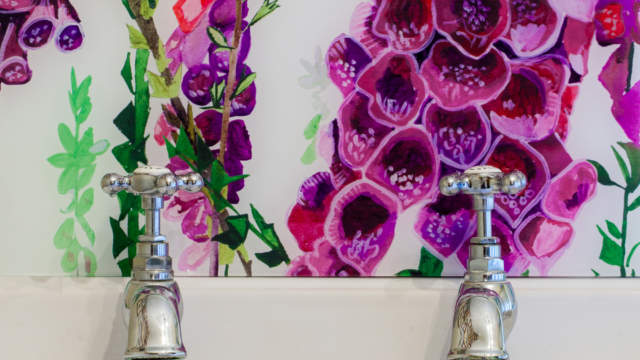 Award Winning, GOOD NEWS STORY alert! This month I'm reflecting on a surprisingly positive summer, despite these crazy times. I want to let you in on a few lovely things that have happened to Emma Britton Decorative Glass recently. There is a bit about the story of the business too and a big up to my brilliant customers that are helping it to grow. I started the business in another period of economic uncertainty – reflecting on that is proof that good things can still happen, even at the toughest of times.
Award Winning – Good News!
To the summer of 2020 first and the dreaded 'c' word. I'll admit, I had a momentary wobble about the business in the context of everything happening. BUT, my amazing customers, along with holding my nerve and seizing opportunities means, here we are.
One of the opportunities I went for was entering the business into the SME: SOS Independent Ad Break Competition. Guess what, the advert I made, WON. SME:SOS was launched in April to help small businesses navigate the coronavirus crisis. Leading the charge was Holly Tucker, founder of Notonthehighstreet and Holly&Co and the brilliant Conversations of Inspiration Podcast. Holly is also the UK Ambassador for Creative Small Businesses.  SME:SOS is in partnership with Natwest, Dell, Three and the Royal Mail (my lockdown heroes who kept customer orders flowing throughout).
Being recognised as 'Award Winning' by this marvellous female founder and the other backers is praise indeed.
My advert was selected along with five others for demonstrating great resilience and creativity at this time. The win helped me talk to thousands of potential new customers and the prize includes bespoke mentoring with Natwest's entrepreneur acceleration managers and their Business Builder programme.
The coronavirus crisis has cemented my belief that staying true to my values and growing an innovative, focused small business with a loyal following is the way to go. I set up in a recession, so as long as I'm constantly responding to what's going on and continuing to be original, the future looks bright. 
Coronavirus Small Business Survivor
As a winner of the competition I talked to Natwest about navigating the coronavirus pandemic, and future business plans. You can read the feature and I chat about my ambitions in the film below. One of the biggest developments I talk to camera about is growing a team. It has transformed the business and given me greater freedom to design; which the brand clearly relies on! Let me know what your favourite design of mine is, and here's to many more years of beautiful Splashback Collections and Homewares, with your support. Thank you in advance.
Getting into Glass
And now for the business backstory – whistle-stop style. After I got my Printed Textiles Degree from Loughborough University in 2008 there were literally NO jobs for new graduates in this field. But I'm an optimist and adaptable. Glass interested me and I made a sideways move. It wasn't a complete leap of faith as I'd experimented with the material before and knew I could get a job.  I got to know glass inside out. I saw how I could use my expertise as a pattern designer to create something that was completely unique. At the time nobody was applying pattern or florals to glass and my innovation for the Splashback market was born. Homewares followed and now include a varied range of Wine, Gin, Tumbler and HiBall Glasses, Carafes, Tea Towels and Trays.
Up the Garden Path and Beyond
Thanks to an East Midlands Enterprise Grant, I launched Emma Britton Decorative Glass in 2010 with 'Up the Garden Path'. 'Foxglove' was the first design I unveiled in this Collection inspired by British Suburbia. 'Up the Garden Path' also includes Hydrangea, Sweetpea and Poppy designs that make familiar florals fabulous.  'Foxglove' and 'Hydrangea' feature in Splashbacks and Homewares and these timeless designs are still bestsellers. 'Foxglove' is a personal favourite of mine as the foundation for the business I love.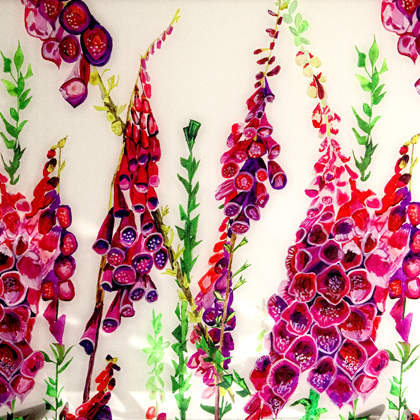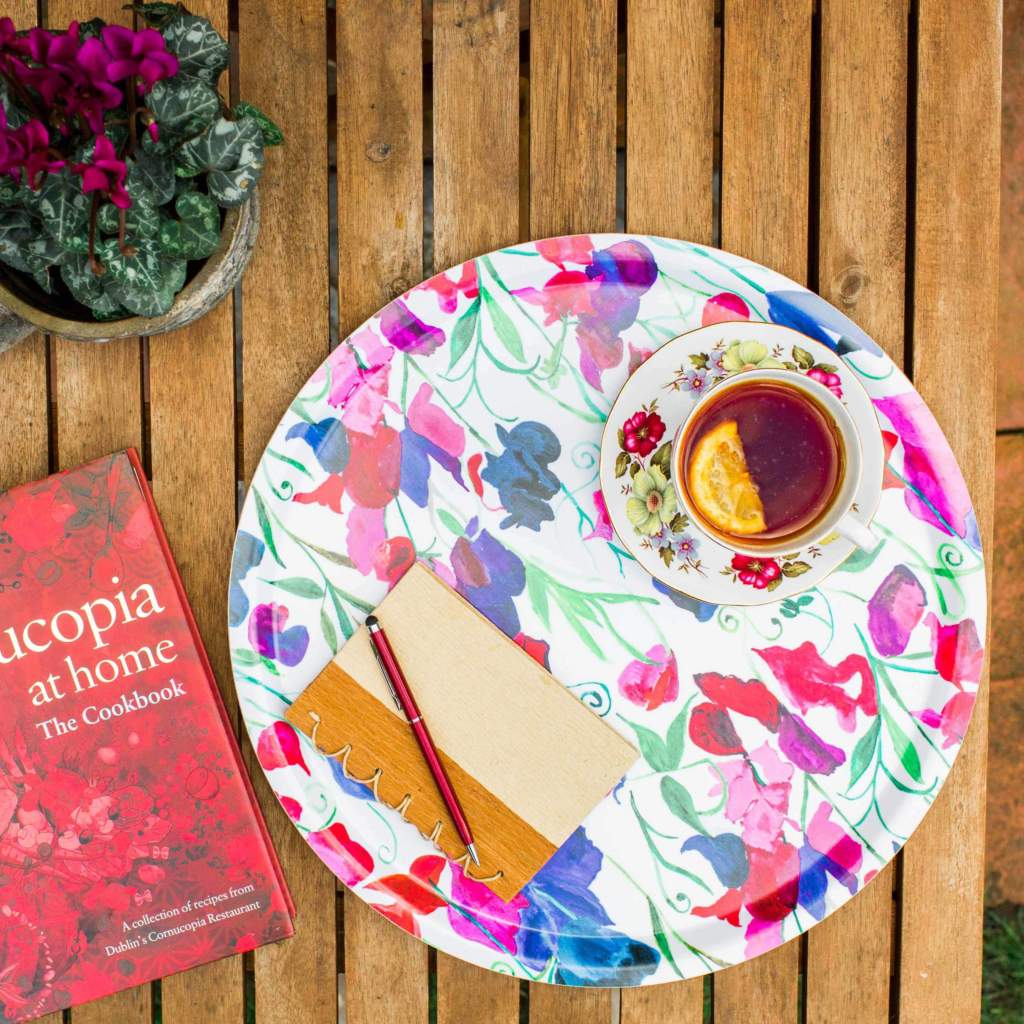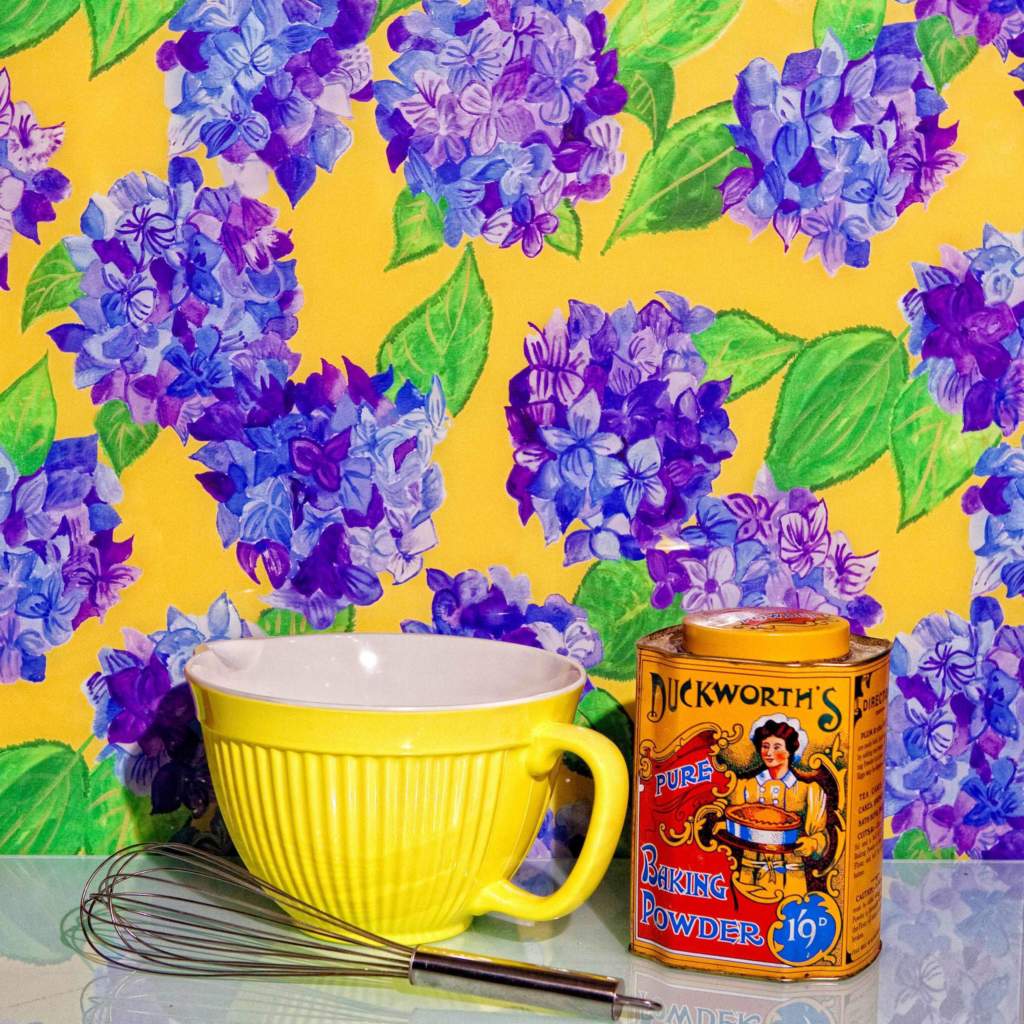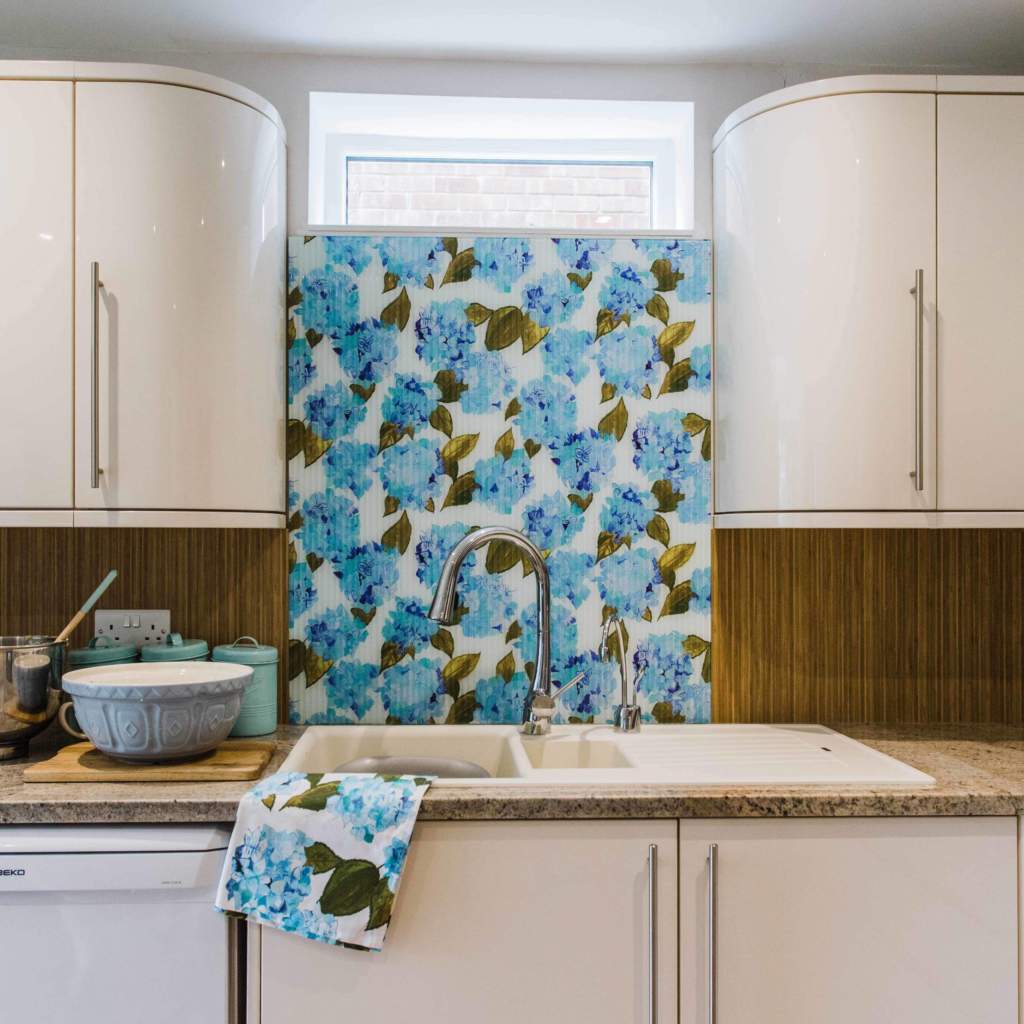 View all of the Splashback Collections and Homewares on the website.