Wisley Wisteria Walk Inspires New & Exclusive RHS Glassware Collection
Wisley Wisteria Walk Inspires New & Exclusive RHS Glassware Collection
7th April 2022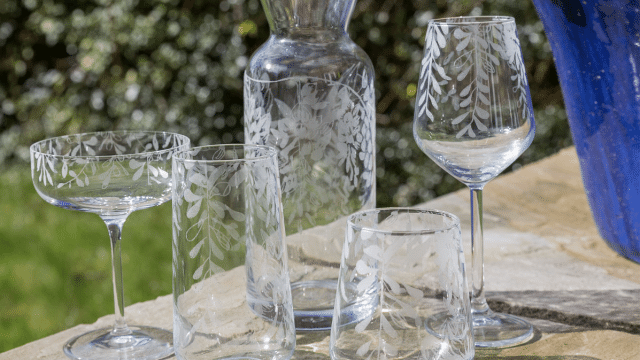 Wisteria is the third exclusive glassware collection for the RHS by Emma Britton, inspired by the Wisley Wisteria Walk. It's now available to buy from the RHS website and their 5 garden shops. Emma's Wisteria collection follows the success of Iris and Snowdrop, both incredibly popular designs with RHS visitors.
Wisley Wisteria Walk inspires new RHS glassware collection
RHS Wisley's Wisteria Walk is the inspiration for this NEW Emma Britton glassware collection. The wisteria walk is always a big draw for visitors every year and many people often visit exclusively for this beautiful flower display. Emma's designs, all etched with a hand illustrated wisteria frond, include wine glasses, hi balls, tumblers and a matching carafe. New for this collection is a champagne saucer and matching vase. Paired with the other glassware shapes these beautiful pieces create a visual feast on any table. This is also the first time a champagne saucer and vase have featured in one of Emma's RHS collections.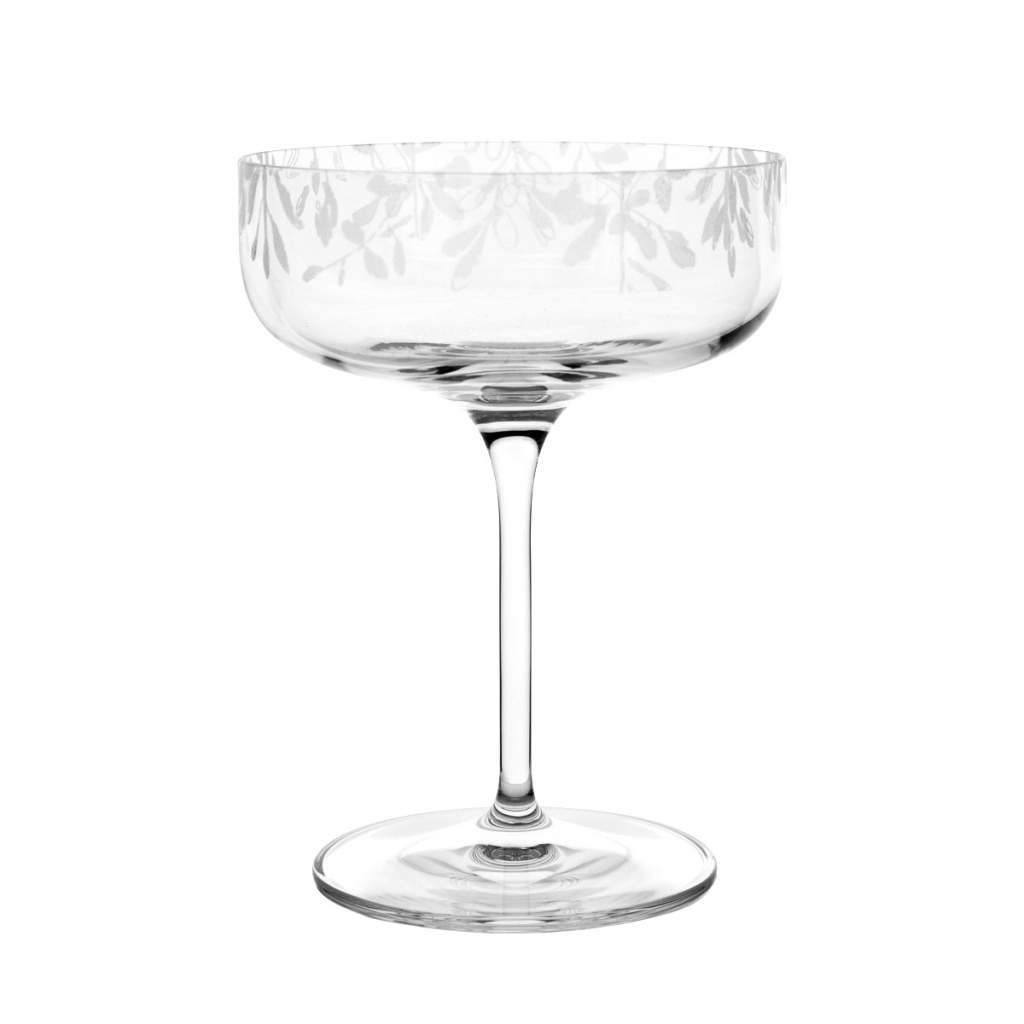 Each glass depicts wisteria as a tumbling mass of petals and flowers around the sides. So evocative of its natural habit, often found on the facades of much admired period houses and around garden pavilions and trellises. Once established, Wisteria emerges into its spectacular full bloom year after year. Bring a little bit of this feel and some #regencycore (do look it up!) into your every day with this beautiful collection, classic pieces full of individuality.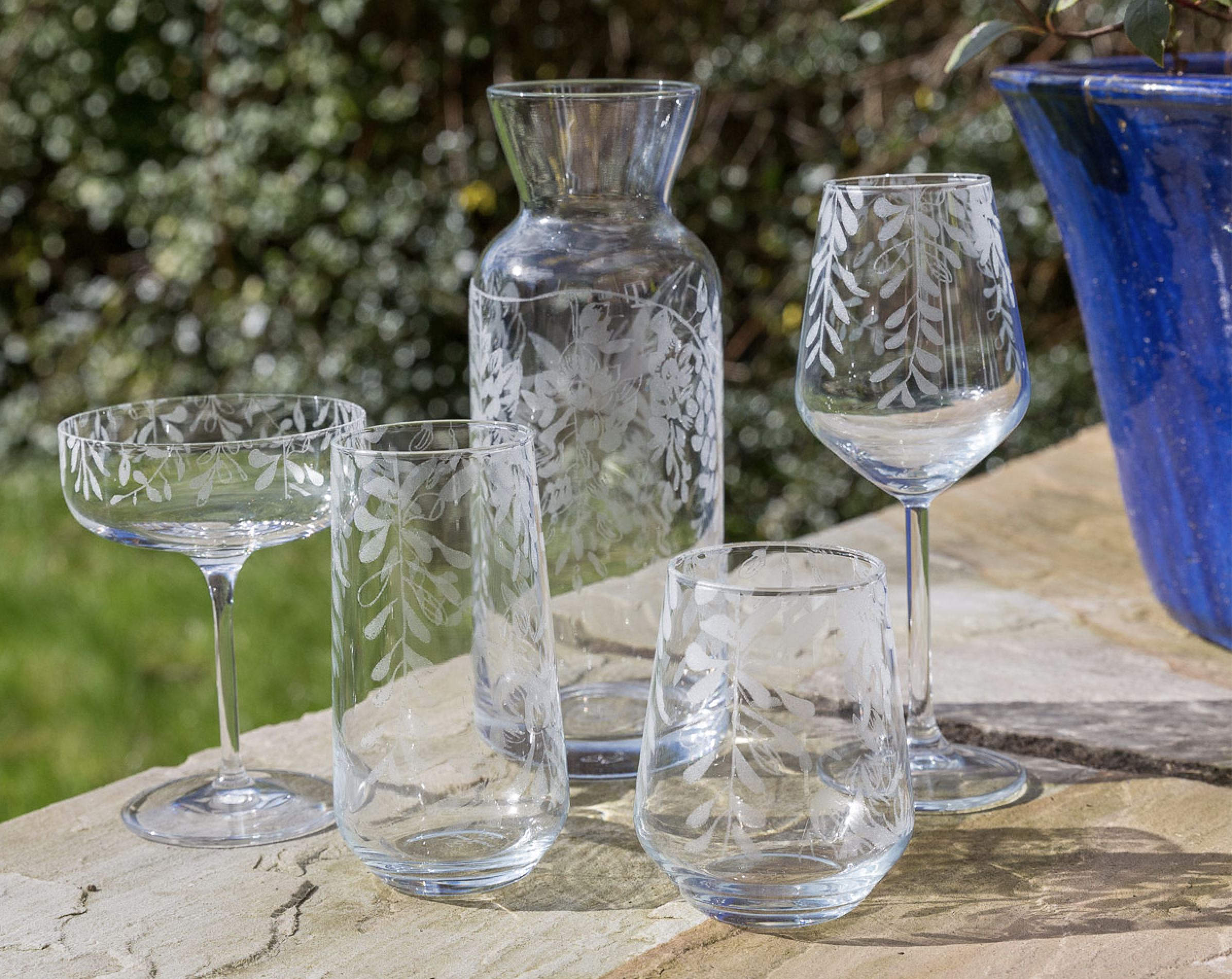 Wisteria collection glassware is designed, decorated and hand finished in Emma's British design studio. Available online from the RHS and from all their gardens. RHS Rosemoor, Devon, RHS Wisley, Surrey, RHS Bridgewater, Manchester, RHS Hyde Hall, Essex and RHS Harlow Carr, Yorkshire. Also from RHS Hub Shops at the Chelsea Flower Show, May 2022. As well as RHS Tatton and RHS Hampton Court Flower Shows.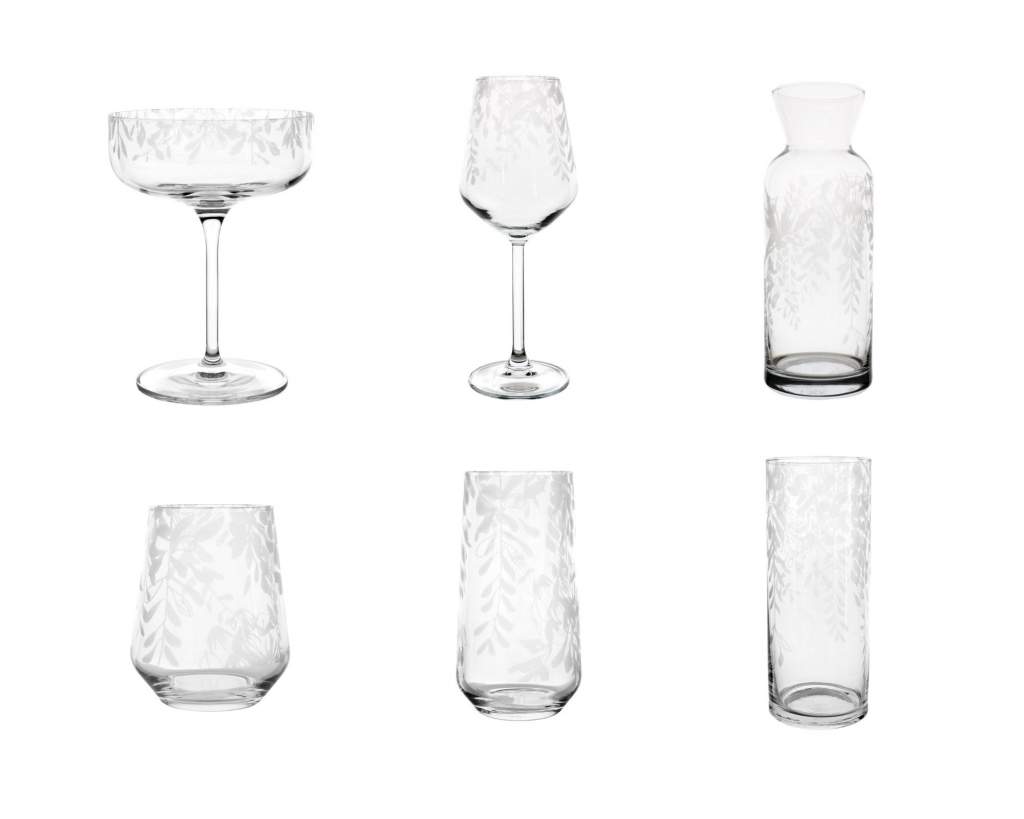 Clockwise Wisteria Glassware Collection: Champagne Saucer, £18, Wine Glass, £10, Carafe: £25, Tumbler, £9, Hi Ball, £9, Vase, £25. Shop here from £9
Emma will also be exhibiting her own popular floral glass splashbacks and botanically inspired glassware and homeware collections at the RHS Chelsea Flower Show this May, and RHS Tatton in July.