Visitor to Grand Designs Live Finds Inspiration on Emma's Stand for Dream Kitchen
Visitor to Grand Designs Live Finds Inspiration on Emma's Stand for Dream Kitchen
7th September 2017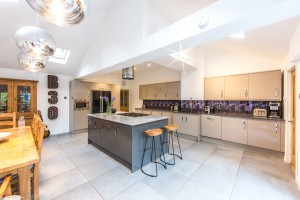 Grand Designs Exhibitor, 11th-15th October 2017 at the NEC Birmingham, Stand K8 in the Kitchens section.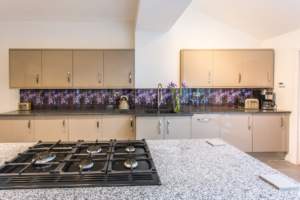 Decorative glass designer, Emma Britton, has exhibited at the Grand Designs Live show for three years and returns for a fourth time this October. Her striking splashbacks caught the eye of visitor Michelle Lester in 2016. Michelle was on the lookout for inspiration as she planned the extension to her Edwardian house that would create the kitchen of her dreams.
"We went to the Grand Designs show in Birmingham with the idea that we wanted to find some good ideas, some quirky design ideas that would fit with our plans. When we looked at the Grand Designs website in preparation for our visit, we first saw Emma Britton's work. I'm a fan of glass in all its many varied states and we decided to make a beeline for her stand to see her painted glass splashbacks.
Art in the Kitchen
We really liked the idea of having art in the kitchen but keeping it a clean, workable space. Emma's splashback is both practical and beautiful, it really adds a sense of colour and movement to the room. The walls are white, most of the rest is grey, so the purples and pinks of the flowers really work. We've tried to mirror this with some of the planting outside, which is mostly green bamboo and ferns, but when the irises and foxgloves are in flower they link the inside with our outside space.

One of my most favourite elements in the kitchen is the splashback. Its five-metre length makes it a really dramatic piece. Although it doesn't overwhelm the room, it gives that side a real sense of interest. When we first thought about the kitchen I was edging towards the ubiquitous white brick tiles. But I'm really glad we spent the time talking to Emma and had something striking, personal and beautifully created instead. It's a talking point, I just love it."
Michelle chose Watercolour in Ebony from The Maple Collection by Emma.