RHS Snowdrop Glassware Collection – NEW & Exclusive Design
RHS Snowdrop Glassware Collection - NEW & Exclusive Design
18th October 2021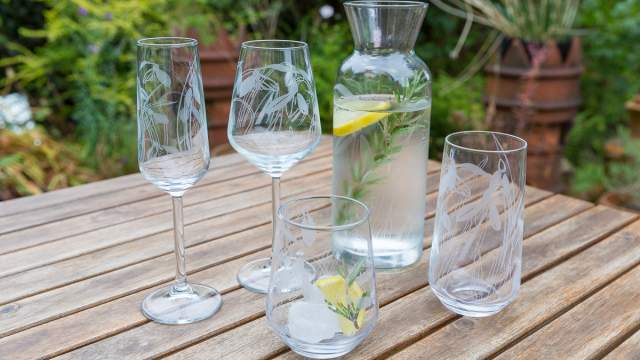 RHS Snowdrop glassware is the second exclusive design collection by Emma Britton for the world renowned RHS  – Royal Horticultural Society. The collection features hi balls, tumblers, wine glasses, flutes and a matching carafe. Now available exclusively in RHS Garden Shops and online, just in time for Christmas.
On her second RHS design collection Emma says:
"The little white heads of snowdrops are the first signs that winter is heading in to spring. Often emerging through the snow,  that simple combination of white and green is very fresh and invigorating. They are beautiful little flowers.

Following the success of my first collection for the RHS, Iris, I was commissioned to design a snowdrop range, which I am really excited about. The new collection will be in RHS shops in time for Christmas and snowdrop season.

My design started life as a painting so that I could capture the fluidity and daintiness of snowdrops. From there I was able to translate and develop the design to work on the glassware shapes. Snowdrops grow in clumps and the beauty of glass means that I have captured that effect, giving the illusion of many more snowdrops. I had this very much in mind when creating this new collection. The shade of the etch lends itself to the white of a snowdrop head, so I designed them to be solid in colour to reflect their simplicity

I hope when people drink from the Snowdrop glassware it reminds them of the first signs of spring."
RHS Snowdrop Glassware – designed and decorated in Emma's Derbyshire Studio
All the glasses in this eye-catching Snowdrop collection are designed, decorated and hand finished in Emma's Derbyshire studio.
Emma's RHS Snowdrop glassware is available to buy exclusively from the RHS shops at their five gardens. Including their showcase RHS Garden Wisley and online at shop.rhs.org.uk