Pickering's Gin – perfect for pairing with Emma Britton Gin Glasses
Pickering's Gin - perfect for pairing with Emma Britton Gin Glasses
10th October 2020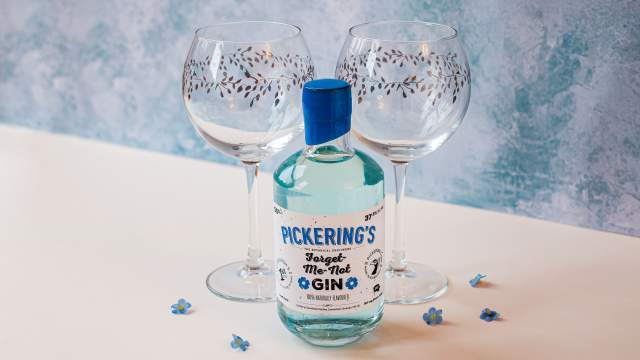 We've recently enjoyed a lovely collaboration over on Instagram, pairing Emma Britton Silver Birch Gin Glasses with Pickering's "Forget-Me-Not" Gin to celebrate its launch in a new 50cl size.
Don't worry if you missed! We've got another great offer to share with you here. Until 31 Dec 2020, this lovely craft gin brand are offering 20% off any gin purchase with code 'EMMABRITTON'.
Thoughtful Christmas Gift with Pickering's Gin
 Pickering's "Forget-Me-Not" Gin and Emma Britton Silver Birch design Gin Glasses are a perfect pairing for our times, and make a thoughtful Christmas gift this year.
Forget-Me-Nots are traditionally gifted in the hope recipients won't forget the giver, steeping this gin in sentiment for far-flung friends and loved ones. Silver Birch is believed to represent new beginnings and protection in Celtic Mythology. So hold those glasses tight for better times ahead.
More about Pickering's Gin
Pickering's Gin is based on an original 1947 recipe and features nine Bombay botanicals. This creates their famous full-bodied flavour with perfect bitter-sweet balance.
Believe it or not, this multi-award winning gin only came into being in 2013. Summerhall distillery was built by founders Matt Pickering and Marcus Gammell and was the first exclusive gin distillery to be established in the heart of Edinburgh for over 150 years. 
With no background in distilling, but an inherited recipe to build upon, everyone told them it couldn't be done. But they had a tenacity to try, test, experiment and become experts. They are now know as the Botanical Engineers of a very fine craft gin brand indeed.