Painting 'in the field' with Emma Britton
Painting 'in the field' with Emma Britton
1st March 2021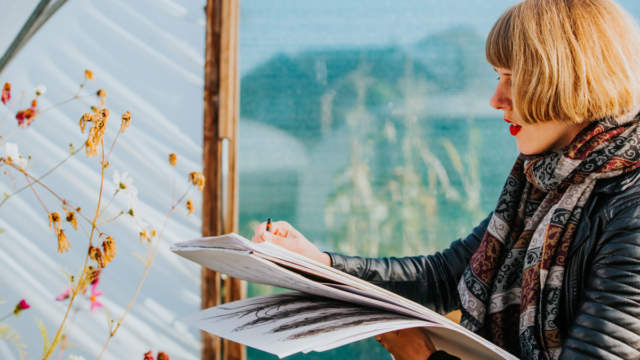 As a decorative glass designer inspired by the pattern potential of British florals, I'm lucky that 'painting in the field' – the great outdoors, is something I get to do a lot. Connecting with nature creatively is immersive and restorative and great way to re-set after the last year. I highly recommend it to anyone, even if you've not picked up any art materials in a while, and hope my tips below inspire you to get outside.
I sometimes run painting workshops 'Not Botanical Illustration'. Last year we were at Weleda's magical biodynamic gardens in Derbyshire. Sign up the newsletter on the homepage if you want to hear about future workshops or email your interest to  studio@emmabritton.net
Top tips for 'painting in the field'
My own approach to painting from life is about working in a relatively loose and relaxed way at first, capturing a sense of the environment around me authentically and immersing myself in it. I tend to pick my favourite initial studies to work up further, adding more detail; maybe in pencil, paint or with colour. As these artworks evolve, the compositions spark my ideas for pattern repeats and new collection designs.

Before you go:
Pack light but take a few materials you might fancy working with, I love gouache. The light, weather

or the season can

affect your choices. 

I like to use a large sketchbook but pack something smaller too for quick observations and the chance to work at different scales

Always best to go prepared with layers; the great British Weather can be very changeable after all…
At your painting/drawing location:
Inspiration is everywhere! Get stuck in to what draws your eye or captures your attention. Focus on the enjoyment of the creation process vs the end result.

Look for the beauty in nature, discover your style in capturing and conveying what you see

Warm up exercises are part of my tuition style and something I start with. It's a way to try out different techniques, make some marks and get a feel for your materials

Although I really encourage understanding scale, composition and colour, interpreting the world around you is full of possibilities. Try repeating or taking thing away, or play with the scale

There's no such thing as a 'perfect' drawing or painting. 'Mistakes' or smudges can actually give an artwork it's character, think of them as happy accidents!

Work dynamically, boldly and from observation and enjoy the process of creating and developing your skills
Don't forget that to benefit from Emma's expertise sign up on to the newsletter on the homepage for information about future workshops.  Or email your interest to studio@emmabritton.net
Did you like this post?
We have a regular newsletter full of ideas with Emma Britton Decorative Glass, lifestyle inspiration and occasional offers for readers.  Scroll to the bottom of the homepage to sign up for a colourful inbox read.