New splashback collection launching in June at RHS Chatsworth Flower Show
New splashback collection launching in June at RHS Chatsworth Flower Show
17th May 2018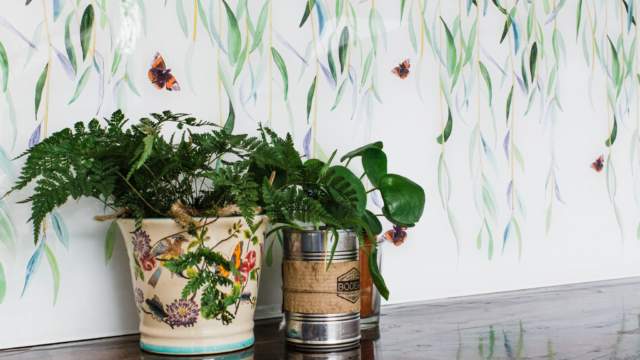 RHS Chatsworth is just around the corner and a new collection of splashbacks is ready to launch at the event. The 'GLASSHOUSE' Collection is range of new splashback designs from Emma Britton Decorative Glass offering something different for home interiors. Until now, I've very much focussed on incorporating my love of garden and country flowers into my designs. This collection offers something a little bit more dramatic.
I've been exploring different and interesting plant varieties that interest me. As a result, Black Iris, Willow, Orange Fritillaria Imperialis, Oxalis Triangularis and Pilea have all made the cut into the new designs. GLASSHOUSE offers dynamic and beautiful new additions to my splashback range – statement pieces to enjoy.
A number of things inspired my 'GLASSHOUSE' Collection, including the opulent orangeries found in period country houses. In the designs I evoke the skill of show gardeners and the beauty of curated flowers in spectacular displays – having been lovingly tended from seed to plant in the greenhouse. This is all bought up to date with the trend for terrariums; small gardens inside miniature glass containers and the nation's reawakened love for house plants. The collection is fresh, bringing the outside, inside,, especially if you haven't got a garden.
A preview of the new designs is available on the Real Homes magazine's blog now, in advance of RHS Chatsworth.
You can pre-order one of these new designs before their official launch. Get in touch to talk through the options.