NEW DESIGNS – Commissioned by Breast Cancer Care to Design Exclusive Tea Towels in time for Breast Cancer Awareness Month
NEW DESIGNS – Commissioned by Breast Cancer Care to Design Exclusive Tea Towels in time for Breast Cancer Awareness Month
29th October 2017
Emma's own homeware designs include striking florals so this was the starting point of her design. The focus was on creating something feminine, simple and pretty using shades of pink synonymous with the charity's logo and hydrangeas and snapdragons were the perfect flowers to choose. Emma has given them subtle details with butterflies hidden amongst the hydrangeas while the pink stitching on the snapdragon tea towel is integral to the whole design, with accents of orange that again link to the charity's logo.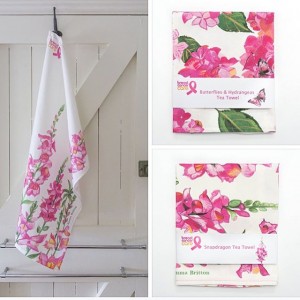 These crisp fresh cotton tea towels designed and made in England will cost £9 each or two for £15 with profits going to the charity. Breast Cancer Care is the only specialist UK-wide charity providing care, support and information to anyone affected by breast cancer. The charity wants every person affected by breast cancer to get the best treatment, support and information – and this guides everything it does.
Emma is thrilled to be working with Breast Cancer Care, "I wanted to design something beautiful for the charity. Their online shop is aimed at the giftware market and my tea towels make perfect gifts. My aim was to design something simple but eye catching and by using only one flower per design I could weave lots of different pinks into each one. I am thrilled with the finished result."
Emma's tea towels will launch in time for Breast Cancer Awareness month in October and will then be part of the charity's gifts selection.
Visit www.breastcancercare.org.uk – to order and for more details about the charity.