How to Decorate a Christmas Table
How to Decorate a Christmas Table
11th November 2022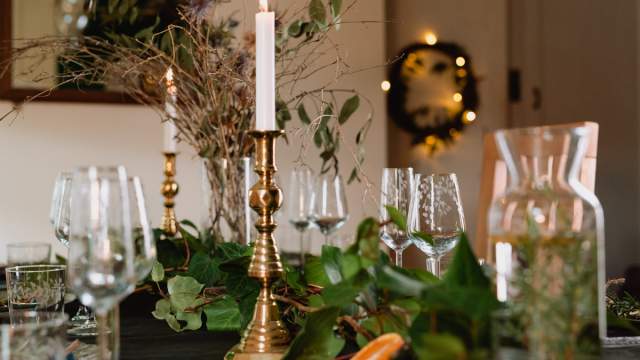 How to decorate a Christmas table and make it the very heart of your festive proceedings that will work winter long is easier than you think.  Half the magic of the season is sitting down at properly set tables that put something extra special into all your cooking efforts. Creating somewhere around which friends and family can gather and linger on long winter afternoons and the all important Christmas Day is a gift everyone can enjoy.
At Emma Britton this year we're showing you how to pair Silver Birch glassware with foraged greenery, antique candlesticks and other decorative touches to set a seasonal scene. This look is easy to achieve, in just a few steps you can follow along with below.
How to Decorate a Christmas Table
Using a richly hued runner on which to set your scene is a great place to start your seasonal tablescape that can be overlaid with foraged finds. For a natural feel, deep forest green works well. A dark background makes the patterns in the glassware stand out, and the pattern will give your table instant decoration.  Using a cloth adds real warmth, and helps layer up the overall look of your table.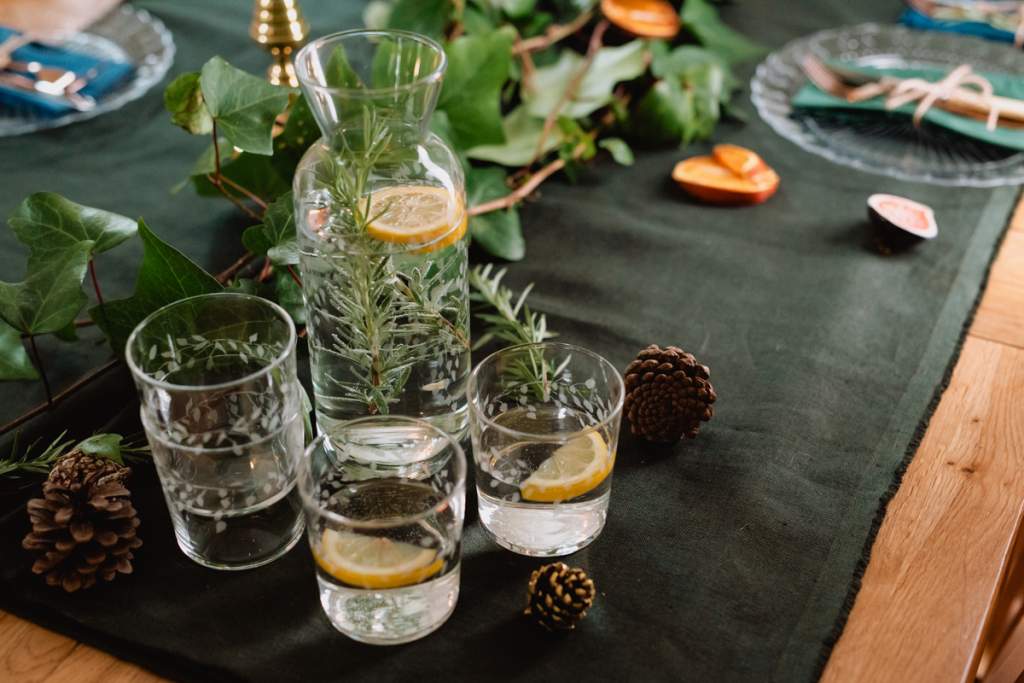 Get Some Great Glassware
We would say it, but glassware as part of your table setting is a must and an easy starting point for creating a final look. Glassware adds height, balance and symmetry. It's a great framework for both formal and more relaxed table styles, reflecting the light on a dark winter afternoons. Add flickering candles to your table to really maximise this effect.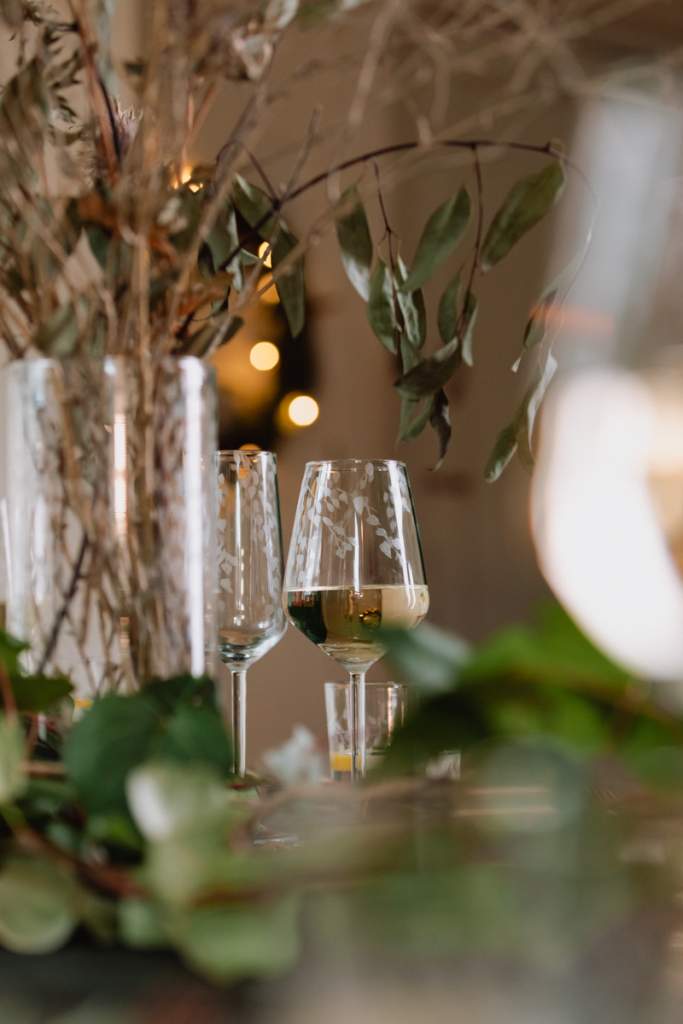 The dainty and dappled pattern on Emma's Silver Birch glassware with an etched leaf design on the different shapes casts subtle shadows for soft, warm appeal. Silver Birch glassware takes on a beautiful icy cool feel at this time of year, think winter long dinner parties not just Christmas Day. The natural look you're creating here isn't overtly festive but seasonal and stylish. 
Keep classic glassware shapes at the table for a seamless serve before, during and after your meal. Emma's flutes, wine glasses and tumblers come in handy sets of 6, you can never have enough. Flutes are ideal for aperitifs and toasting. Wine Glasses for the main event (visit our friends at San Martino), Water Tumblers and Carafes will pace proceedings. Keep Coupes in the wings for post dinner cocktails.  Silver Birch is pretty and practical glassware, a contemporary and cohesive look with all the shapes available.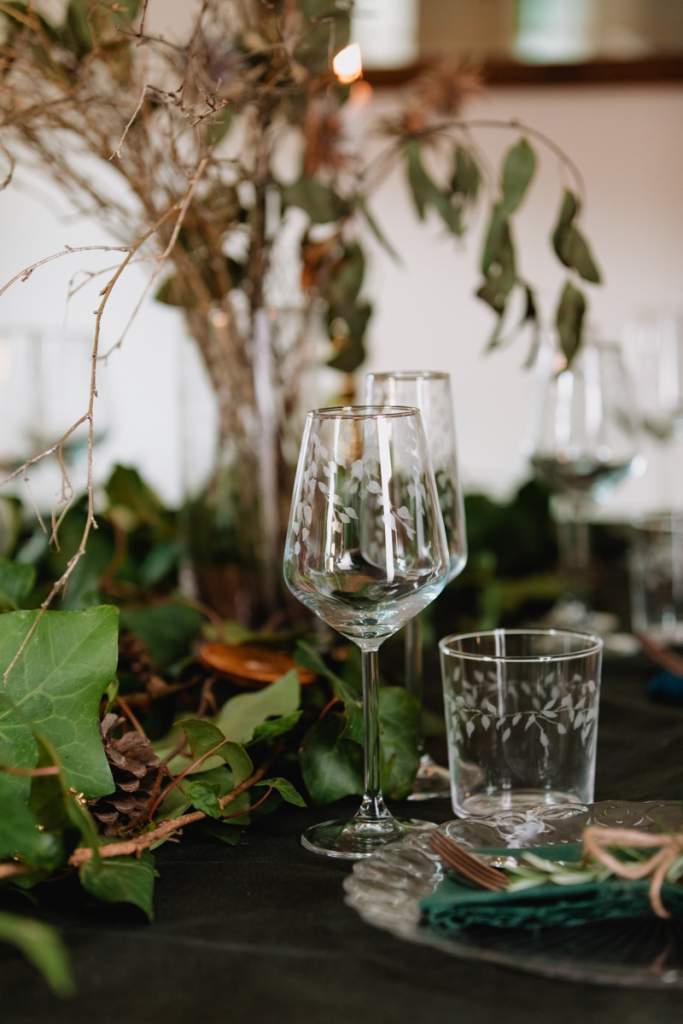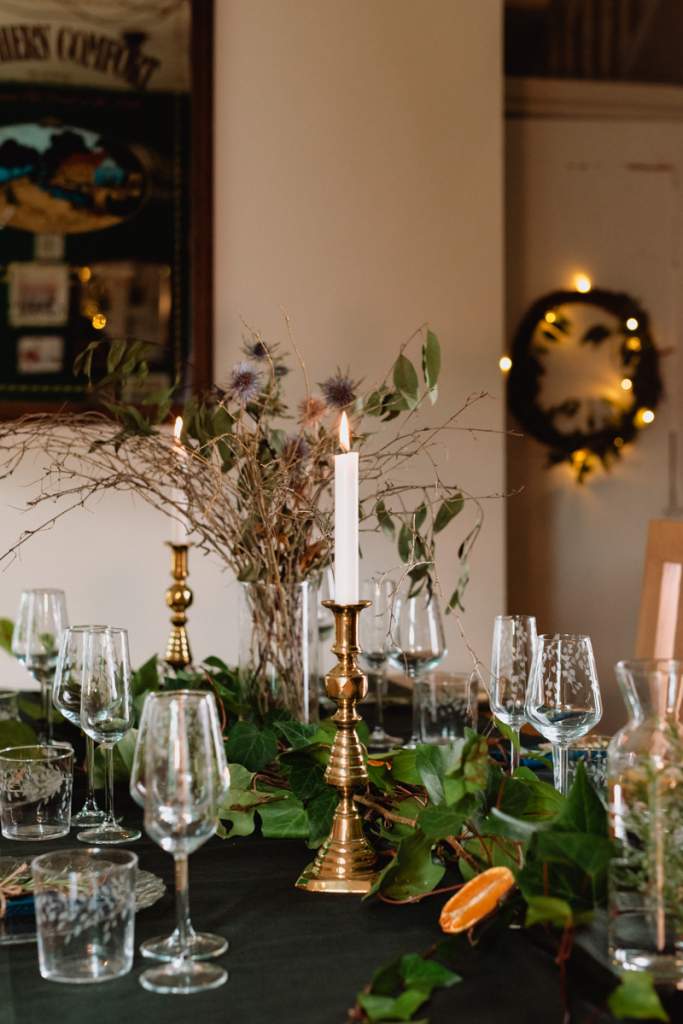 Foraged Finds
One of the most affordable and eco ways to layer in decoration to your table is foraging for it. For this table we started with Ivy from the garden, layered and made into one long garland. For maximum effect you can drape it over the end of your table if it is a rectangular shape. Either layer it over each other, or secure together with florists wire.
Bringing in natural greenery and the smell of the season is a winner for all the senses and looks great. Include pine cones and dried orange slices, delicious fig halves too for a variety of texture. You could even add some baubles you already own, in similar tones.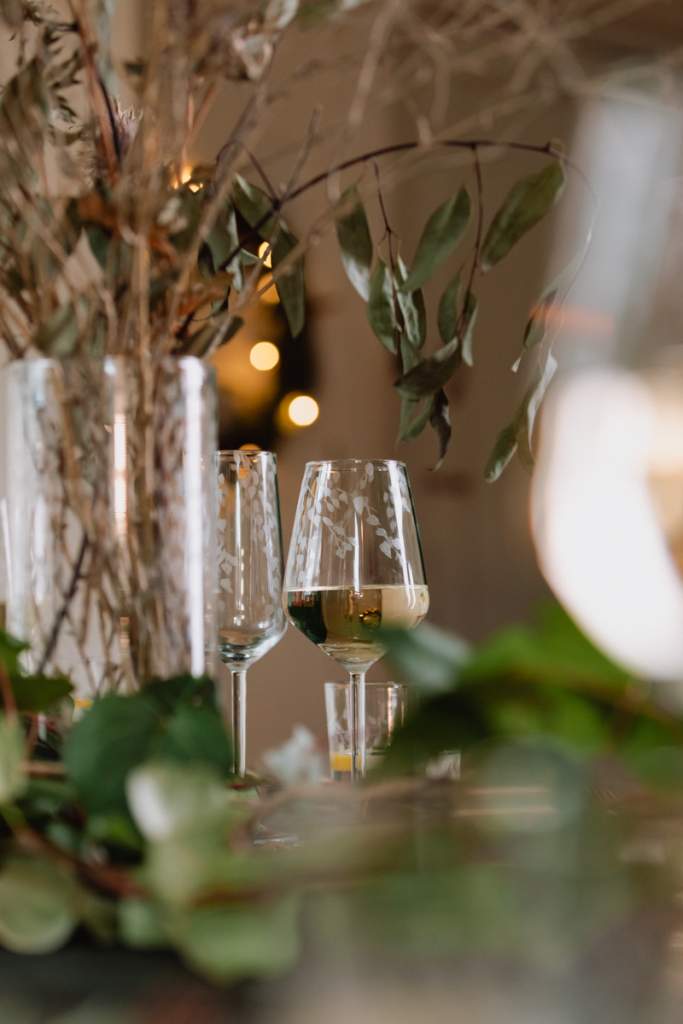 When you're foraging, remember to only pick what you need and leave any rare species you come across where they are. Pick gently and sustainably and keep to places you know are safe, away from busy roads or deep water for example.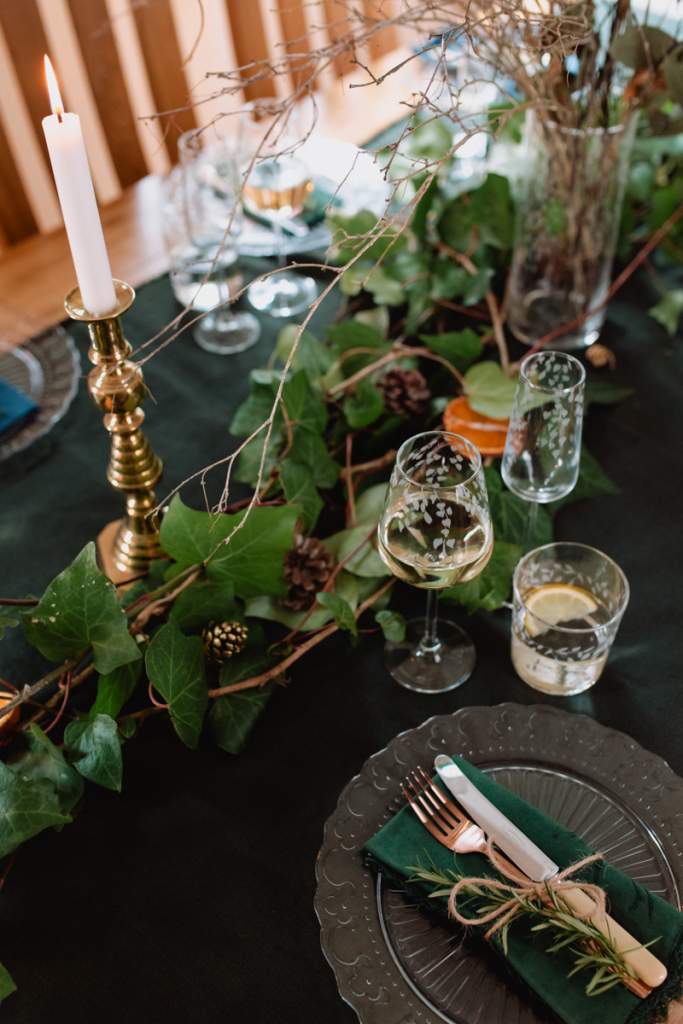 Fill a vase with loosely arranged seasonal stems, branches, seedheads and anything else you can find that tonally works with the look you want to create. We used a more muted colour palette in the Silver Birch Vase and put our lush green finds on the table itself, a nice way to zone and draw the eye. You could add battery powered fairy lights to this arrangement too, for extra focal point.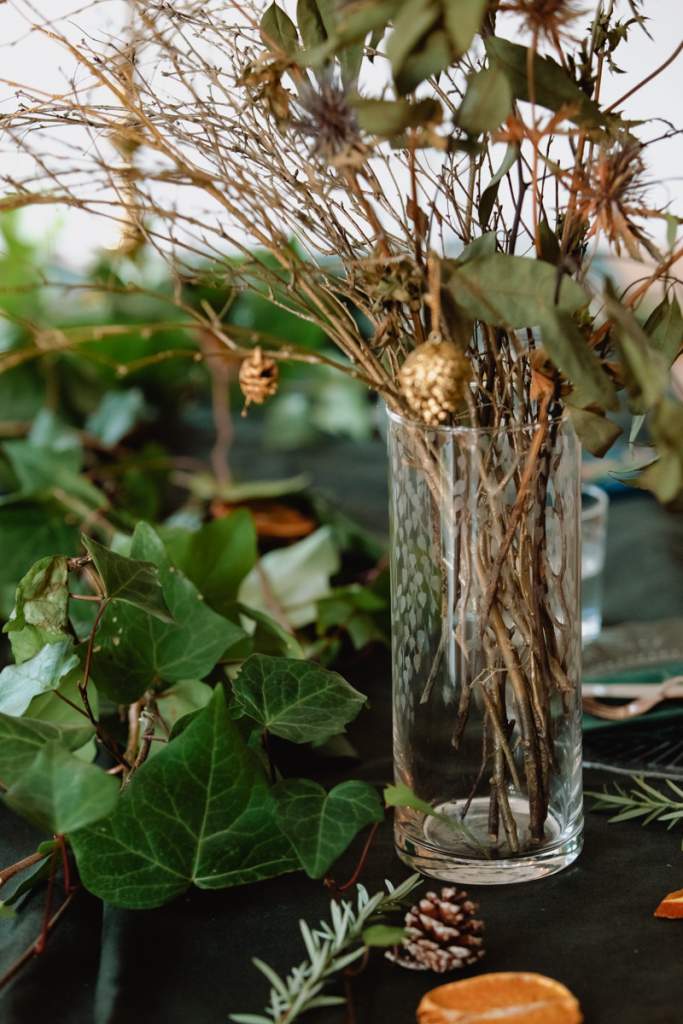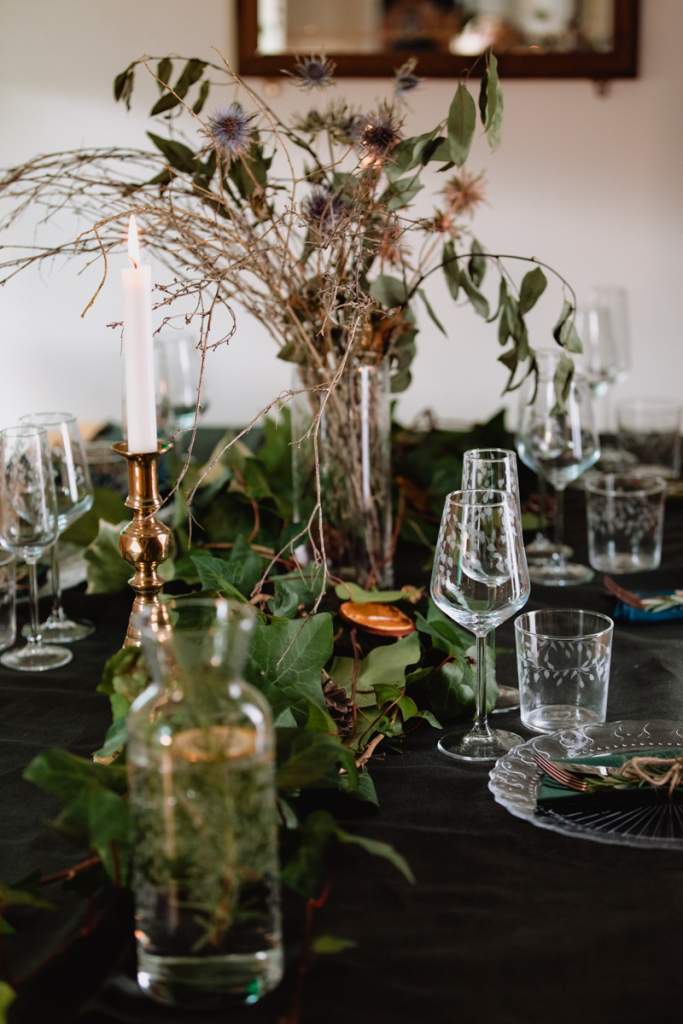 How to Decorate a Christmas Table – All the Details
We used antique brass candle sticks, positioned in between the Ivy garland, that bring in just enough extra detail to complement the natural scheme.  White candles keep the arrangement contemporary. Don't forget the impact of slices of lemon and orange to pop some colour into glasses. Herbs such as rosemary in carafes of water is an added decorative touch.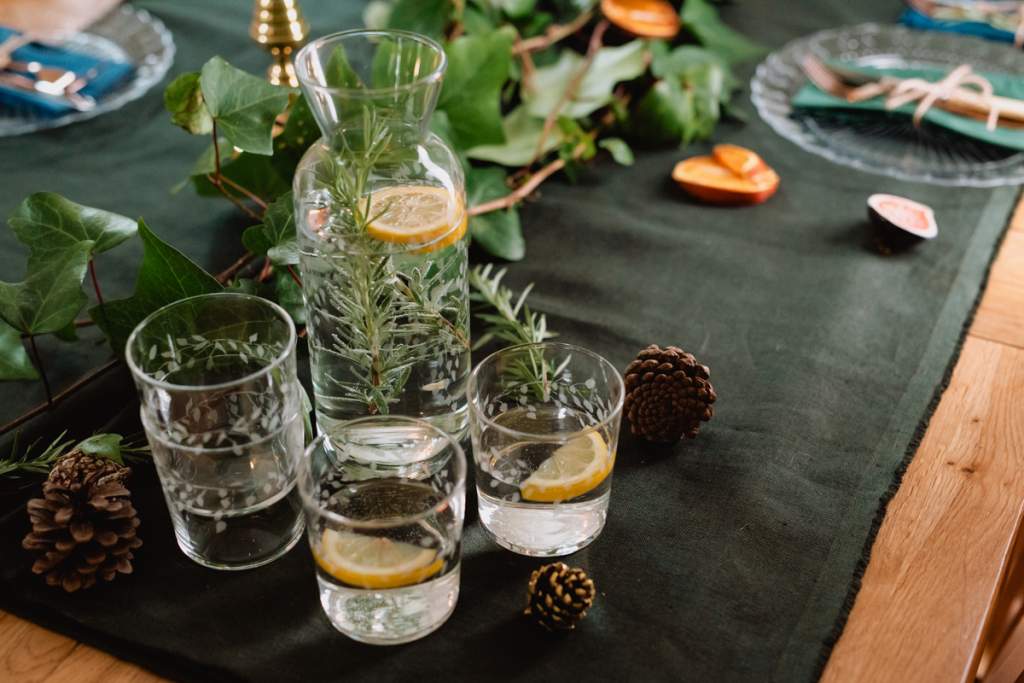 Tie some of your rosemary into napkins and style with vintage cutlery laid on glass plates.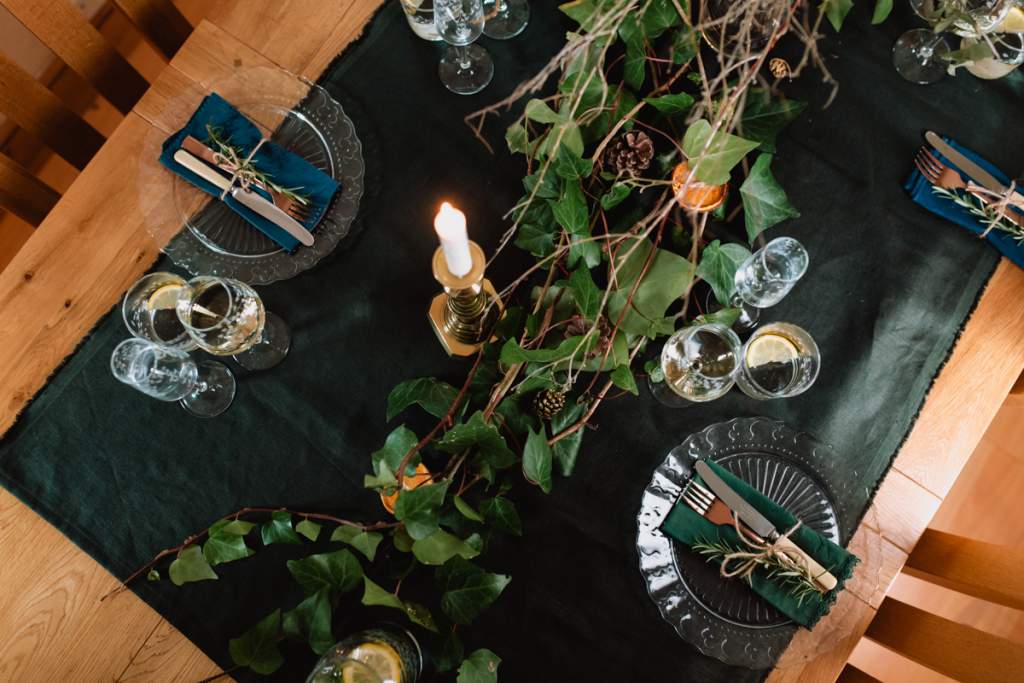 Also, think about the room as a whole. A beautifully lit wreath will help set the scene and add try adding some lights to sideboards too.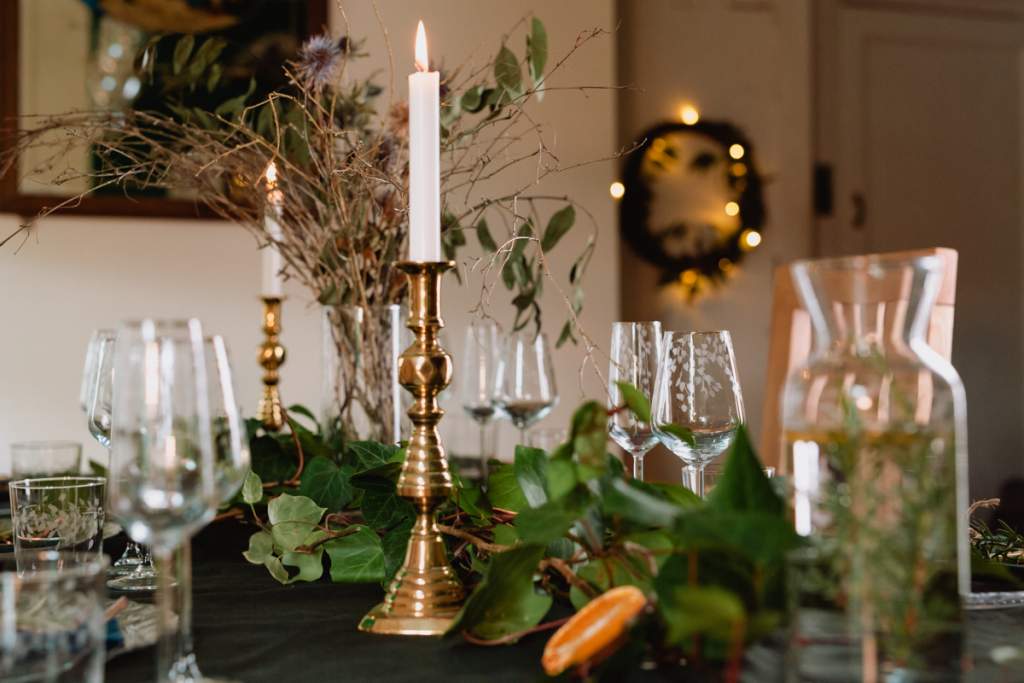 Then sit back, eat, drink and be merry! Enjoy your tablescaping.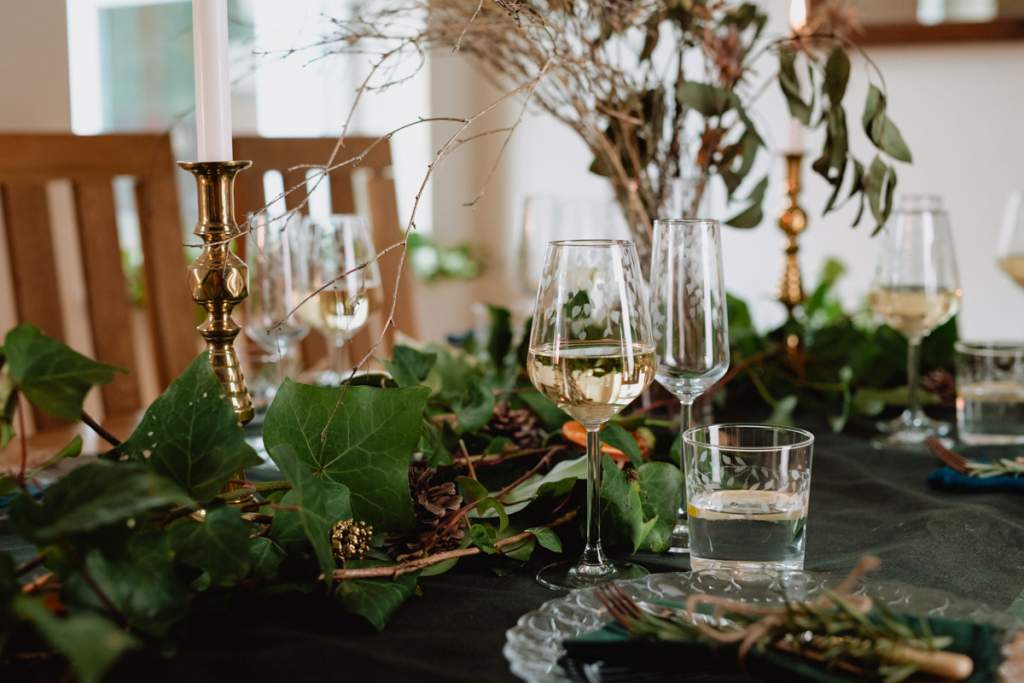 Shop the Silver Birch Collection online in glassware, or at one of Christmas events – this glassware is a great gift. See our picks and for who here!