Creative Kitchen Splashback: Case Study
Creative Kitchen Splashback: Case Study
26th April 2021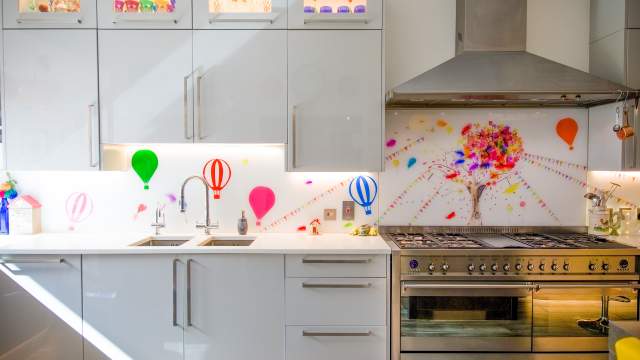 A creative kitchen Splashback is something that can transform one of the most used rooms in your home into an engaging space for everyday living, like this bespoke design for Claire achieves.
More about Claire's Creative Kitchen Splashback
Celebratory in feel, this Splashback is also breezy and light and brings with it a touch of whimsy. It features bunting, balloons and real feathers, along with my signature florals captured within the tree at the heart of the design. This Splashback demonstrates the possibilities for design within my signature style. A bespoke commission, conceived very much to suit Claire's love of colour, the bright and the bold.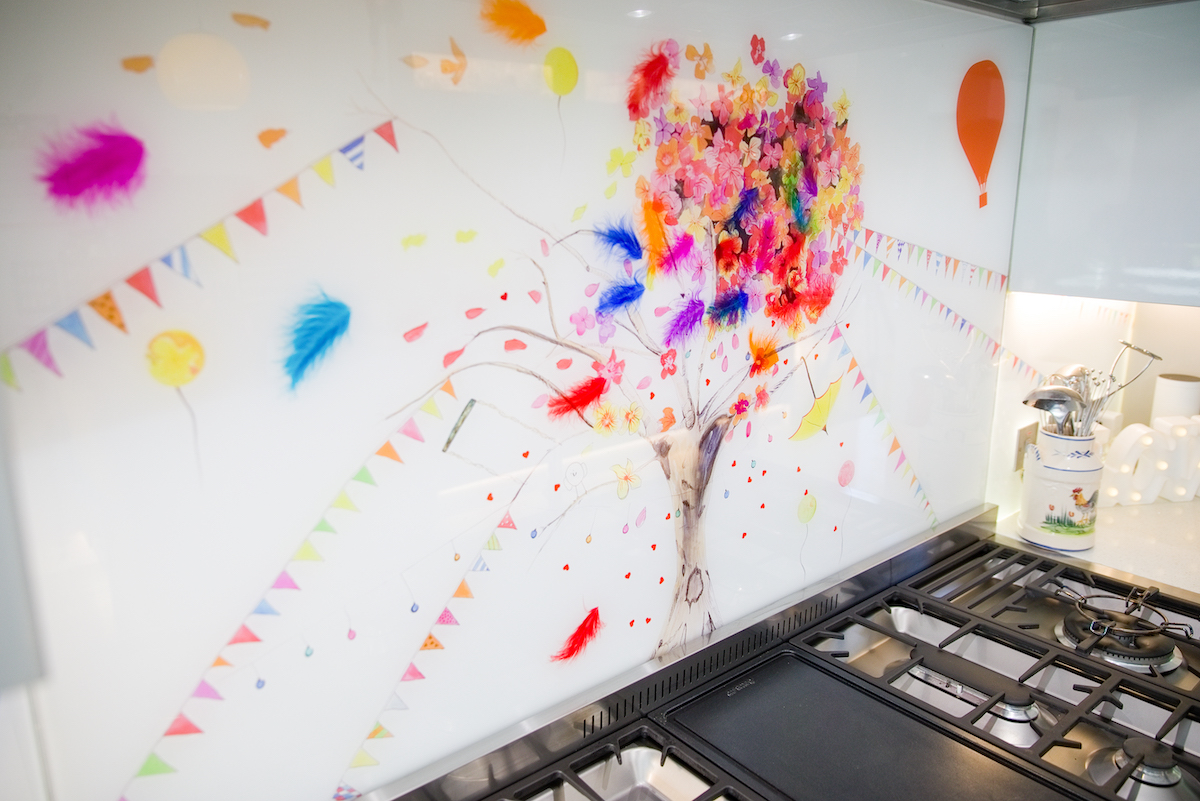 '…everything I looked through on the internet was the same, and I wanted something a bit more unusual and quirky'.
The Splashback starts with the tree over the range cooker as the main feature. The wind is blowing and balloons, leaves and feathers dance their way around the kitchen through the design. The feathers incorporated into the glass are real and the hot air balloons are made of a vibrant material. This was a lovely collaboration. Claire gave me inspiration but also the creative freedom to work up a design for her based on all the things she loved. The result is a stunning artwork, a creative kitchen Splashback that is something amazing to enjoy everyday.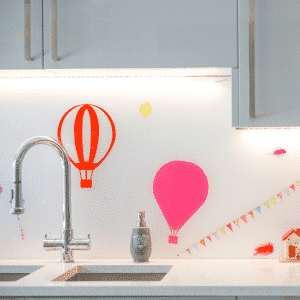 You can choose something from Emma's Splashback Collections or have something uniquely designed for you. It's also possible to personalise works from the Collections with bespoke elements or make them in different colour combinations to suit your specific interior.  Get in touch for your free, informal,  no obligation consultation today.
Find out more about Claire's project and her experience of working with me to make her Splashback: