Christmas Gifts Guide
31st October 2021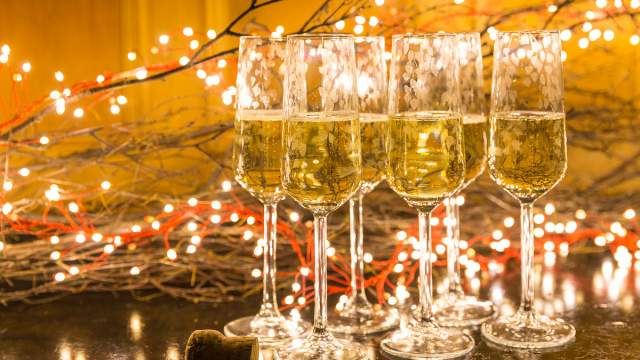 Christmas gifts from Emma Britton Decorative Glass Designer. Gorgeous glass and homeware pieces bursting with joy and sparkle to wrap up your Christmas shopping. Our recommendations are based on what our amazing customers like to give, bestsellers and simply lovely treats. We know the ideas in this guide will be perfect for the people on your good list.
This year we've broken our gift suggestions down into…for couples, gardeners, him and mums. But honestly, Emma's designs really are great for any special people in your life!
Christmas Gifts – sent with love
Great to know! We wrap your shopping in gift ready yellow eco tissue and sustainable protective packaging. Presents can be sent direct to your recipient. A Christmas gift card designed by Emma can be included in the parcel free of charge, with a handwritten message (tell us what to say at the checkout). Free delivery when you spend over £50 (excluding splashbacks and samples). Everything by Emma Britton is hand designed, glassware is decorated at the studio.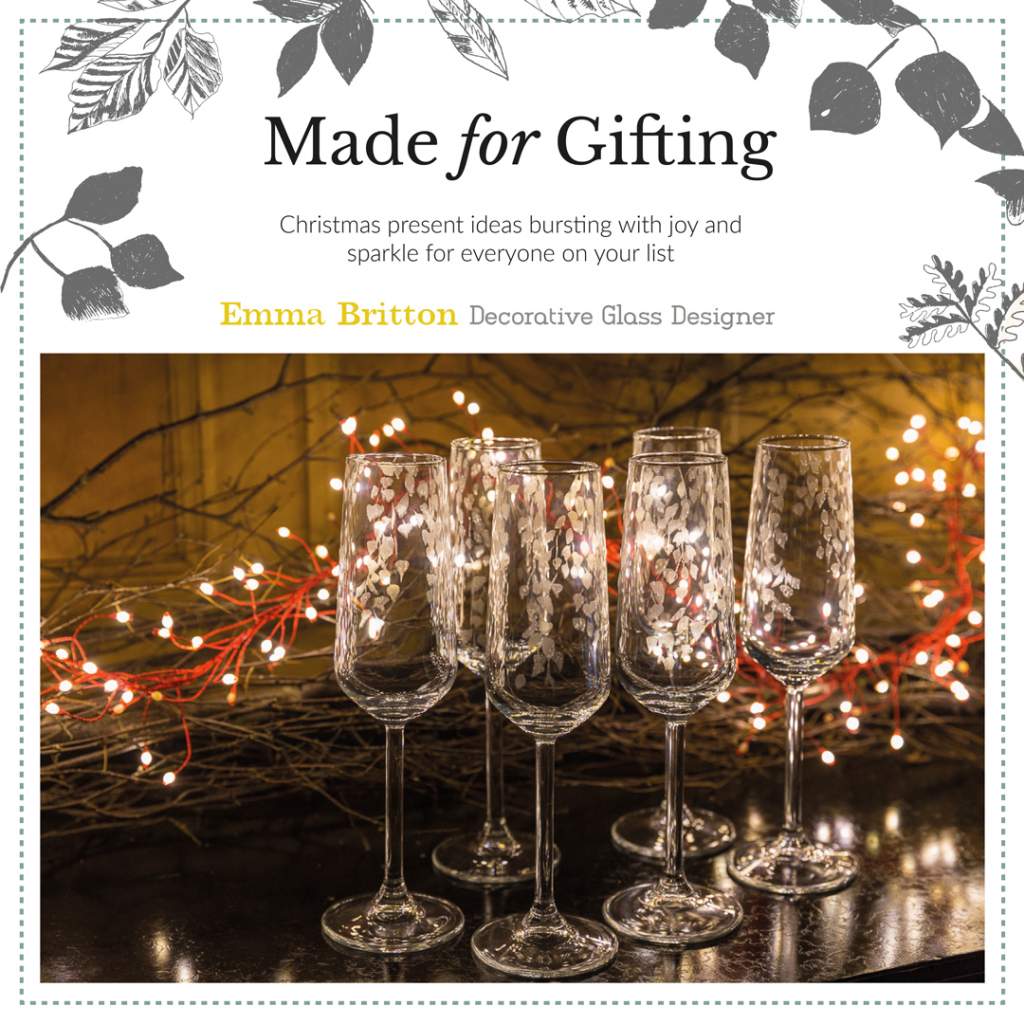 Shop Emma's glassware gift sets, the perfect occasion present and Christmas is no exception. Lovely curated collections of special glassware.
For Couples
Perfect pairs made for sharing. Our team pick is the gin & glassware gift set made for drinks at home. A free gin cocktail recipe is also yours to try! The two gin tumbler glasses are designed by Emma to reflect the ingredients in North42 Gin (set includes a full 70cl bottle).  North42 Gin is 100% naturally pink and sweet tasting, distilled with rhubarb and blood orange, coriander seed and juniper.
Below: Silver Birch Carafe & 2 Wine Glass Set £38.50 . Coloured Crystal Tulip Tumblers in Turquoise, Pink, Smoke and Amber colours > Set of 2 £20 . Gin & Glassware Gift Set £66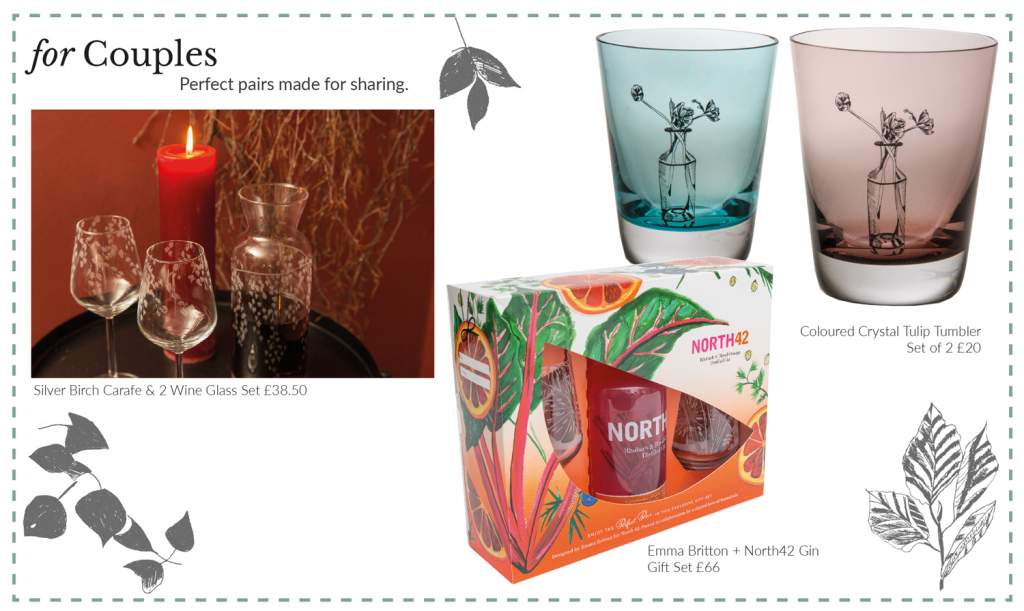 Above: Gin & Glassware Gift Set £66
For Gardeners
Garden brights for green fingered friends. The designs capture the joy of the great outdoors, fabulous flowers and growing your own.
Below: Silver Birch Vase £32 . The Gardener's Tray Small Cork  £24 . Sweetpea Tray £33 . Foxglove Tea Towel £11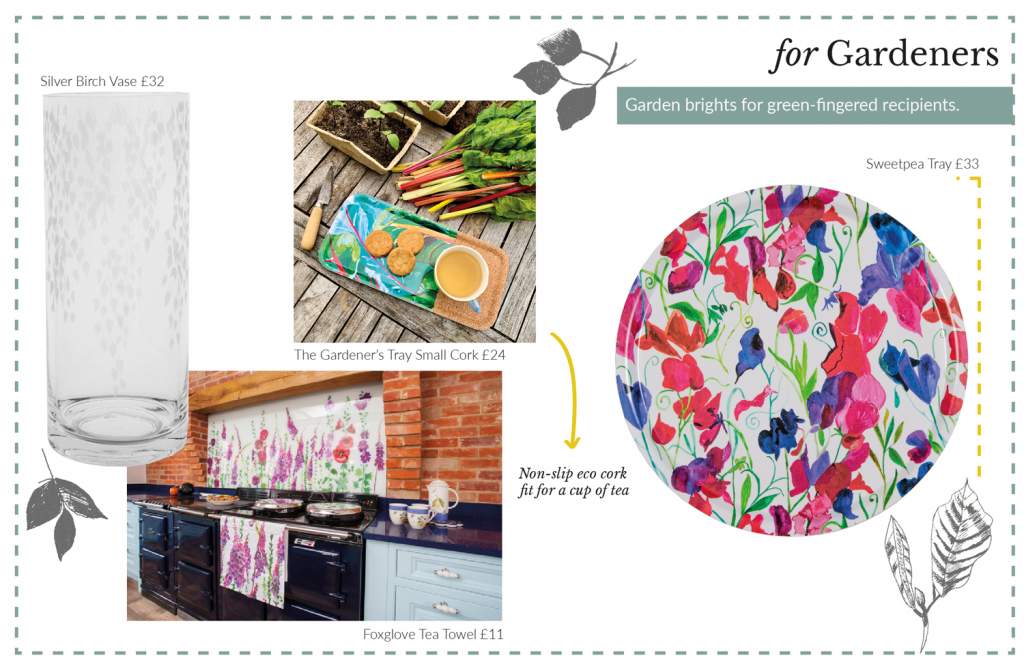 Above: Silver Birch Vase £32
For Mums and Mother-in-Laws
Guaranteed entertaining enjoyment for anyone that loves to have friends and family over. Including glassware gift sets, classic champagne flutes and trays – perfect for a crowd.
Below: Silver Birch Carafe and 4 Tumbler Set £49.50 . Watercolour in Ebony Tray £32 . Silver Birch Flutes Individual £10 . Silver Birch Flutes Set of 6 £54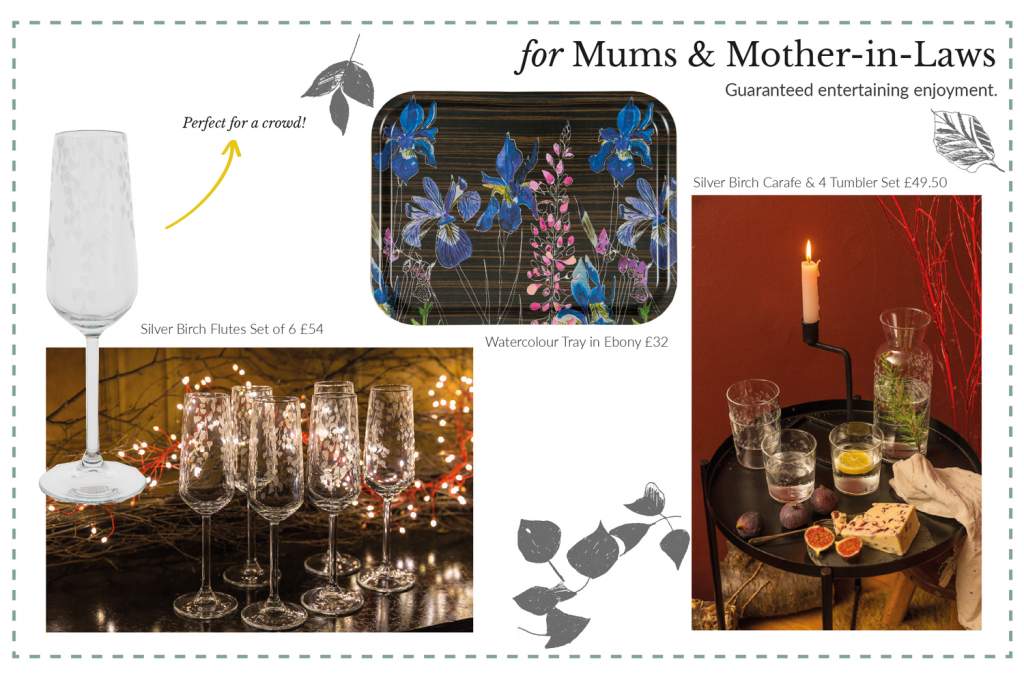 For Him
Brilliant presents for boys. The perfectly sized Mono Tray is a great accessory for keeping keys, credit cards and watches!
Below: Mono Tray £32 . The Gardener's Tray Large £37 – we particularly like this for taking tea in the shed.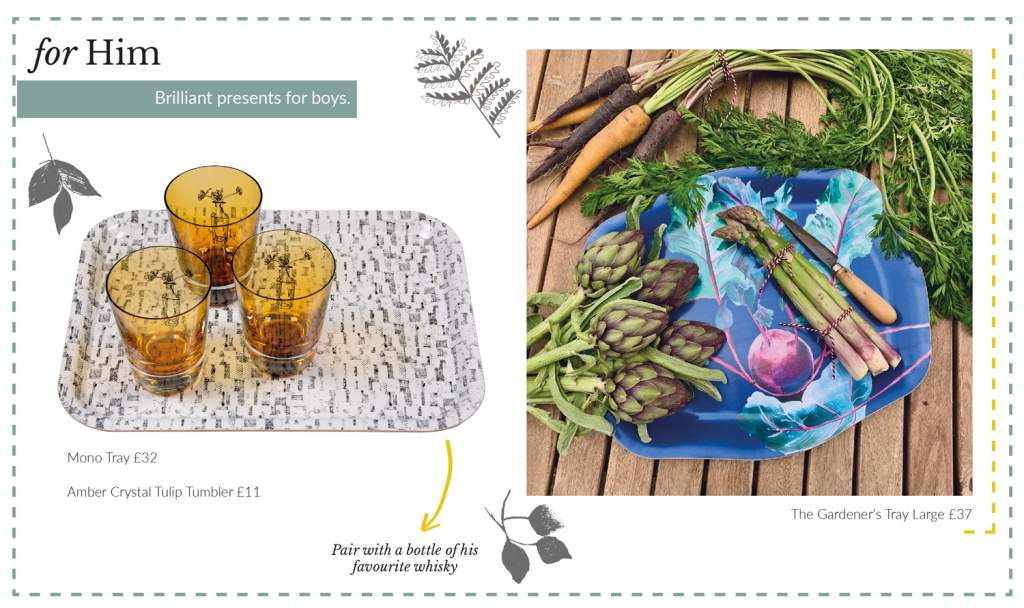 Finishing touches…
Above: Foxglove Tea Towel £11 .  Silver Birch Flutes Individual £10
Shop all Christmas gifts on the products page >
All your shopping is sent in our gift ready yellow tissue paper. Why not add a few extra touches to it to personalise your presents like a paper bow or special tag.
…and share your gorgeous Christmas picks!
We love seeing what Emma Britton glassware and homeware you've chosen as a gift or for your own home. Tag us in your posts and stories:
Instagram: @emmabrittondecorativeglass #emmabrittondecorativeglassdesigner #emmabrittonsplashbacks