Christmas Gift Guide 2022: Thoughtful and Unique Presents
Christmas Gift Guide 2022: Thoughtful and Unique Presents
2nd November 2022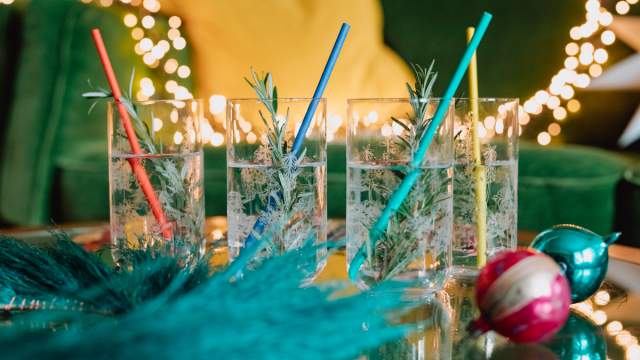 Easily wrap up your Christmas shopping this year with thoughtful and unique presents from Emma Britton Decorative Glass Designer. It's never to early to start looking for the perfect gift for mums, the plant enthusiast in your life, homemakers and definitely those people who are hard to buy for.
You'll find something special for everyone in our online shop and at one of our festive in-person shopping events. Timeless etched glassware all decorated and hand finished at the studio plus joyfully coloured homeware, patterns inspired by nature to make someone's Christmas morning. We've included customer favourites in our top picks and new designs in this round up.
You're giving more than just a gift when you shop with us, thanks for supporting a small business and the future of great independent British design with your purchase.
Gifts For Mums and Mother-in-Laws
Everyday enjoyment and entertaining beauty, for all the ladies in your life.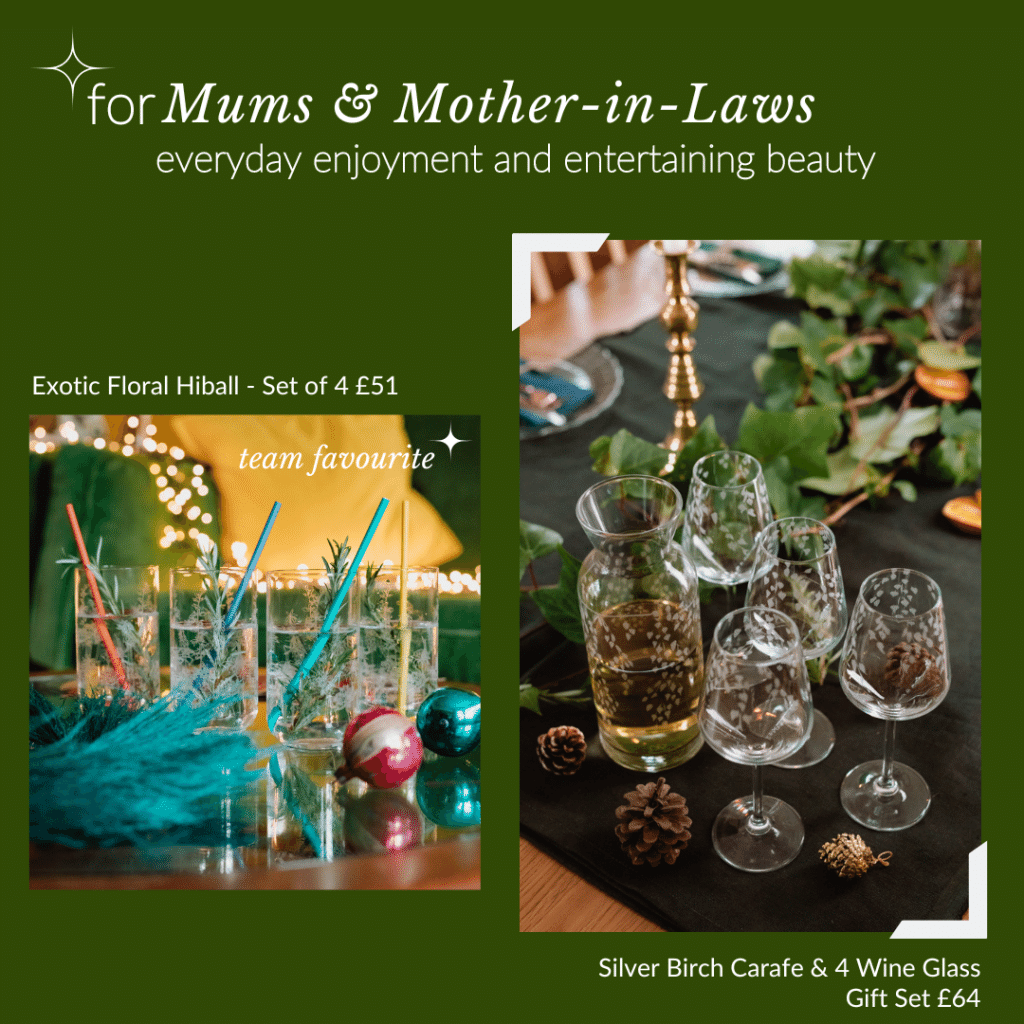 Exotic Floral Hiball Set of 4, £51 (Team Favourite!) | Silver Birch Carafe & 4 Wine Glass Gift Set, £64 | Shop all Gifts
Gifts for Couples
Perfect pairs to share. Glassware gift sets are a popular option too, offering versatility, choice and a ready to go collection.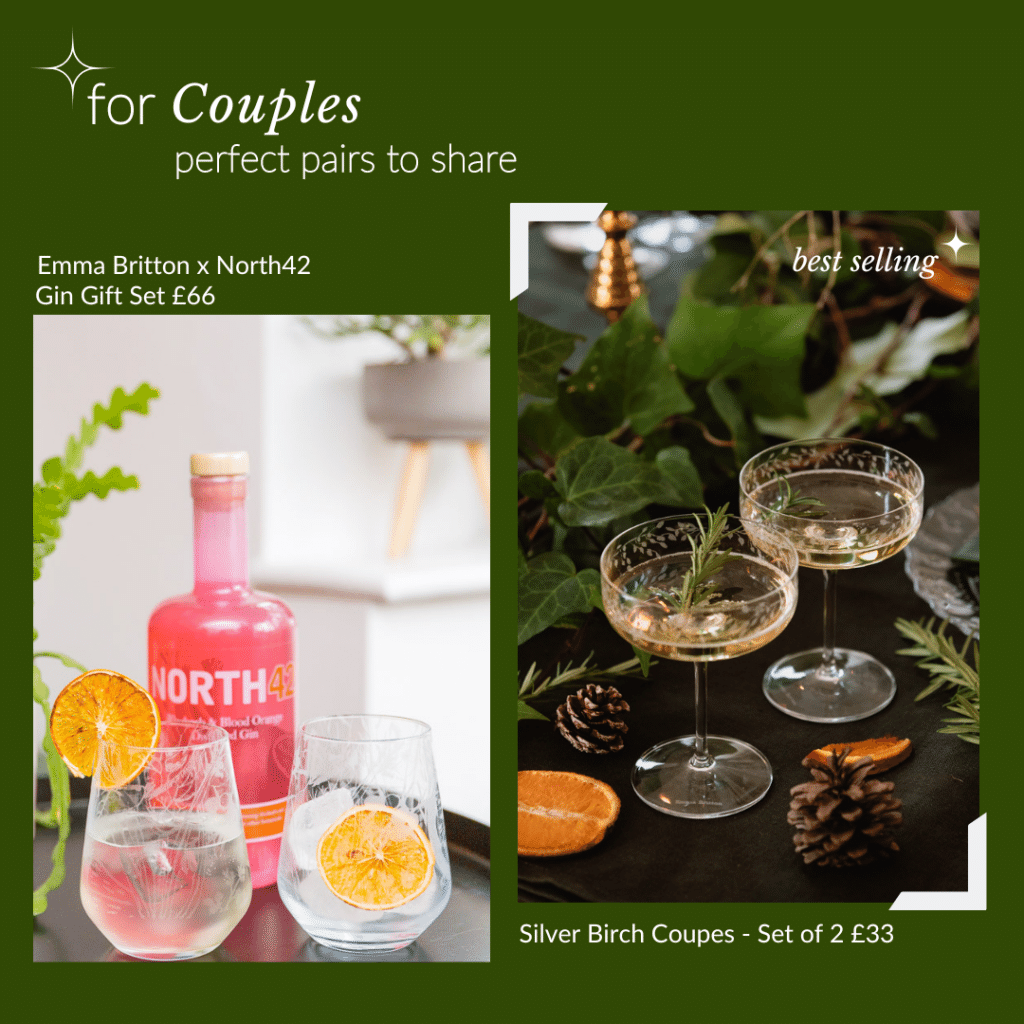 Emma Britton x North 42 Gin Gift Set, £66 | Silver Birch Coupes Set of 2, £33 | Shop all Gifts
Gifts for Best Friends
Show you care with a gorgeous glassware gift set. A popular option, offering versatility, choice and a ready to go collection.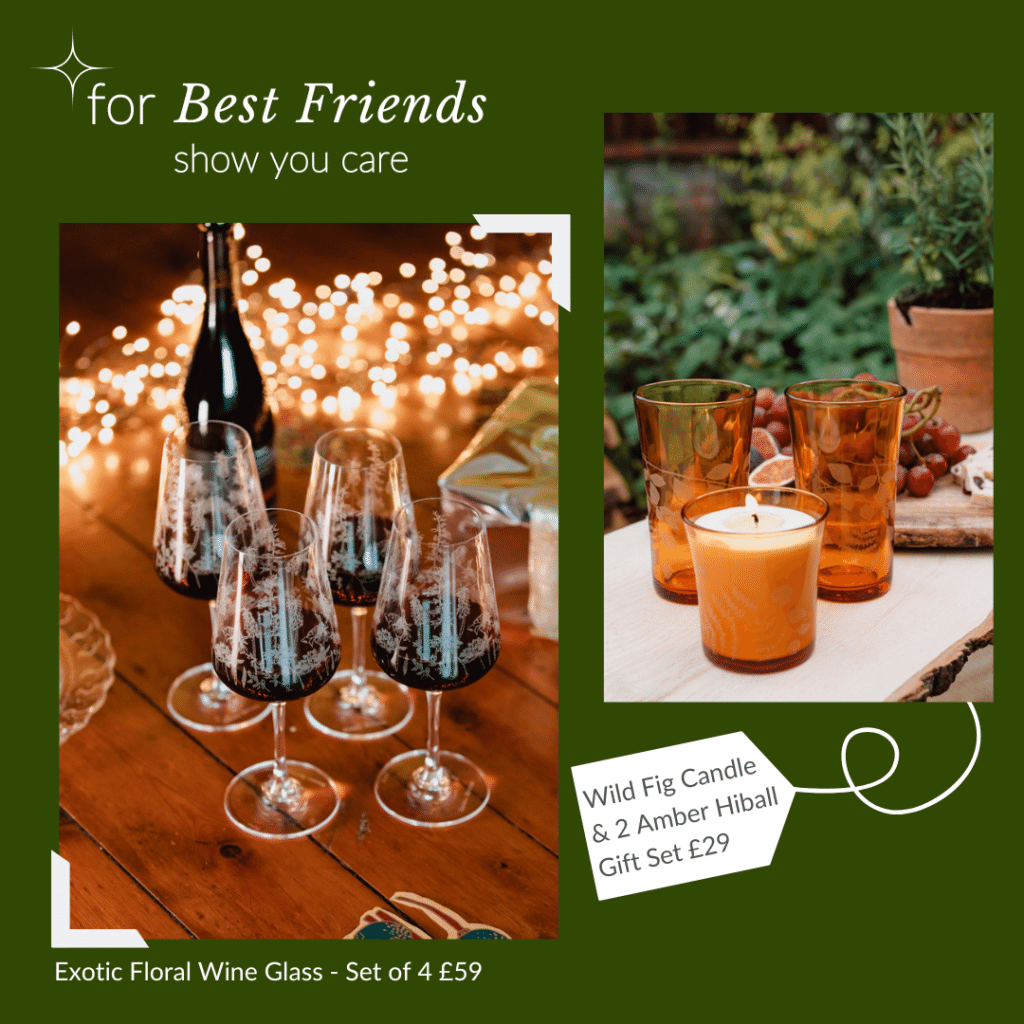 Exotic Floral Wine Glass (Crystal) Set of 4, £59 | Ltd Edition Wild Fig Candle & 2 Amber Hiball – Gift Set, £29
Gifts for Gardeners
Inspired by nature, for plant enthusiasts and flower lovers. Gorgeous gifting with cheery trays, coloured tulip tumblers and oak leaf amber glassware. Thoughtful and unique presents at their best.

Cork Gardener's Tray Chard, £24 | Sweetpea Tray, £33 | Shop all Gifts
More Thoughtful and Unique Presents…
Gifts for Him
Handsome gifts for gents, tumblers for whisky wine and water.
Coloured Crystal Tulip Tumbler, Set of 2, £50 (available in Turquoise, Amber, Rose, Smoke and Mix and Match)
Exotic Floral Tumbler, £13 | Shop all Gifts
Gifts for the Home
Delightfully decorative pieces for personality and style. Emma's two mirrors are new for 2022.
Willow & Red Admiral Mirror, £179 (order before 30 November for Christmas, British Made to Order) | Shop all Gifts
Little Gift Extras
You could pop these in a stocking or under the tree for a surprise on Christmas morning.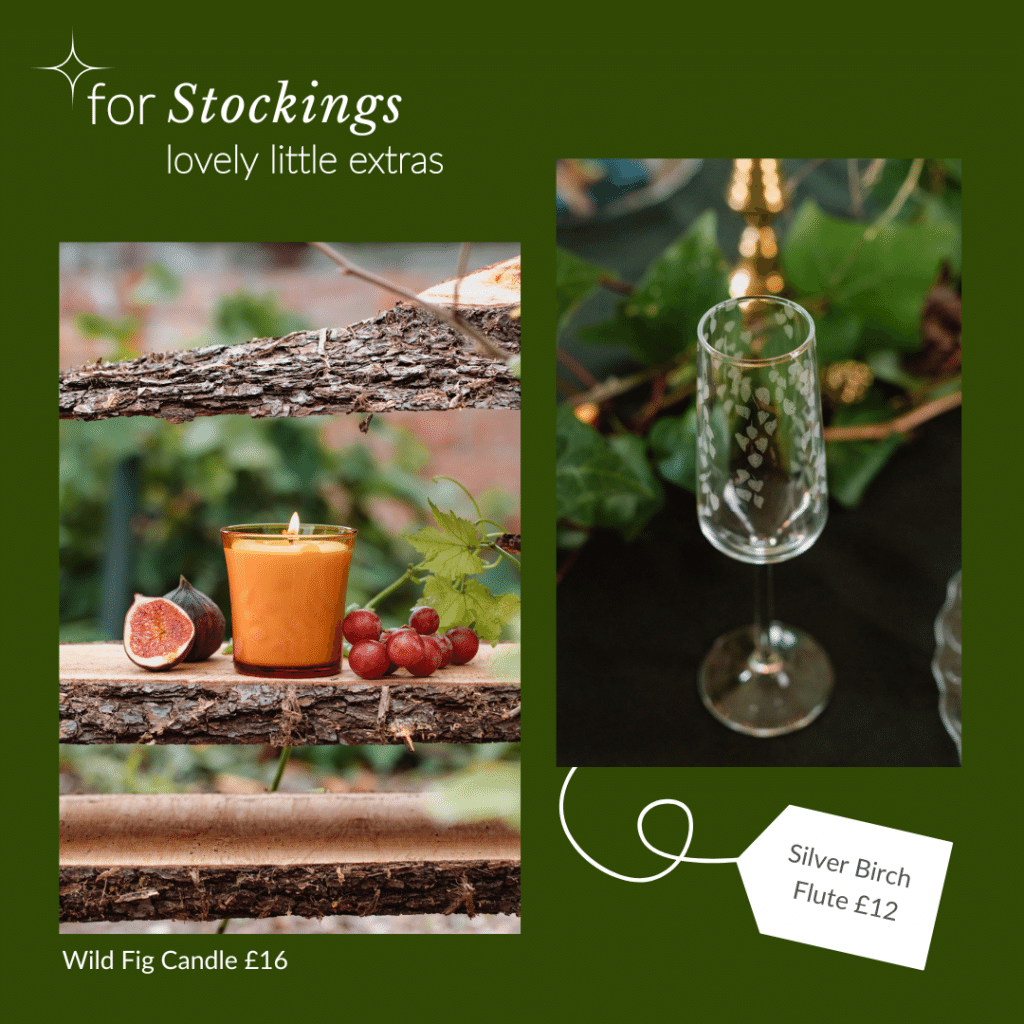 Silver Birch Flute, £12 | Wild Fig Candle, £16 | Shop all Gifts
Hard to Buy For
Guaranteed present success with these beauties, you can't go wrong. Tea Towels are a great letterbox gift, show you support for small business this year and shop independently.
Silver Birch Carafe & 2 Tumbler Gift Set, £34.50 | Foxglove Tea Towel, £11 | Shop all Gifts
Good to know
We offer a personal shopping service to help you choose your gifts. Simply call the studio on +44 (0) 7565300065 and let us guide you, based on what other customers are buying at this time as presents. A second opinion can be really nice as you're scrolling the choices online.
Shopping arrives in gift-ready home compostable tissue paper, and for safe posting we protect your picks in eco friendly packaging.
Send presents direct to your recipient with a free card designed by Emma, written by us with your message and a gift sticker on the box. Tell us what you want to say at the checkout.
Last Christmas present order dates: Sunday 18 December (Standard) or Tuesday 20 December (Express Delivery) to arrive for Christmas.
Free UK Mainland Delivery over £50 (excluding splashbacks and samples)