Bringing Colour to Black Friday
Bringing Colour to Black Friday
26th November 2020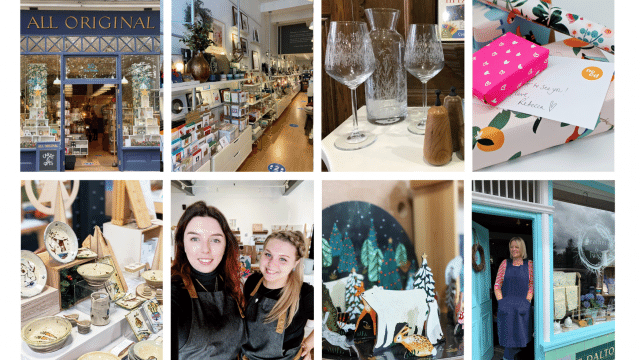 Bringing the Colour to Black Friday is 'Indie Week', spearheaded by Just A Card. Their campaign is a shout to buy from artists, makers, independent shops and small business. We're really enjoying being part of this week that's an antidote to the fast-purchase culture of Black Friday.
In the spirit of Indie Week…
Emma Britton Decorative Glass Designer Glass and Homewares are stocked by wonderful independent shops, galleries, historic houses and more. Our 30+ stockists are based across the UK and worldwide! In the spirit of Indie Week, we're spreading the love for just a few of them. They've also given us an insight into surviving the challenges of 2020. Everyone's adaptability and positivity is amazing!
Bringing Colour to Black Friday and EVERY DAY
Go on, give those we're featuring and your own favourites a social media follow or share! Better still, get gifting by shopping online. If you live locally, then pop in when they are able to re-open.  Buying 'just a card' from all the pretty galleries and shops bringing colour to the retail landscape makes a huge difference. Check out our own shop-able Gift Guide too.
All Original – Ealing Green, London
Gorgeous, handmade products from over 30 local independent designer/makers. All under one roof and one of Emma's first ever glassware stockists!
What a tough year in all aspects but trying to take away some positives. In the first lockdown we took some time to reflect on the previous three years and made some changes that have helped us work more efficiently. Once we re-opened, we shortened our working day and also closed  for one day, which I had previously thought impossible. Once our customers adapted we found we were busier than ever and had created more time away from work to recharge.

This second lockdown has been a lot busier, as we have remained working through our 'Click and Collect' website. We built this in anticipation of another forced period of closure. Now this is up and running, we'll continue with it once we are open again. We were forced into taking our business online, however it has been a great exercise and also we now have another tool for our business!

Overall, I feel our business has grown during 2020 against all odds. This is in no doubt down to the absolute loyalty of our fabulous customers who love to shop local and our incredibly loyal staff.
Haworth Art Gallery, Stables and Motor House Artist Studios –  Accrington, Lancashire
Haworth Art Gallery is home to an Arts and Crafts shop stocked with beautiful handmade items from local and national artisans. Items range from jewellery to ceramics, original artworks and contemporary glass. They are Emma's newest stockist.
W: www.hyndburnbc.gov.uk/shop-at-the-haworth/
Lockdown has forced our shop to close down and has impacted our income greatly. We have had to start to work in new ways embracing digital media in ways we have never done before. Most of all we miss our customers, seeing them, talking to them and enjoying the products we sell together. Just recently we have introduced a ring and collect service using Facebook to see if we can keep in touch with our customers. Like everyone we miss the chance to socialise and that's what our shops allow us to do.
The National Centre for Craft & Design – Sleaford, Lincolnshire
The National Centre for Craft and Design is the place to see international, national and local craft and design. It boasts a fantastic onsite shop showcasing top craft and design talent from across the UK. They have been hugely supportive of Emma's work for years.
This year has been challenging. But we are working hard behind the scenes to support independent craft makers. We're super excited to be launching a fabulous new online shop very soon!
Feather & Twigs – Croston, Leyland
Feather & Twigs is a marketplace for bringing 'Artisan brands into local hands' with inspirational designs, unique homewares and gifts that are stylishly crafted. www.featherandtwigs.com
Gosh, who would've believed this time last year we would be entering 2020 with a World Pandemic to hit soon after! 

We have had to be innovative and remodel our business. This has taken a huge amount of effort, not only from me, but from my family – as this is very much a family affair. With determination, positivity and a lot of driving force we've really put ourselves out there. Reaching out to our customers, suppliers and partners – asking for their support in working with us through what has been a very tough year.

Whilst we moved forward and pushed our business to new limits, we set out to develop and drive the online side of the business. It was key to our customers that we offered a different and new shopping experience, which has brought our village and community together. The services we introduced; local doorstep deliveries and click and collect from our shop, and the continued and positive feedback from our customers has made us so happy. We are building our small independent business through testing times but growing and bringing back traditions and personal service into our local communities, as well as developing a National Brand that's also reaching out across the UK.
Bringing Colour to Black Friday…
Enjoy shopping independent, these retail spaces are the colour on our high streets and online. And definitely the antidote to the fast-purchase culture of Black Friday.