Bespoke Glass Splashback Case Study: Garden Flowers and Kitchen Cacti
Bespoke Glass Splashback Case Study: Garden Flowers and Kitchen Cacti
27th January 2023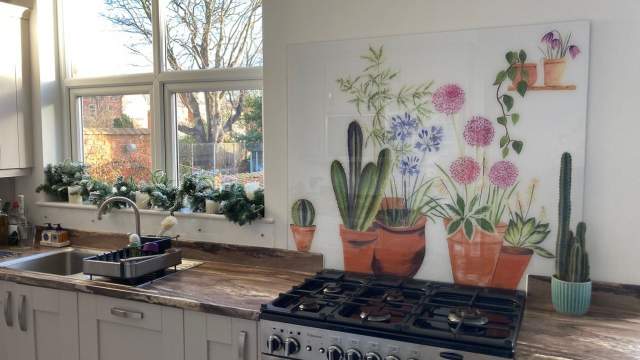 This bespoke glass splashback project came about after meeting Jacqui and her husband at RHS Tatton Flower Show. They were initially interested designs from my GLASSHOUSE collection. Jacqui was keen on Plant Life, whilst her husband liked Sunset.
As they both liked different designs, I suggested commissioning a bespoke splashback might be a good option for them. I knew I could create a look to suit their kitchen and incorporate special elements they both liked into one final design. Bespoke splashbacks really allow everyone's ideas to come together.
Through a collaborative process, I created a transformative splashback for this kitchen – as these before and after photographs demonstrate: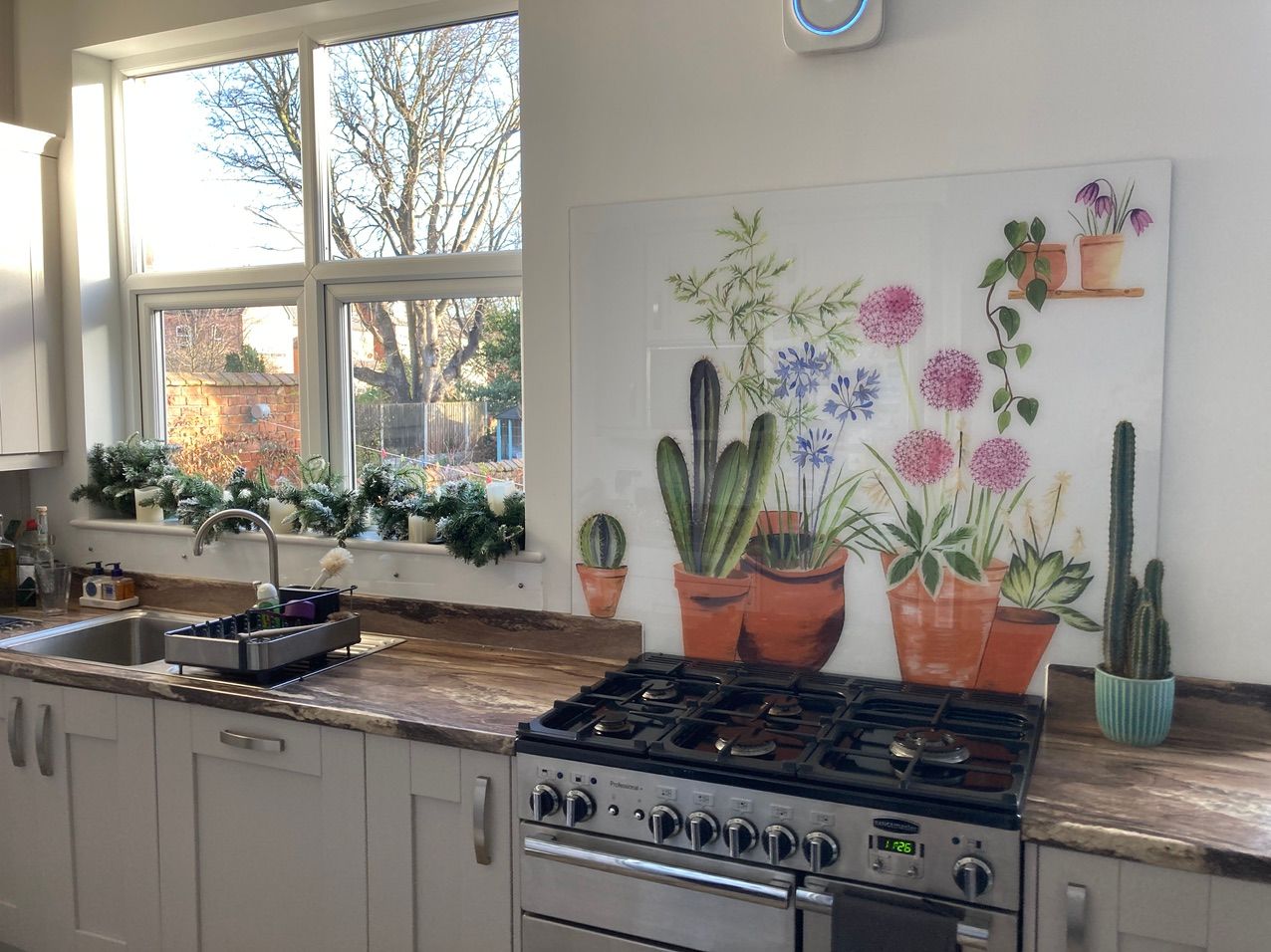 Design Approach
Part of my skill as a designer is to understand the kitchen or room where a splashback is planned and take in the scope of the space. In doing this I go on to create something that works at every level. I look at the little details, cabinet colours, worktops and door handles, for example. The view onto the garden and windowsill filled with cacti are big features in this kitchen. Bringing in natural elements such as these and making splashbacks that extend the garden indoors, and marry different spaces together are recurring conversations I have with clients, and a unique look I can offer.
Design Details
Bringing the garden inside and partnering alliums and agapanthus with cacti was a design challenge. Visually, these flowers and plants are quite different. But putting them in pots, uniform in colour, bought the whole design  together.  The terracotta pots match Jacqui's terracotta wine rack – a nice detail.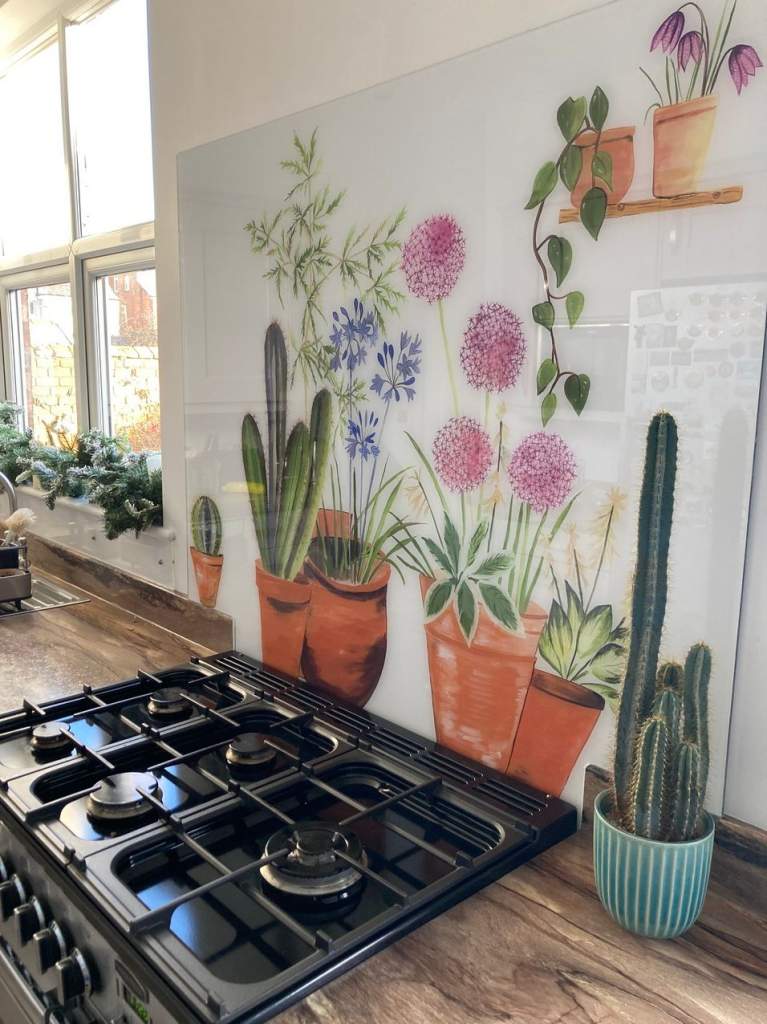 Project Feedback
Jacqui was kind enough to answer a few questions about her splashback and the commissioning process:
What did you want to achieve with a splashback by Emma Britton?
When we did our kitchen we went very minimalist. We didn't have any pictures on the walls, except for one over the old fireplace. When our son visited from overseas, he said how boring the room looked. After that, all I could see was plain white walls and started thinking about how to add interest to the room.  Around this time I visited RHS Tatton Flower show and met Emma –  it was meant to be.  Emma's splashback is the perfect solution, practical for the big wall behind the hob and a real focal point. It features pretty colours but nothing about the design is too overwhelming, which is the look we wanted.
Why did you opt for a bespoke design by Emma?
We couldn't agree on one design from Emma's collections! But on our windowsill we have lots of plants and cacti and wanted the design to reflect that. As well as bringing in garden flowers we can see from our kitchen window. Commissioning Emma to do a bespoke design for us seemed the best idea.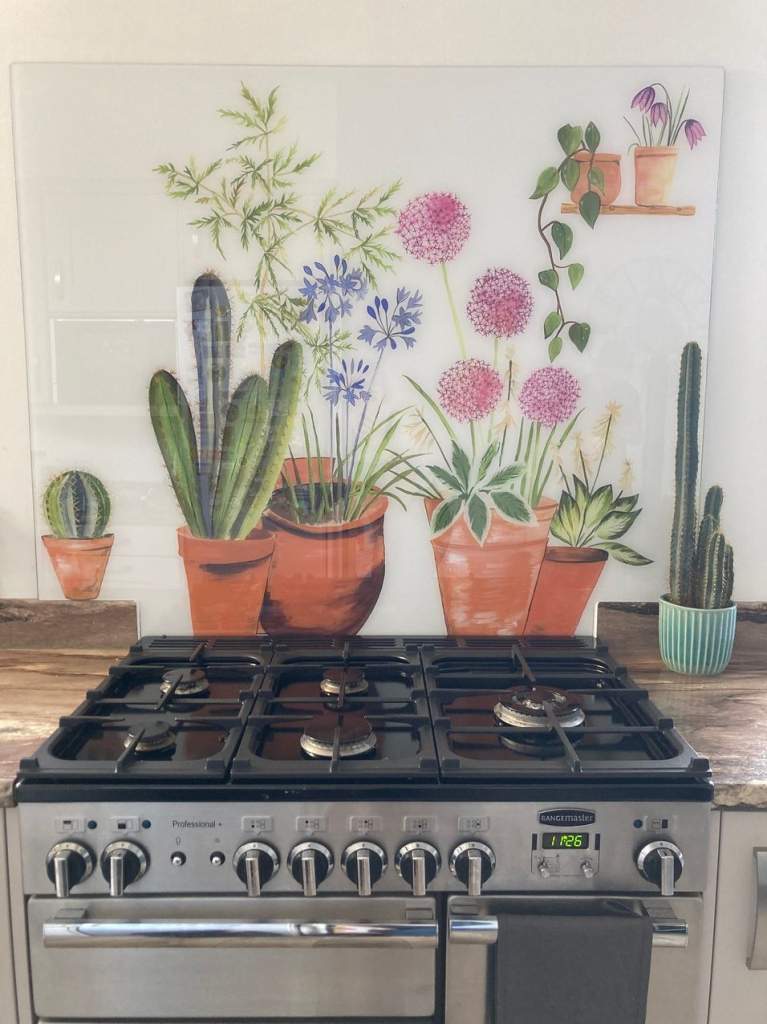 How did you find the process of commissioning a splashback with Emma?
It was all so easy, Emma was great at sending pictures and so amenable. If I changed my mind about something, she'd sort it. Emma guided us and ensured the design wasn't too busy. Initially I wanted to put more elements into the design. But Emma called it right, a testament to her expertise. The design has just the level of interest required – any more and the splashback would have been out of keeping with the rest of the room.
How did you find the installation?
Installation was very easy, I couldn't believe it was done so quickly. Emma's team were brilliant at fitting the splashback with our wonky walls.
Is there a specific detail in your splashback design you'd like to highlight?
I particularly love the little shelf Emma suggested we have. It fills the space in the top right of the design, it just finishes it off. She even popped in a Snakes Head Fritillaria as a nod to the Sunset design my husband liked initially. And her flower drawings are beautiful. 
Anything else you'd like to say?
The splashback is absolutely beautiful, it finishes the room off. We've got something we can enjoy everyday, it really is the first thing you see when you walk into the room, beautiful.